Skjei carrying confidence on the Carolina blueline
Following a career-high in goals last season with the Hurricanes, Brady Skjei remains motivated to bring a Stanley Cup to Carolina.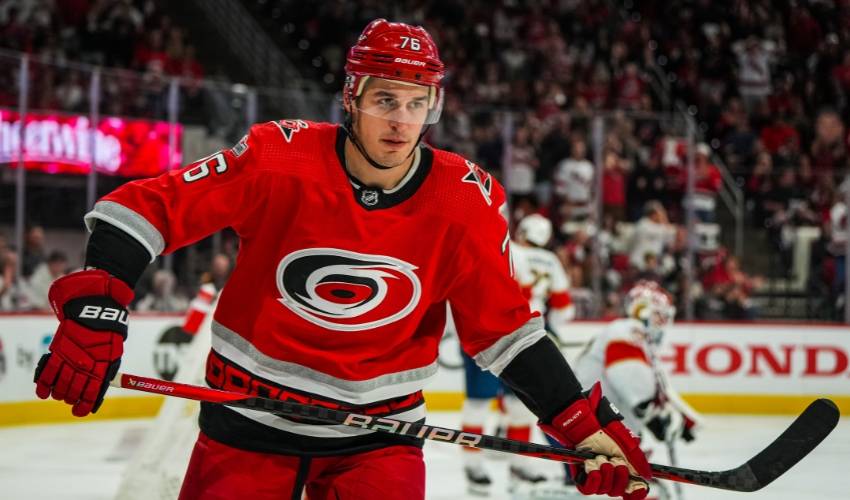 Feature photo: Getty Images
---
The number of years he has played in the NHL managed to catch Brady Skjei off guard during a recent conversation with teammates.
On a bus ride back from a game, one of the chats between the Carolina Hurricanes players centred on the number of big-league seasons each one in the group had to their names.
"It's wild," started the 29-year-old defenceman, who began his NHL journey with his first game played on Dec. 15, 2015.
"There are a lot of guys on the team who are in that five-to-ten year stage of their careers, and we were laughing at how fast that time goes by. It certainly doesn't feel that long."
After 307 games with the Rangers, where he had established himself as an effective contributor at both ends of the ice, Skjei, who came to the Carolina Hurricanes in a 2020 trade, has taken his game to new heights.
His multi-faceted offensive skillset resulted in a career-high 18 goals in 2022-23. Only two defencemen, Erik Karlsson (25) and Dougie Hamilton (22), scored more goals than Skjei that season. He continued to display his offensive prowess to start this season by leading all defenceman in points through the first four games with six. Meanwhile through his first 12 games of the season, Skjei leads Canes blueliners in points with eight to his name.
Skjei, who has also seen an uptick in his ice time on the powerplay in recent seasons, has picked up right where he left off in 2022-23. The Minnesota-born blueliner pointed to his first year in Carolina as the foundation for his ascent to the upper echelon of NHL defenceman.
"Since the day I walked into the locker room, everyone was so welcoming. I remember feeling very included right away, which is huge when you come to a new place. Jordan Staal is one of the best leaders in the game and Roddy [head coach, Rod Brind'Amour], the environment he creates at the rink, the way he coaches, you want to play for him. All he expects is for guys to work as hard as they can and that shows in the way we play with our speed. It's been a great fit for me and I've been loving it here."
It certainly shows.
"The way that we play fits my game well, to focus on skating and playing up-tempo, which suits my style. Every offseason and during the season, I'm trying to get better and pick up on things that I can improve upon. Being in the league nine years, experience helps you a ton."
So does feeling right at home both at the rink and outside of it.
Going from the Big Apple to a slower-paced city in Raleigh has been a smooth transition for the veteran of 540+ regular-season games.
"Being here in Carolina is amazing. It's a 180 from Manhattan to Carolina, but in most places around the league, you really can't compare to New York. It's such a big city and there is so much to do," explained Skjei.
"Carolina is great. The fans here got good recognition with the Stadium Series last year. In the past few years, with the playoffs, the building has been full and very loud. The support we have from our fans is amazing and the city itself is fantastic. There is good weather, nothing is too far away, and fans are very passionate about hockey and sports in general. It's a great place to be."
Far removed from his rookie days but not quite the senior member of the Hurricanes, Skjei finds himself in an ideal position.
"I am in a great spot with where I am in my career. I'm not the oldest guy and I'm not the youngest guy on the team – we have a lot of guys on the team at that stage – and it is a very interesting spot to find yourself in. Having guys in that similar situation is a good thing for a team that is chasing that Stanley Cup win."
Notoriety for Skjei's talents continues to grow in hockey circles.
But for the player who was portrayed in a hockey-themed sketch on Saturday Night Live in 2017, his primary goal, as it always has been, is team success.
"That's every player's top priority, to see the team do well. That is always the bottom line."
As for seeing his No. 76 appear on Saturday Night Live, Skjei is not anticipating another 15 minutes of Hollywood fame – though he thoroughly enjoyed the moment.
"I think that was a one-and-done," he said with a laugh. "It was really good. The skit was funny. We were watching it when it aired the first time. It was me, Kevin Hayes and Jimmy Vesey. I remember the guy walking out with my number on his jersey and I said, 'Is that my jersey?' Sure enough, he turns around and it is. We were all laughing. My phone kind of blew up after that. It was really good."