After the Buzzer | Blake Coleman
From the gridiron to becoming a girl dad, Texas native Blake Coleman gives his Super Bowl predictions and discusses life as a new father.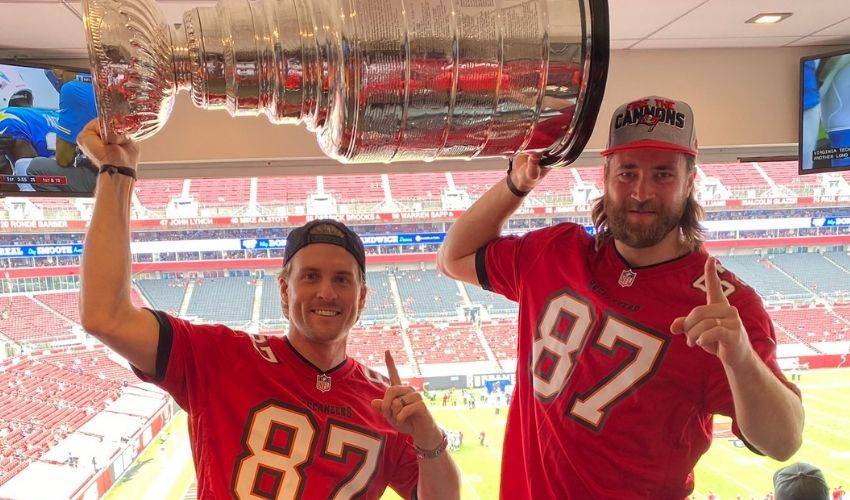 Feature photo: Twitter / @bcole25

From their bond with fans to their efforts in the community – and everything in between – 'After the Buzzer' is a weekly series taking readers beyond the rink to shine a light and provide insight on players' lives away from the game.

---
Blake Coleman didn't tackle the gridiron life as a kid growing up in Texas, but the Stanley Cup Champion is a huge football fan.
The 29-year-old forward, who was part of the Tampa Bay Lightning group that hoisted the Cup from the Edmonton bubble in 2020, spoke with NHLPA.com about embracing fatherhood, his fondest memories of winning hockey's biggest team trophy, and his Super Bowl prediction – including what he'd like to ask Tampa Bay quarterback Tom Brady.
BABY MAKES FOUR
Coleman, his wife Jordan, and their young daughter Charlie, will be welcoming a new addition to their home this year.
Although he might be outnumbered three to one, Coleman isn't complaining.
"We have another girl coming in June, so there will be a lot of women in the house. It's awesome. Obviously, you never know what to expect when you have your first kid, but Charlie's been great. She's at an awesome age. The last couple months, she's been interacting more and she's able to communicate in her little ways which makes for a lot of fun."
MOM AND DAD LESSONS LEARNED
Being parents to a young child has meant some adjustments for both mom and dad.
But having another daughter does have its perks.
"It makes your off days different than you've ever known. There's less napping, but it's been a lot of fun. It's just nice to be able to have time together as a family. We're really excited to have another daughter. I guess that means we don't have to buy any more clothes.
"I've definitely learned how to be more patient, especially in the early months. There was a lot of crying and a lot of waking up at times you didn't expect to be up at."
STANLEY CUP SNAPSHOTS
Coleman sealed the championship win for the Lightning, scoring the final goal of Game Six against the Dallas Stars – which held particular significance for the forward.
"There are so many things that come to mind. On a personal level, the goal in Game Six against my hometown team – the last goal of the Final – is something that is really special. That's one that sticks out because people always bring it up to me. The biggest thing was being in the room – it was such a strange year with just the guys and a few other people celebrating – and enjoying the win. It was four or five hours just celebrating together – that's something I still think about it."

The 2-0 Tampa Bay win gave the Lightning its second Cup triumph, 16 years after the franchise took all the spoils in seven games against Calgary in 2004.
TEXAS NIGHT LIGHTS
Although he played plenty of sports in his youth, including soccer, lacrosse, basketball, golf and tennis, Coleman didn't strap on the football helmet and pads during his days growing up in Plano, Texas.
"We played football in the yard all the time, but it's one of the sports I didn't play competitively, which is kind of strange because it's one of the sports I enjoy following and watching the most. My dad played it in college. I enjoyed indoor sports because I was kind of a wimp in the Texas heat.
"The high school football games were big back home and you went to those games. In middle school, those games became a big hangout on Friday nights. It was always a lot of fun. It's definitely a way of life. I was approached throughout my high school years to be on the team, but I just never quite had the want to leave hockey."
A QUESTION FOR MR. BRADY
If Coleman had the opportunity to sit down with future hall of fame QB Tom Brady, what would the forward ask the legendary passer about?
"I would want to ask him how he's been able to keep playing the sport at such a high level at his age. It's pretty amazing. The older you become, the more disciplined you have to be in your eating habits, training and overall routine. I haven't hit my 30s yet, but I've been told the higher you get in your 30s, the harder it is to perform at a high level. I'd like to figure out what his secret sauce is and how it's helped him keep playing so well."
PARTING SHOT
"I'll go with 31-28 Tampa Bay [over Kansas City]. We're travelling that day, but I'm sure we'll have a watch party when we get there." – Coleman, on his Super Bowl prediction.