In the bubble with Blake Coleman
Even when he isn't on the ice, Blake Coleman is showing off some serious skills during downtime with his Tampa Bay Lightning teammates.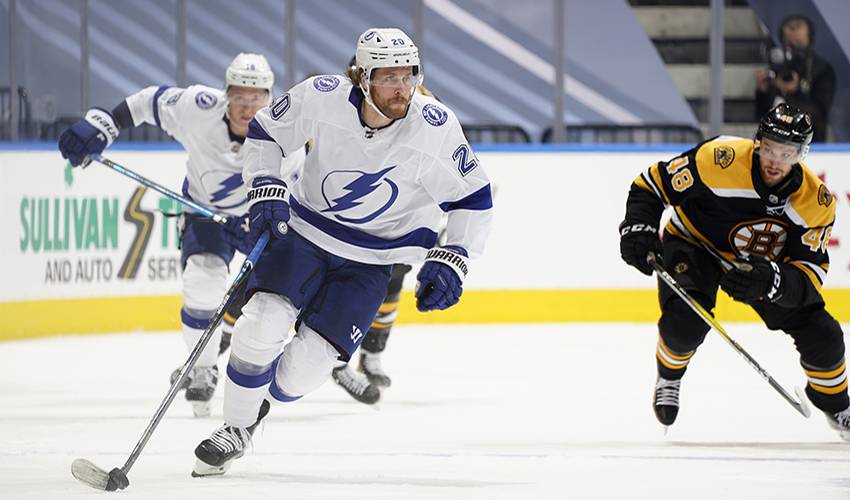 Feature photo: Getty Images
---
Game, set, match… Blake Coleman.
When he isn't busy doing a bit of everything on the ice during the Stanley Cup Playoffs, Tampa Bay centre Coleman is showing off some serious off-ice skills during downtime with his Lightning teammates.
"There are enough activities going on for us most days when we're not playing," the 28-year-old told NHLPA.com the day after a 3-2 win against the Boston Bruins in their Stanley Cup Qualifers Round Robin matchup. "We've gone down to BMO Field and played some soccer, bocce ball, football, spikeball – things like that.
"The hotel also has lots for us to do. We've played some pickleball tournaments, tennis, golf simulators – I tried that – and a lot of guys are into golf on PlayStation. There have been tournaments for that the past couple days. We've also been watching other playoff games in the lounge together."
As for which activities Coleman has fared well in, the native of Plano, Texas, points to a pair of sports he's coming up aces in.
"I found out quickly what I'm good at and what I need to work on. I'm undefeated in bocce ball, but winless in pickleball. I'm learning that might not be one of my strengths. I'm a good tennis player, so that's been going well. There hasn't been that much competing on days after games, but Sergy [Mikhail Sergachev] is going to play tennis now and some other guys are right back on the horse."
Coleman has plenty of familiarity with tennis courts.
He played the sport during his school days, learning the finer points of the game from his father, Rusty,
"My dad played a ton growing up at his club. He would do drills with my brother, who played tennis in college, and me. I played in tournaments, but I had John McEnroe's temper and there's no way to take it out on anybody in tennis, so I didn't last all that long. But I still enjoy it and it's a good workout."
His bocce ball skills are the result of hand-eye coordination, luck and a capable teammate.
"This is maybe the second or third time I've ever played, but I was paired up with [Braydon] Coburn and he seems like he has a pretty good handle on that game, so let's chalk it up to beginner's luck for doing well in bocce ball."
The unofficial role of team activities director goes to veteran forward Patrick Maroon.
Coleman has kind words for the 32-year-old left wing, who won the Cup last year when he was with St. Louis.
"The ringleader, depending on what you want to do, is Patty. He's usually heading something up. He's our social coordinator, so to speak."
When Coleman isn't busy helping the Lightning get off to a 2-0 start in round-robin action, or flexing his forehand and backhand magic on the tennis courts, FaceTime calls with his wife, Jordan, and their five-month-old daughter ,Charlie, are a daily occurrence.
Unconditional support from Jordan made the decision to head to the bubble in Toronto for the playoffs much easier for Coleman, who came to the Lightning via a trade with New Jersey this February.
"They're doing really well. They just headed back to Texas from Tampa yesterday, and they're going to be around family. Charlie's really growing up quickly – it seems like she was just born yesterday – and she's great. It's been a blessing to have FaceTime, and to be able to talk every day. Jordan wanted me to go back and play. She's excited that it's all come together. She's been super supportive and that makes it so much easier for me. Hopefully, if things work out, they can come out for the Finals or Conference Finals, however that works. Obviously, it would be great to see them."
Until then, Coleman, competing in his second NHL postseason (he had two goals in five games with the New Jersey Devils in 2017-18), will keep using his speed, forechecking, and penalty-kill skills to help the Lightning in their championship bid.
As for keeping his top rank status in team activities, Coleman has a bigger goal in mind.
"I'd prefer the Stanley Cup over bragging rights for the activities, but it's been good to get our competitive juices flowing again."