Quirky drink becomes community connection for Coleman
It's only fitting to spotlight Blake Coleman on National Pickle Day.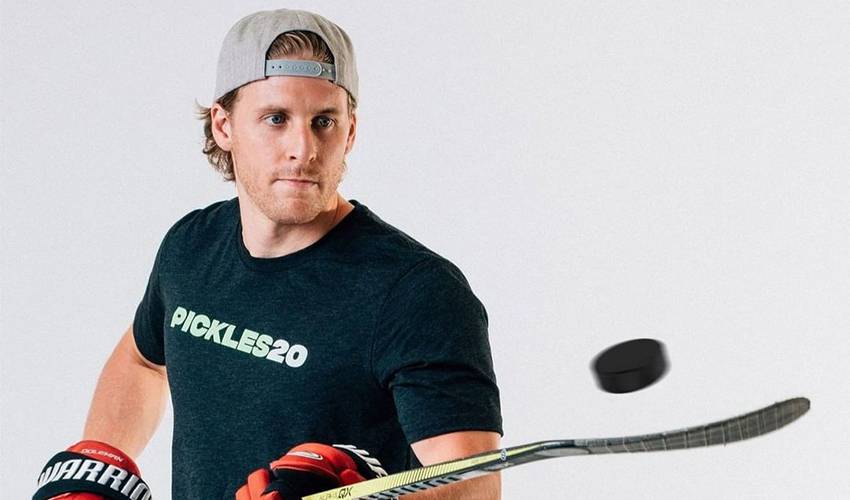 It's only fitting to spotlight Blake Coleman on National Pickle Day.
On a day that celebrates the crunchy snack – one that dates back nearly 4,500 years – the player who picked up the nickname "Pickles" just might raise a glass or two of pickle juice to celebrate his success.
It was two years ago while sitting in the penalty box when Coleman, now in his fourth season with the New Jersey Devils, found himself the centre of attention – not for the infraction, but for what he was sipping on.
In an effort to combat cramping, Coleman's remedy of choice happened to be pickle juice – the 27-year-old's go-to drink on game day.
Some studies have shown that drinking pickle juice stops muscle cramps more quickly than drinking water. The vinegar found in pickle juice triggers nerves, which send out a signal to muscles to stop cramping.
Soon after his penalty box moment, Coleman became the unofficial hockey poster boy for pickles. He has since launched his own website, coleman20.com, which features pickle-related merchandise and P20, his own line of pickle juice.
"One of my sisters did the graphic design content and helped design the website and all of the merchandise," said Blake of his sibling, Lauren. "The whole thing has been great. I'm part-owner of it with my sister, so it's nice to work with her and do this together."
"We're two years apart, so we definitely had our moments growing up," Lauren said to NHLPA.com with a chuckle. "But this has been a fun thing to work together on. Thankfully, we think very differently. Blake is very numbers and statistics and I'm very much pickle characters and colours – so we balance well."
The Texan's penchant for pickle juice has been picked up by CBS This Morning, Sports Illustrated, MSG Network, Food & Wine, and in several other spots.
Lauren, who has a degree in graphic design, still can't quite wrap her head around how the whole pickle phenomenon has taken off.
"I really can't believe it. It's been the craziest thing to watch. Never did I think my marketing and graphic design background would ever come in so handy in sports."
Last year, Coleman launched Pickles Pals, which supports the Salvation Army Boys and Girls Club of Newark Ironbound (BGCN), for the betterment of Newark's youth.
Pickles Pals' goal is to inspire young people to read and embrace education while providing a positive and fun learning environment.
The endeavor also aims to give back to the community through the development of academic programs and the acquisition of needed supplies to provide children with the resources to reach their academic goals.
Pickles Pals also hosted BGCN members, who came out to six New Jersey home contests and got the chance to meet Coleman after the game.
"This year, we're going to branch out with the charities," said Coleman. "Last year, we strictly did the Boys and Girls Club in Newark. This year, we're going to do six organizations. We'll do the Boys and Girls Club and five other ones."
A special group of kids and mentors to spend time with at the Newark Ironbound boys and girls club! Didn't do so well in my short stint on the air hockey table but Jordan and I enjoyed our time there and are thankful for our relationship with you guys! Hope you enjoy the gifts! https://t.co/ECKU6hCqKs

—

Blake Coleman (@BColes25) October 23, 2019
Both Blake and Lauren are grateful for the opportunity to give back to the community.
"People buy the hats a lot, and any of the purchases of those go to charity," noted Lauren. "We've had a lot of great response from that. People want new t-shirts to come out faster than I can produce them. It's just been fun."
For the player who has skated in nearly 200 NHL games, it's also been a way to interact with hockey fans in New Jersey and beyond.
"It's all really cool," said Coleman. "The whole pickle thing is kind of goofy, but it makes it easy to connect with kids and with fans. There are a strange amount of stories you get from people… those who make their own pickles at home or different pickle food inventions. It makes it fun. And if I can help out some kids and families in the process, then that's all worth it."
Does Coleman have any strange pickle tales of his own?
"I'm not as much of a pickle connoisseur as it may seem," he said with a laugh. "I have to drink it for the benefits, more than for the taste. But it's really grown on me. I used to eat pickles next to a sandwich growing up, but now I've learned more about the flavours of pickles, and ways of making brines – goofy things I never thought I'd know about. I stay away from pickle juice in the summer because I'm usually slugging it during hockey games.
"I've seen some interesting stuff out there – pickle ice cream sandwiches, pickle popsicles, pickle pizzas. I haven't tried anything yet, but if someone did send it to me, I'd probably give it a go. I've had some local companies send me out their pickles, but nothing off-the-board as far as weird recipes."
The siblings are thrilled to see the reaction and response to the pickle side of Coleman's life.
"It just made for a nice pairing when Blake wanted to build off the pickle thing, and really build himself beyond just being a hockey player, having something that lasted beyond his career, which was building a personal brand. We saw that opportunity when the pickle thing took off. There's a perfect story built around a funny story, with fans loving it.
"We get all kinds of feedback," continued Lauren. "We have gone through suggestions, which we like doing. It's funny to see how engaged they are. It's great. He's been able to bring a personality to life that I think fans are connected with him just from a humour perspective."
Which is why, if you'll forgive the pun, Coleman's quite happy to find himself in a pickle.