Reality sets in for Stanley Cup Champion Blake Coleman
Growing up in Plano, a Texas city about 20 miles northeast of Dallas, a young Coleman often daydreamed about what it would be like to hoist hockey's fabled silver trophy.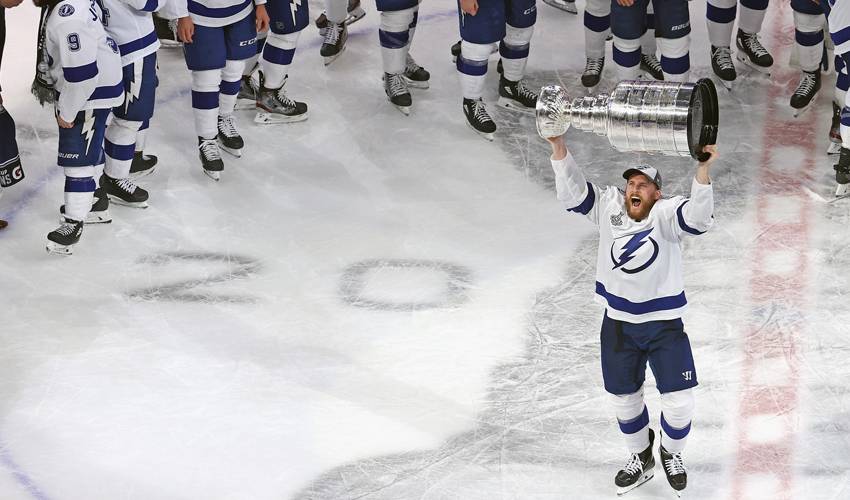 Feature photo: Getty Images
---
Blake Coleman has scored several Stanley Cup goals and won hockey's most iconic team trophy more times than he can remember. This time, though, it was for real.
"This one, it's definitely much better," said the 28-year-old Tampa Bay Lightning forward, his voice unmistakably weary.
Growing up in Plano, a Texas city about 20 miles northeast of Dallas, a young Coleman often daydreamed about what it would be like to hoist hockey's fabled silver trophy.
"I think today was the first day – now that the partying and celebrating has subsided – that I really let it lay there, and it hit me. You realize it's not a dream and we pulled it off. We won the Stanley Cup."
After four rounds, 25 games, and an assortment of varying bumps and bruises, the centre can now call himself a Stanley Cup Champion.
Coleman, who was traded to the Lightning by the New Jersey Devils February 16 before the season's pause, uses the word emotional often. It's an appropriate term for any player that wins the Cup, even more in light of the unique circumstances that surrounded the 2019-20 playoffs.
For over two months, Coleman and his Tampa Bay teammates were in Edmonton, over 3,800 kilometers away from Tampa Bay.
The effects of the COVID-19 pandemic prompted the scheduling of the playoffs to take place in two cities, Edmonton and Toronto, with the Conference Finals and Final being held at Rogers Place in Edmonton.
It meant Coleman would be away from his wife Jordan and their young daughter, Charlie, who was born just February 27.
"Leaving was tough, really tough. I knew it would be, especially not knowing how long you'd be apart."
After an exhibition win – all 24 qualifying teams played one exhibition game ahead of the post-season – Tampa Bay finished second in a round-robin tournament which saw the top four teams in each conference face off against each other to determine the final playoff seeding.
The Lightning's 4-1 conference quarterfinal series win over Columbus was followed by a 4-1 conference semifinal triumph over Boston. Tampa Bay punched its ticket to the Cup final after a six-game series score against the New York Islanders.
Coleman and co. capped off their season with a 4-2 series win against the Western Conference Champion Dallas Stars, the team he followed as a youngster.
The 5-foot-11, 200-pounder forward played in just nine games in the regular season with the Lightning, and then had a four-month break after COVID-19 temporarily halted play, making it anything but an easy transition to life with a new team and new teammates.
But the third round pick (75th overall) in the 2011 NHL Draft looked right at home when the playoffs began. He went on to score five goals, including a tally in the Cup-clinching game, along with 13 points.
These days, he's just happy to be home. Admittedly, two months away from his family felt like much longer for Coleman.
"It really just hit me a week or so before we were leaving, that I wasn't going to be seeing Charlie for a while. Obviously, I had expectations for what our team could do. I was thinking of ways I could document these times, to do something for us to remember down the line."
What started out as a simple idea turned into something far bigger than Coleman had originally planned.
"I picked up the idea to throw some photos together and kind of took it to the next level with the music and turning it into a video," he said of the two-part video he made for his daughter, which he recently shared on social media.
I made a video in anticipation of being in the bubble and competing for the Stanley cup. I wanted a reminder of my time with my daughter. It's been more than 2 months and today I'm headed home to see my beautiful baby girl and we kept our promise and are bringing home the cup!

—

Blake Coleman (@BColes25) September 29, 2020
"I just wanted to have something to draw on and remember if things were getting hard in the bubble and I was missing home. It was something I could watch to remember her. It's something she'll be able to look back on down the road and understand what took place and how it all went down."
When Coleman was finally reunited with his family, the moment affected him far more than he had anticipated.
It was a reunion he likely won't ever forget.
"It was awesome. Jordan and Charlie were at the airport when the plane pulled up. There was a big crowd and media, but I had my wife and my daughter, along with a whole bunch of family members, waiting for me. Obviously, they didn't want to miss the excitement. It was emotional, especially with Charlie. I realized how much she had changed. You can FaceTime all you want, but it's not the same as being there in person. She had changed a lot, she was moving a lot more, and she understands things more… it was really quite surprising. I was kind of prepared for it, but in a sense I really wasn't. I'll always remember their smiles."
There have been plenty of smiles in the days that have followed.
Simple things, watching TV together, sitting down to dinner, going out for walks – Coleman is enjoying every minute of his family time.
He's also finally exhaled and taken a few moments to process all that has happened over the past two months.
Although there's plenty for him to look forward to, both on and off the ice, Coleman was happy to take pause, ever so briefly, and recall those days in Plano, the times when he'd raise his hockey stick high above his head after netting a Stanley Cup goal and winning it all.
"I've really taken some time to reminisce about all the driveway hockey games I played, reenacting Stanley Cup goals and pretending you were in that moment. Now, I've won a Cup. It's what I always hoped and dreamed about. You never really expected it to happen, but it has. I'm letting it all soak in."
A trade to Tampa Bay, becoming a first-time father, winning the Stanley Cup – 2020 has been anything but uneventful for No. 20.
"I think that's pretty much all the excitement I can take for one year. We're just enjoying this right now. It's back to life as usual now."
At least it is for the time being.
"Once I get home to Texas, I'm sure I'll have a long list of people looking to celebrate."
And a few more memories to add to his personal list of Cup-related reminders.
"To share this with people, that's what is really all about. Family, friends, my wife, my daughter… celebrating with all of them makes it really special. Not having them be there the entire ride of it, that kind of makes it even more special when you get home and you get to see their faces."