It's a boy! Uncle Blake lends assist to sister and growing family
He may have picked up an assist in a win back on March 2, but Blake Coleman's biggest assist of the night wasn't for the Tampa Bay Lightning.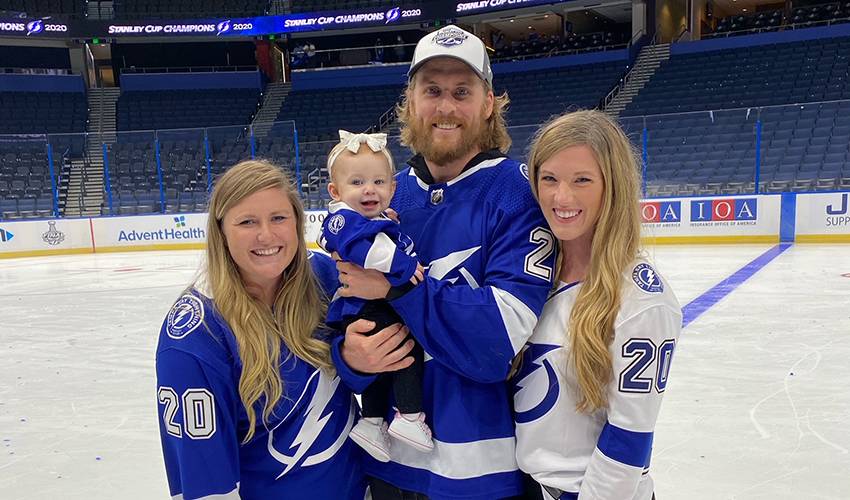 Feature photo courtesy of the Coleman family
---
How good is uncle-to-be Blake Coleman at keeping a secret? The Tampa Bay Lightning forward's sister, Lauren, and her wife Kalli will tell you he's the ultimate professional.
When Lauren and Kalli Coleman made the decision earlier this year to announce they were expecting their first child, they received a helping hand in sharing the news. The 2020 Stanley Cup Champion knew the gender of the baby, but he managed to keep the secret under wraps while Lauren and Blake's other sister, Brooke, arranged for the moms-to-be to share their happy news with friends and family in a unique, hockey-themed way.
"The Colemans have really welcomed me into their family and made me feel so loved," offered Kalli, "They have been very supportive of us and couldn't be happier for Lauren and I."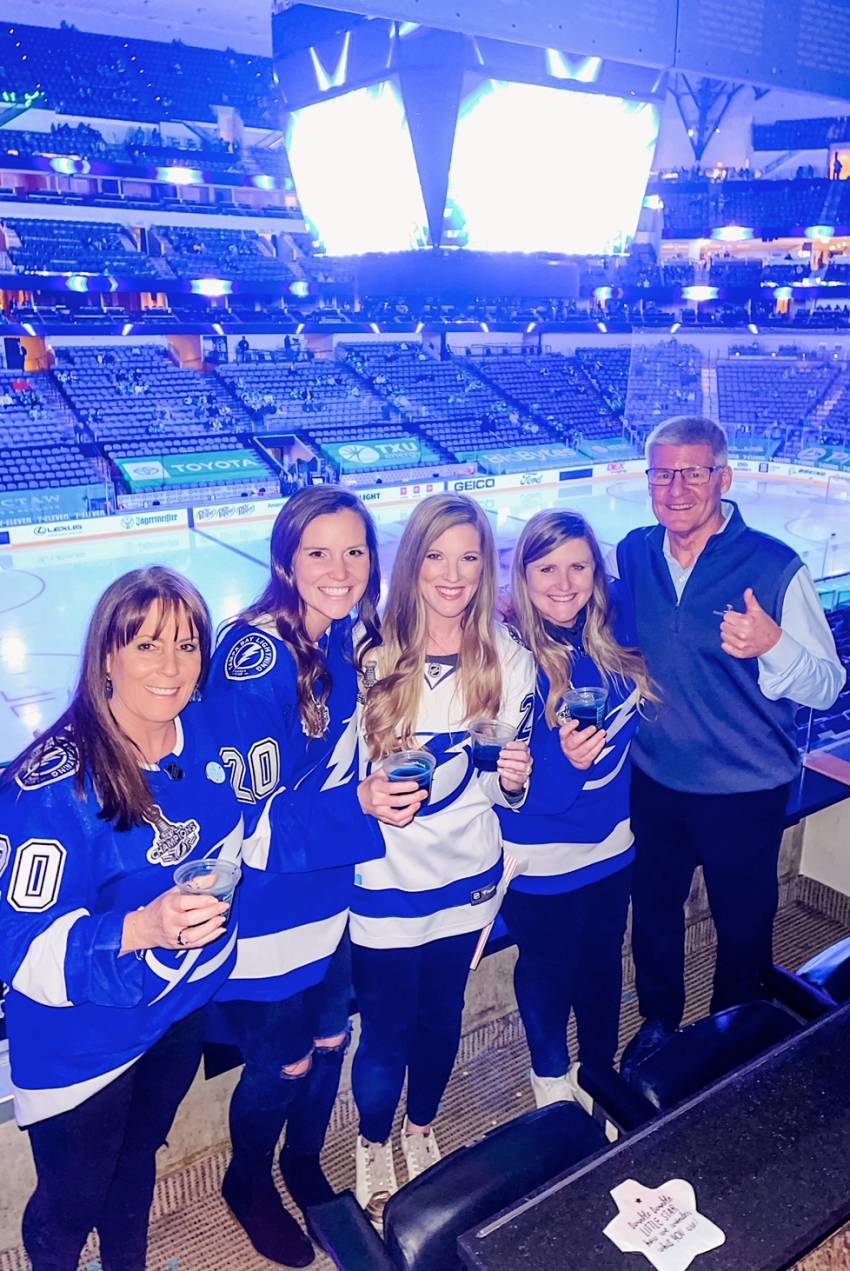 Brooke logged some serious minutes by helping put together the gender reveal celebration that took place at American Airlines Center, home to the Dallas Stars, located just over a half-hour drive from the Colemans' hometown of Plano, Texas. Blake, meanwhile, had a pair of important tasks that day – help his team get two points against the Stars and not share an important piece of news that only he knew about.
He managed to succeed on both fronts while notching an assist on teammate Yanni Gourde's goal with five seconds left to seal a 2-0 Tampa Bay victory.
"We knew the date when Tampa was playing in Dallas and we always go to that game," said Lauren. "My little sister actually came up with the idea to do it there. Some friends of ours have a suite at the arena, so we decided to do it with some close family and friends. We didn't know it was going to be a boy, but we were wearing our Tampa jerseys. We snuck in some confetti balloons and we waited until the end of the first period to do it. We popped the balloon and found out it was a boy. We actually let Blake open the results from the OB/GYN, so he knew first. Since he was playing, we wanted him to be part of it."
From donning Lightning jerseys to blue-coloured champagne – and blue tongues – all the angles were covered for Lauren and Kalli's special moment. Brooke took to her Instagram page a couple of days later to share reactions from the big reveal.
"She was so excited and so was I," said Kalli. "She wanted a boy and I was happy with whatever it would be. But we are truly thrilled about this new adventure. We can't wait to welcome him into the world."
Everett Joseph Coleman, due to arrive on August 27, represents a first for the Coleman clan.
"It's the first boy on the Coleman side of five grandchildren," offered Lauren. "Blake was a little jealous. He told me, 'You're going to have the boys and I'm going to have all the girls.'"
The 29-year-old forward, who is looking to help defend the Stanley Cup title with the Lightning, has a daughter with his wife, Jordan. They're expecting another child this summer. And with no surprise to Blake, it will be a sister for Charlie Coleman.
"He is a wonderful brother and he has been nothing but incredibly supportive of Lauren and I," said Kalli. "He's [Blake] always been our biggest cheerleader and is super excited about us having babies. His girls being close to our little boy in age is something that we're all happy out. With the way things are now, Blake and Jordan's daughter will be born two months apart from Everett."
That will leave the couples only two children short of icing a full forward line and defensive pairing.
"I guess we might have another hockey player on our hands," quipped Lauren. "Blake will probably have the forward line of girls and we'll have a boy playing defence. Maybe we can be the ones to have the fifth. That's our goal."
For now, it's all about making sure everything is in order for Everett's arrival.


So far, so good.
"The pregnancy has been easy, so that's been a real blessing," said Kalli. "I have a sweet tooth, but I haven't really had those cravings. I don't like ice cream, so I've been having a lot of frozen yogurt. It's been good so far. We're in the third trimester, so we're getting close."
Uncle Blake will soon have twice as many reasons to cheer, including the added bonus of sharing his middle name with his sister's son. He would also be thrilled to win the coveted prize for the second straight year.
"To win it once is amazing," said Blake. "And to win it again, that would be the same feeling. It's hard to put into words just how special it is to say you won the Stanley Cup."
Whether or not it happens, the forward will maintain his sterling reputation, on and off the ice, in the eyes of Lauren and Kalli.
"He's kind of the best," said Lauren. "To have his support means the world to us. You can't help but love him."