Blake Coleman recalls lessons learned from late grandmother during Hockey Fights Cancer month
Marie Hoffman, a two-time breast cancer survivor, passed away earlier this year at the age of 92.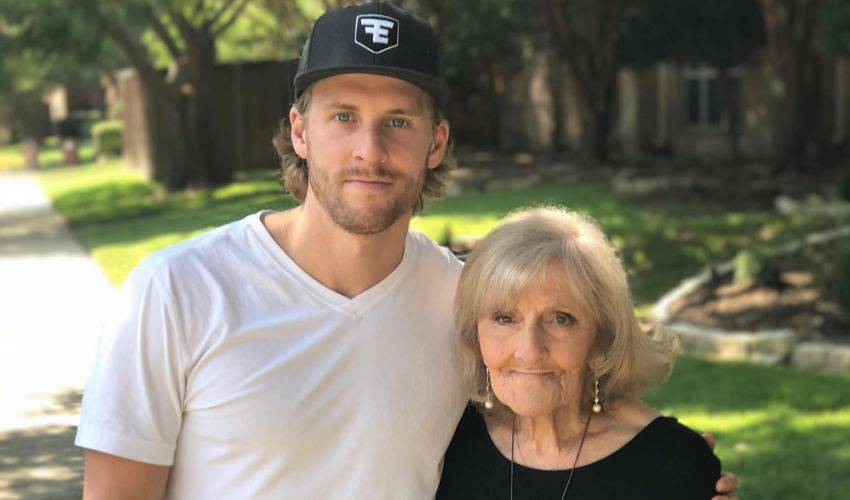 Feature Photo: IG / @BColes25
---
Blake Coleman smiled at the very thought of what type of NHL player his late hockey-loving grandmother, Marie Hoffman, would have been.
"She would have been a fourth-line grinder, for sure," the Calgary Flames forward offered. "She would have fit right in. Tough, hard-working and would never give up."
Marie Hoffman, a two-time breast cancer survivor, passed away earlier this year at the age of 92.
The woman who took her grandson to Dallas Stars games when he was just two-years-old continues to have a lasting impact on her now 30-year-old grandson and NHL veteran.
"She was the person who got me into hockey," started Coleman. "Obviously, the love of the game was something special we shared, but she gave me so much more than that."
Including his on-ice presence.
A typical Coleman shift is defined by a hard-nosed, spirited approach, both skills he picked up first-hand from the times spent with his grandmother.
"She was always the feisty one. We thought she would outlive us all. She didn't quite make it, but she was tough, and she fought hard. My grandma inspired us all in so many ways. She was awesome. Everybody that met her had a good story for you afterwards."
And there are stories, plenty of them, about Hoffman.
One of Coleman's favourite recollections are the phone calls he would receive from his grandmother after her early-morning trips to the gym.
"She was 90 and she would drive to the gym at two in the morning and workout for two hours. She would tell me all her stories about her buddies at the gym, talking about all the guys who would spot her, and her sharing the stories of me playing hockey. There are just so many good memories. I think that it's her toughness that will always stand out for me. The strength she had was pretty amazing. And that's what will always stick with me."
Coleman provided Hoffman with some memorable moments.
He became the first born-and-raised Texan to win a Stanley Cup in 2020 when the Tampa Bay Lightning took the title. After winning back-to-back championships with the Lightning, he signed a six-year contract with Calgary in the summer of 2021.
Wherever Coleman finds himself, hockey or otherwise, Hoffman is never far from his thoughts.
"We would go to the Stars games together and she really helped me find that love of the game. She always encouraged and inspired me."
Coleman is hopeful she can do the same for those who are battling cancer.
That hope is magnified during November, which is Hockey Fights Cancer Month.
Founded in 1998 by the NHLPA and the NHL, Hockey Fights Cancer brings the hockey community together in support of cancer patients and their families. Each of the 32 NHL teams celebrate their own Hockey Fights Cancer Night. Calgary's took place on November 4.
"She definitely has [inspired people]. It was one of those things where you never would have known she was sick. She never complained and didn't really change anything, maybe only when she was tired. She never put that on anyone else. She fought her hardest. You hope that other people can do the same."
Hoffman's battles with cancer and how she faced them is a source of pride for Coleman.
Whenever the forward has a tough game or a tough day, he'll stop and recall what his grandmother endured and how she lived her life.
"It's a good reminder that things are never that bad, and when it is tough, you do everything you can to rise above it. She'd always say the expression, 'The only way out is through,' and I think about that a lot."
Coleman, who is closing in on 400 NHL regular-season games played, is happy to share the story of a person who had no shortage of her own.
Someone, he pointed out, who possessed all the good characteristics of an impactful fourth line NHL player.
"A lot of what I learned from her … she just amazed me in so many ways. There is so much that I took away from my time with her. I'm grateful to have had her in my life. Obviously, I wish I could have had more time with her, but I'll always be grateful for everything she did for me and for so many other people."