Versatility follows Hyman off the ice
NHL forward. Children's book author. esports entrepreneur. Is there anything Zach Hyman can't do?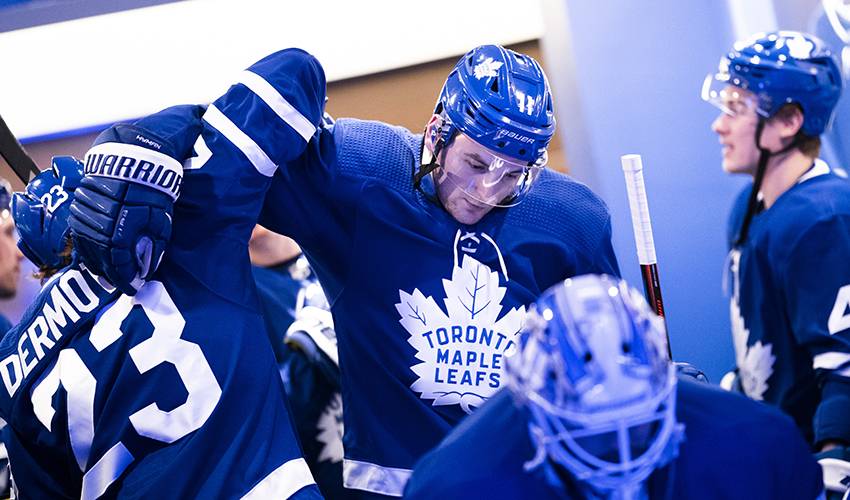 NHL forward. Children's book author. esports entrepreneur. Is there anything Zach Hyman can't do?
Throughout a nearly 300-game big league hockey career, the 27-year-old Hyman has received rave reviews for his versatility and strong two-way play.
But it's not only the ice where he earns kudos.
He's also garnered high praise for the kids' books he's penned, including "The Bambino and Me", "Hockey Hero," and "The Magician's Secret."
You can also add esports and gaming entrepreneur to Hyman's list of success stories.
"It's been a fun adventure," started the left wing, who had a career-best 2018-19 campaign, one in which he scored 21 goals. "I've really been enjoying it all."
Hyman threw his hat into the esports ring with the launch of his own organization, Eleven Gaming (E11), in October 2018.
The 123rd overall draft pick of the Florida Panthers teamed up with friend Oliver Silverstein, who handles the role of chief operating officer for E11.
Prior to joining Hyman, Silverstein worked three years at WorldGaming and almost a year as president of 3six5 Influence, an esports marketing agency.
Hyman's one of several pro athletes and entertainers who have invested in the industry via esports teams, a list that includes Drake, Steph Curry, Kevin Durant, Odell Beckham Jr., Michael Jordan and Alex Rodriguez.
E11 earns revenue through tournament prize money and sponsorships that athletes pull in. Hyman's team took part in its first major tournament in 2018 at TwitchCon in San Jose, with nearly $2 million in prizes available for the wildly popular Fornite video game.
Hyman's goal is to elevate E11 players into esports superstars while they earn money at events as well as sponsorship money.
"Arenas are jam-packed for esports events," said the Toronto native, who grew up playing video games with his four brothers. "It's becoming more and more popular, and there are some really talented players out there. The competition aspect of it is really compelling."
E11 assists its players through social media and Twitch, the online platform that enables people to watch gamers play.
But it's not only the E11 venture where Hyman is making his mark in the esports world.
Last March, gaming entertainment brand SoaR Gaming, which showcases teams across Fortnite, Call of Duty and CS:GO, was acquired by Eleven Holdings Corp., the parent company of Eleven Gaming.
"SoaR Gaming is one of the most storied esports organizations in the world and we couldn't be happier to partner with them," said Hyman in a statement. "They have built one of the largest influencer networks in the space and we are excited to help take SoaR to the next level."
Hyman, who came to the Maple Leafs via a trade with the Panthers in 2015, is certainly up for the challenge.
"Eleven Gaming is more of an esports-focused company with our professional players in Fortnite, competing in all the tournaments, and now we have our influencer marketing company in SoaR.
"Through SoaR, we have a wide range of players - boys and girls across all ages representing our brand – competing in a variety of games for different audiences. You have athletes involved – myself, and two football players (including Kenny Vaccaro of the Tennessee Titans). We're more of an entertainment company with a focus on gaming, so it's athletes and entrepreneurs who all have a passion for gaming. It's a really exciting company and both work."
Just how much the gaming world has changed over the years isn't lost on the former University of Michigan star.
"When I was younger, it was more offline, solo, first-person games and now it's multiplayer games online, playing with friends, and people all over the world. It all changes so quickly. The thing that I know is that people love playing video games and people enjoy doing that and watching others play. That audience is only growing and it's pretty universal. It doesn't restrict based on age, gender, race, etc. – everybody plays and you all have a good time playing."
So, out of his Maple Leaf teammates, who would Hyman draft to be on his E11 team for a Fortnite battle?
The answer doesn't come easily.
"Oh, man. I play a bunch with both Freddies, Gauthier and Andersen, as well as Mitch Marner," offered Hyman. "We have so many guys who play. Trevor Moore plays… we have a ton of guys that love to play. We'll all hop online, play and have some fun."