Players take competition online for NHLPA Open
What's a little Fortnite battle between hockey players?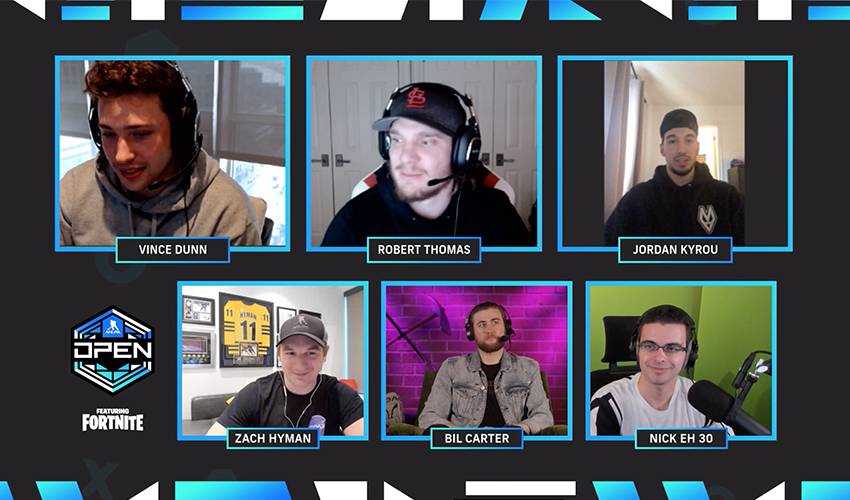 What's a little Fortnite battle between hockey players?
It turned out to be quite the entertaining competition for anyone who caught the NHLPA Open featuring Fortnite, the live charity gaming tournament created by NHLPA members J.T. Compher and Zach Hyman.
May 18, the former University of Michigan teammates joined fellow NHLPA members and hockey players to form teams of three players to compete in Triosfor a $200,000 USD charity prize pool to benefit player-selected causes.
Compher, in his fourth NHL season, all with the Colorado Avalanche, played alongside on-ice teammates Nathan MacKinnon and Matt Nieto, while Hyman tried his hand in the broadcast booth alongside in-studio host Bil Carter and remote caster Nick Eh 30. The tournament was streamed live on ESPN Esports's Twitch channel.
Among the 70+ professional hockey players competing in the tournament were fellow NHLPA members Thomas Chabot, Sebastian Aho, Johnny Gaudreau, Clayton Keller, Mitch Marner and Connor Hellebuyck (to name few).
Robert Thomas (who served as team captain), Jordan Kyrou and Vince Dunn of the St. Louis Blues came out on top with 70 points.
The top five teams directed the $200,000 to seven player-chosen initiatives.
---
First place – Robert Thomas, Vince Dunn and Jordan Kyrou of Team St. Louis have chosen to split the donation of their $100,000 winnings, split between St. Louis Children's Hospital ($50,000), Muscular Dystrophy Canada's Fill the Boot initiative ($25,000), and St. Louis Area Foodbank ($25,000).
Second place – Zach Aston-Reese, Brian Dumoulin and Bryan Rust of Team Pittsburgh will donate their $50,000 winnings to the University of Pittsburgh Alzheimer Disease Research Center.
Third place – Anthony Bitetto, Connor Hellebuyck and Jack Roslovic of Team Winnipeg will donate their $25,000 winnings to Project 11.
Fourth place – J.T. Brown, Victor Rask and Mat Robson of Team Minnesota will donate their $15,000 winnings to Second Harvest HEARTLAND.
Fifth place – Jayce Hawryluk, Joe Morrow and Jayson Megna of Team PB&J will donate their $10,000 winnings to Roblin District Community Foundation.
---
"We had a lot of guys wanting to be part of it," said Compher, the driving force behind the event. "That was great to see. Obviously, a lot of the guys enjoy playing Fortnite, and they also appreciate any chance to help out good causes. We definitely had a great turnout."
Compher, who starred at Michigan from 2013 to 2016, was glad to dodge his former Wolverines teammate this time.
"Zach has been in the eSports world much longer than I have," said Compher. "He has a great knowledge of gaming, and he has his own gaming company, so we were pretty lucky to have him play a huge part in this. He was able to talk Fortnite and hockey at the same time. We appreciated him stepping up and doing that because it's not his typical role."
Hyman, who in 2018 launched his own esports organization, Eleven Gaming, was pleased with the response of fellow players wanting to join in the fun.
"We were excited at having the chance to do this," said Hyman, who suited up for Michigan from 2011 to 2015. "We were overwhelmed by the turnout and the amount of guys who wanted to participate. It was awesome."
He was happy to get the call from Compher asking for an assist in putting the event together.
"J.T. and I stayed in touch after college and I'm glad to see him succeed. I thought he would because of the type of player and person that he is. He knew that I was in the gaming space and had some experience with gaming events, so he approached with me the idea to start a charity tournament with Fortnite being the game because it's so popular with the guys. I thought it was a great idea and we decided to get the NHLPA and Epic Games involved. The PA was incredible in coordinating everything. From a little idea that we had, it really grew into this awesome event."
Compher made sure to resist the urge to trash talk Hyman leading up to the event.
"I figured with him doing the colour commentary, it wouldn't have been a good idea to start chirping him. If I did, he might have started talking about my gaming talents. I didn't want to risk that."
Smart move, noted Hyman.
"That was my first time being an analyst, but we thought it would be a good idea to have someone who knew all the players and Fortnite to handle that job. I happened to be the guy that knew both pretty well. J.T. had to stay on my good side or I might have focused in on his Fortnite skills."
Released in 2017, the massively popular, free-to-play online video game has attracted millions of fans across the world, including NHL players.
Fortnite features several game modes, including the Battle Royale, with up to 100 gamers facing off.
During the recent pandemic, Fortnite has hosted several charitable events, including concerts in the game's party mode.
This time, it was the players turn to provide the entertainment.
"We just wanted to give the fans something to watch and give them insight into us away from the rink," said Hyman. "We thought that would be a cool idea for people to see what we're like, talking to our teammates and to other guys around the league, while having a little competitive angle to it. Obviously, the charity component is the most important, so we were happy to be able to give back.
"I would say the event in whole coming together as it did and seeing the support from all the NHL players and fans who tuned in really stood out for me. So many people to thank for making this happen: the PA, Epic Games, ESPN, the Find Your Battlefield production crew. Just an awesome event and happy to be a part of it."
A sentiment echoed by Compher.
What was the biggest takeaway for the forward?
"Just the willingness of all the athletes to donate their time and showing their personalities, along with some high-end Fortnite skills from most."

Check out the full stream below: