Hyman bringing versatility and depth to Oilers postseason run
As an author, an entrepreneur and hockey player, Zach Hyman is just as versatile in his game on the ice.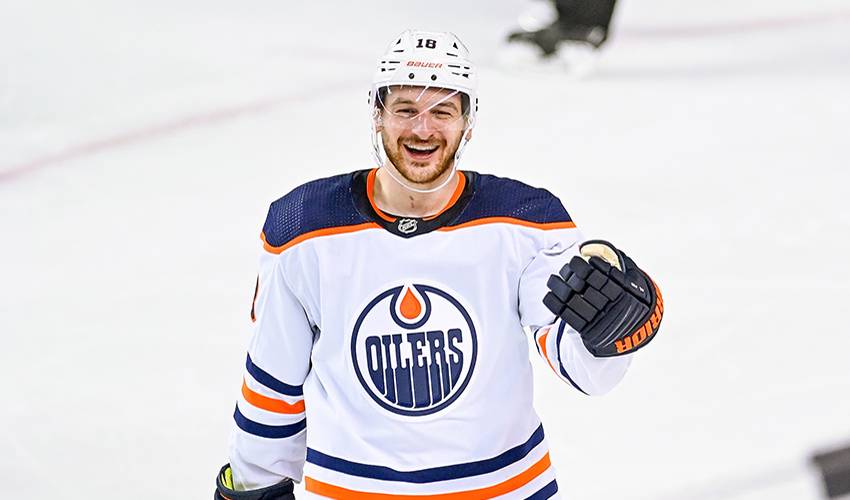 Feature photo: Getty Images
---
Zach Hyman continues to come up clutch.
When he signed a seven-year free agent contract with the Edmonton Oilers last July, the Pacific Division club brought in a versatile – he can play any forward position – and industrious player who was expected to make an immediate impact.
Mission accomplished.
The 29-year-old winger is the quintessential team player. A teammate who might fly under the radar compared to the superstars he skates alongside, but one who is every bit as important and impactful.
Coming off a regular season in which he established new career-best marks in goals (27), assists (27) points (54), power-play points (10) and power-play goals (5), Hyman has carried his outstanding contributions into the Stanley Cup Playoffs.
In the first two rounds of this postseason, he has so far scored eight goals and added four assists for 12 points over 12 games. Hyman has assembled a five-game goal-scoring streak with six goals, including a pair on the powerplay and one short-handed, ahead of Edmonton facing off against the Colorado Avalanche in the Western Conference Final.
When asked what it would mean if he had a successful postseason game, the 6-foot-1, 211-pounder produced a relatively simple response.
"I think a good playoff game for me would mean that I played hard, was competitive throughout, and outworked the other team."
On a vast majority of nights, playoffs or regular season, Hyman has checked all those boxes.
Launching his NHL career with the American Hockey League's Toronto Marlies in 2015-16, he recorded 37 points (15 goals, 22 assists) over 59 games. He was called up by the Maple Leafs on February 29, 2016 to make his NHL debut that night against the Tampa Bay Lightning. He scored his first NHL goal in a 4-3 shootout loss to the Buffalo Sabres on March 7 and finished the season with six points (four goals, two assists) in 16 games. On July 5, 2017, he signed a four-year contract with his hometown club.
It's been a steady ascent in production ever since. Hyman set then-NHL career highs in goals (15), assists (25) and points (40) in 2017-18 while again playing in all 82 games. In 2018-19, Hyman reached the 20-goal mark for the first time, finishing with 21 in 71 games - a total he matched in 51 contests the following season.
After netting 33 points (15 goals, 18 assists) in 43 games for Toronto in 2020-21, he signed with the Edmonton Oilers on July 28, 2021.
"Every step of your career, you always try to build on your game, working to develop your skillset. That's one thing about this game, you never stop learning."
And for Hyman, you also don't forget any helpful advice that comes your way.
He recalled a particular piece of advice in the days leading up to this year's playoffs.
"I remember someone telling me that the game elevates every round, but you have to enjoy it. That's the way I've always looked at it."
Hyman applies the same philosophy to his other passions.
Away from the rink, he's made a name for himself in the literary and business worlds. He founded Eleven Holdings Corp., an esports and gaming media holding company that operates a portfolio of esports and gaming businesses, including Eleven Gaming Corp. and SoaR Gaming LLC.
"It's been a fun adventure, to be part of esports and gaming," said Hyman. "I've really been enjoying it all."
Just as he has with another successful off-ice venture.
An accomplished author of children's books, Hyman's third release, "The Magician's Secret," is a story of a young boy who was enchanted by his grandfather's stories, which takes him through history.
"One of the main reasons I wrote children's books is because when I was young, I remember how fascinated I was with reading and seeing those colourful illustrations. I got into the habit of reading when I was young. It's a good habit to have."
The most recent chapter in his NHL career reads like a best-seller.
While his life and responsibilities have changed significantly over the past few seasons – a new team, marriage, welcoming a son, Theo, in 2020 – the veteran of 421 regular-season NHL games is grateful for it all.
He's also as driven as he's ever been.
"This is the time of year you dream about, to play in the big games, and to rise up to the occasion."
It's a game plan that continues to serve Hyman well.