After the Buzzer | Antoine Roussel
Antoine Roussel, who has made a big impact since returning to the lineup in early December, stopped by NHLPA.com to talk about a sweet passion and a few savoured moments around the game.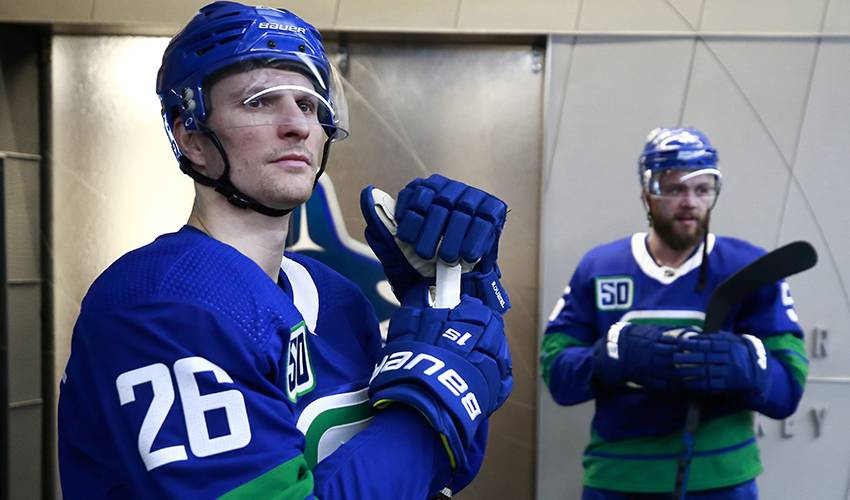 Feature photo: Getty Images
From their bond with fans to their efforts in the community – and everything in between – 'After the Buzzer' is a weekly series taking readers beyond the rink to shine a light and provide insight on players' lives away from the game.
---
What do you do when you're out for an extended period of time due to a major injury? Antoine Roussel decided to take on online university course in… maple syrup.
The Vancouver Canucks forward, who has made a big impact since returning to the lineup in early December, stopped by NHLPA.com to talk syrup, facial hair, his friendship with Alexandre Burrows, and New Year's resolutions.
TOP MARKS
Roussel's affinity for maple syrup dates back to the days he worked at his wife's family's farm in Quebec, a place that's home to thousands of maple trees. During his junior hockey career, Roussel would work there in the summers.
"My favourite maple syrup is the one that's aged in a whiskey barrel. That's my favourite. It's trending now… it's the best. If I had to pick something a little lighter, I'd go for the golden one, Grade 1. I'm not good at making breakfast or being a good cook. I just love the taste of maple syrup."
CLOSE SHAVE?
When Roussel returned to action Dec. 3, he had told reporters that if he scored in his first game back, he'd keep the mustache he grew for Movember.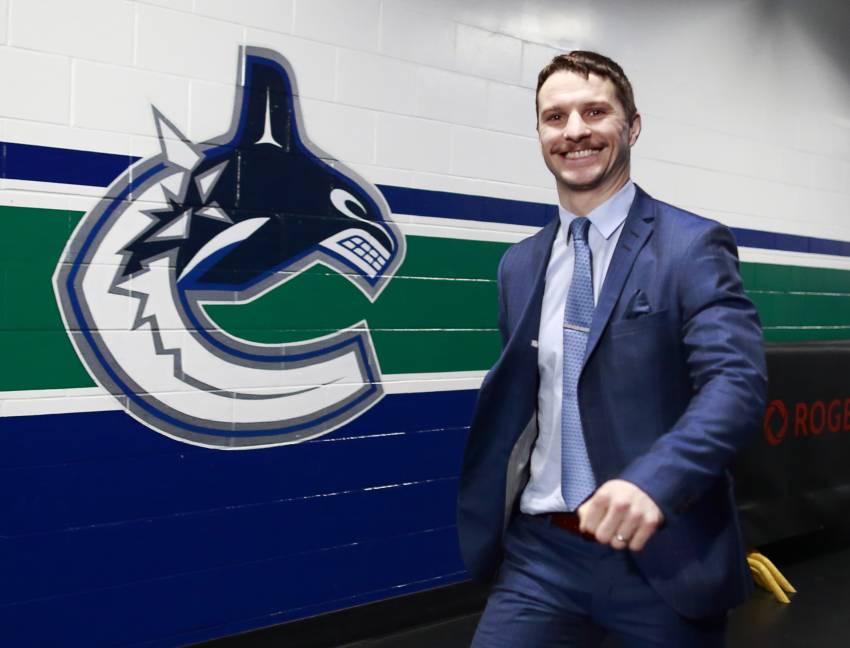 Less than two minutes into the game, the left wing lit the lamp in a very special game (see below).
The 30-year-old ended up losing the whiskers anyway.
So, why did he ditch the good luck charm? For one thing, his wife wasn't a big fan of it.
"I felt like he had to go at that time. I don't have any plans to bring it back until next year. Hopefully, it can bring me some good luck again when I grow it back."
ALEXANDRE THE GREAT
Before he and his mustache teamed to score in his return, Roussel's close friend, Alexandre Burrows, was added to the Canucks Ring of Honour. After Roussel scored, he pointed to the rafters in acknowledgement of the player that has helped him both on and off the ice.
Antoine Roussel, Burrows' pal and spiritual successor, points to Burrows' brand new spot in the ring of honour as he celebrates the opening goal. pic.twitter.com/t2y0ANIZer

—

Thomas Drance (@ThomasDrance) December 4, 2019
"We started training together a couple of years back and he took me right under his wing that summer in Quebec. He was very nice to me right from the get-go. After a couple of years, we became even closer friends and we still are. He's a very humble person, someone who I really looked up to when I was younger. He's somebody who was my idol when I was younger. He's the kind of player I want to be."
WHAT'S A PUNCH AMONGST FRIENDS?
Burrows played 913 NHL games before calling it a career July 6, 2018. The undrafted left wing recorded 409 points and 1,134 penalty minutes.
Known for his tenacity, Burrows didn't let friendships get in the way once the puck was dropped.
Just as Roussel.
"He was a really tough guy. I played against him a couple of times, and one time, I was at the net and roughing it up, giving a couple of punches. So, Alexandre and I are friends. We had dinner the night before and I was playing with his kids – just having a great time. During the game, I'm in front of the net and he came right over there and punched me. It was a hard punch to the face. I thought, 'Whoa… that's what it's like to be hard to play against and have no friends on the ice.'"
NEW YEAR, NEW RESOLUTIONS
Roussel has pair of New Years resolutions on his list… but he'll only share one of them.
"I can't really give away my secrets to my opponents, but one thing I will do is work smarter and harder on the ice."
PARTING SHOT
"I have young kids at home, and you are constantly looking out for them, enjoying time together with them. For me, it was easy to get through each day, one-by-one, because I was so tired from spending time with the kids. It was easy. It wasn't that bad. If there was a silver lining, it was that I got to spend more time with my family. " – Roussel, on the support he received from his family during his eight months away from playing hockey.