No Looking Back For Roussel
Born in France, the Stars winger cleared many hurdles & took an uncommon path to realize his NHL dream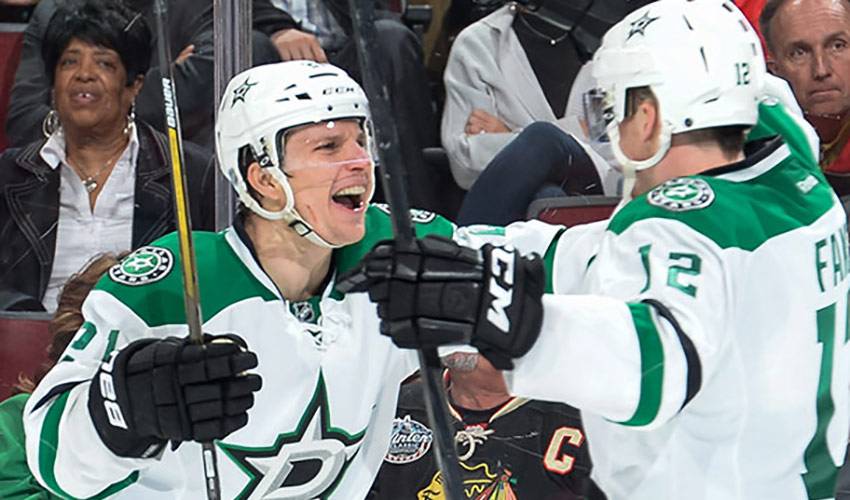 He started out playing rugby, was once cut from a Triple A hockey team and went undrafted in the NHL. But Antoine Roussel wouldn't give up on his NHL dream. Turns out, it was a smart move.
When you mention all the hurdles he had to overcome to get where he is, namely, as a key contributor on a Stanley Cup-caliber Dallas Stars squad, the man from Roubaix, France, isn't willing to give himself a pat on the back.
"I'm sure there will come a day when I'll look back on everything, but for now, I want to look ahead," offered Roussel. "The way that hockey is, you need to look forward, to the next game, to what you can do, to how you can be a better player."
The 26-year-old has winger always been the self-motivating type, not guided by an 'I'll show them' type of attitude.
While rugby wasn't going to be his calling, Roussel took to hockey when he was growing up in France. His fondness for the latter grew exponentially when he and his family moved to Quebec in his early teens.
"I love hockey," said Roussel. "I always have. But, I wasn't sure of an NHL career. I was cut from a few teams, including a Midget Triple A team. But, you can't give up when that happens. All you can control is how you react and what you can do to be better. That's what I focused on."
Passed over by all 30 NHL teams in the draft, Roussel's tenacity, feistiness and offensive contributions eventually caught the eye of Dallas brass, who signed him to a contract in 2012, then inked him to a four-year extension in 2014.
"He's a big part of our team moving forward," Stars general manager Jim Nill said. "He plays the game the right way, he plays hard and he has a physical edge to him."
It's an edge that can rile up the opposition and at the same time rouse his teammates.
If there was any past bad blood between Roussel and opponents-turned-teammates, that's precisely where it stayed – in the past.
Patrick Sharp, a longtime standout with Chicago, a big Western Conference rival of Dallas, is a prime example.
"What a great guy," said Roussel, of the three-time Stanley Cup winner, who was dealt to the Stars last July. "We battled in a lot of games, but I love having him as a teammate. He's just the kind of guy you want on your team. The thing about Sharpie, people might think he's just a great offensive player – and he is – but he's also very tough and has a lot of tenacity."
It's obvious how Roussel's fellow Stars view him.
In the aftermath of the Paris terrorist attacks in November, his teammates, unprompted, put stickers of the French flag on their sticks for a game, a show of support for the forward.
Roussel, who had a French flag sticker on his helmet, is still deeply moved by their response and that of others.
"To see all the people in the stands with French flags, to hear the French national anthem played in all of the arenas, it meant so much to me. I was walking in my neighborhood one day after the attacks, and I saw someone had put a French flag beside the American one at their house. I don't know those people, and they don't know me, but I appreciated that and everything that people did."
These days, Roussel, who has seven goals, five of which are game winners, will maintain his "look ahead" approach, as Dallas works to keep their hold on the No. 1 spot in the West.
There will come a time when he reflects on the winding path that got him to this point. That won't be for a while, though.
"I feel very lucky to be playing in the NHL and with the Stars," he said. "When my career is over, I'm sure that will be the time when I sit back and think more about how it all came to be."
He'll no doubt have plenty to be proud of.