Roussel proud of, optimistic for growing French legacy
When hockey and Antoine Roussel hooked up all those years ago, the young Frenchmen was a goner.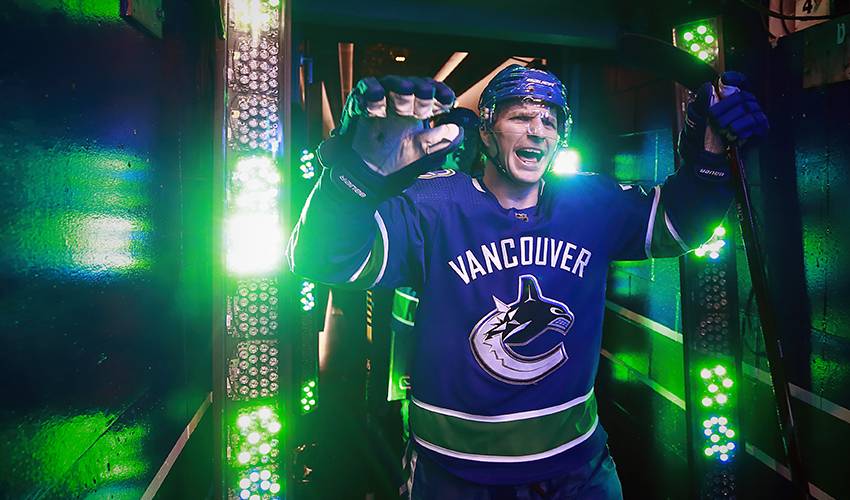 When hockey and Antoine Roussel hooked up all those years ago the young Frenchmen was a goner.
Hockey wasn't the most popular sport among boys his age in France. Soccer was tops. Others liked tennis or rugby. They wanted to be the next soccer star like Zinedine Zidane or rugby union standout like Yannick Jauzion.
Not Roussel. He set his sights on becoming the next Philippe Bozon, a France national team left wing who played 163 combined regular season and playoff games for the St. Louis Blues in the 1990s.
A generation later, the 29-year-old Roussel has become the NHL games-played leader among those born and raised in France. The Vancouver Canucks forward has suited up 478 times in the regular season, 93 outings ahead of Vegas Golden Knights centre Pierre-Edouard Bellemare.
"I'm very proud of that," Roussel said,."But it's not many games either. Pierre-Edouard is less than 100 games behind me. I've always said the longer we play the longer we grow the game back in France. Someday a young kid is going to come in and play and beat my total. That's great.
"We have four guys from my generation to come in and play — me, Pierre-Edouard, Stefane [Da Costa], Yohann [Auvitu]. When I was younger it was Bozon and [goalie] Cristobal [Huet].
"My mark is a good mark and I hope to add onto it. But I really hope someone from France explodes later on."
Maybe that player is 19-year-old Alexandre Texier. The teenaged Frenchman who played so well for the Columbus Blue Jackets in their shocking four-game sweep of the Presidents' Trophy-winning Tampa Bay Lightning in the First Round of the 2019 Stanley Cup Playoffs.
Texier is playing for France at the 2019 IIHF World Championship in Slovakia. But without Roussel and Bellemare, France struggled with an 0-5-2 preliminary-round record and as a result will be relegated along with Austria to the World Division IA championship next spring.
Roussel suffered a season-ending knee injury in mid-March and underwent surgery to repair a torn right ligament. Bellemare is eligible to become an unrestricted free agent this summer.
"I'm confident that we're getting better," Roussel said. "Our results on the world stage have been better. It's encouraging."
Roussel has played in five men's world championships. He has scored 16 goals and 27 points in 36 games for his country and played big roles in upset victories against Russia in 2013, Canada in 2014 and Finland in Paris in 2017.
"It was huge," Roussel said. "When we beat Russia we almost made it to the quarterfinal. When we beat Canada we made it to the quarterfinal. Our hockey is getting better, our league back home is getting better."
When Roussel was 16 his parents moved to Canada to open up a bed and breakfast place in the ski resort of Mont Tremblant, Quebec, that Veronique and Denis Roussel still run.
"They have fun, they love the lifestyle," Roussel said.
Roussel worked hard at his game and played four seasons in junior with the QMJHL Chicoutimi Sagueneens. Under coach/general manager Richard Martel, now a member of Parliament for Chicoutimi–Le Fjord, Roussel learned a tough, aggressive brand of hockey. He worked hard, could skate and was versatile.
"I learned mentally about having character and that nothing is given to you," he said.
But Roussel went undrafted. The 2010-11 Providence Bruins, however, signed him to an American Hockey League contract. But first the left wing had a brief stint of five games with the East Coast Hockey League's Reading Royals.
He played the next season with the Chicago Wolves, then the AHL affiliate of the Canucks. But Roussel received his first chance in the NHL after the owners' lockout-shortened 2012-13 season with the Dallas Stars. There, he established himself as hard to play against, an agitator who finished third in penalty minutes with 209 in his first full season in 2013-14.
It was an easy decision to sign with Vancouver last summer. Plenty of people in management and with the training staff were still around from his first training camp with the Canucks in 2011.
"I've been part of this organization before," said Roussel, who makes his offseason home in Montreal. "Even though it was only a training camp and a year in the minors I had a connection here. The city itself is beautiful. They needed some depth on left wing and there is a lot of long-term potential here."
And there is long-term potential for Roussel to add to his legacy for aspiring young hockey players from France.