Roussel Ready To Roll
After a disaspointing playoff exit, Antoine Roussel is looking forward to another crack at success this season in Dallas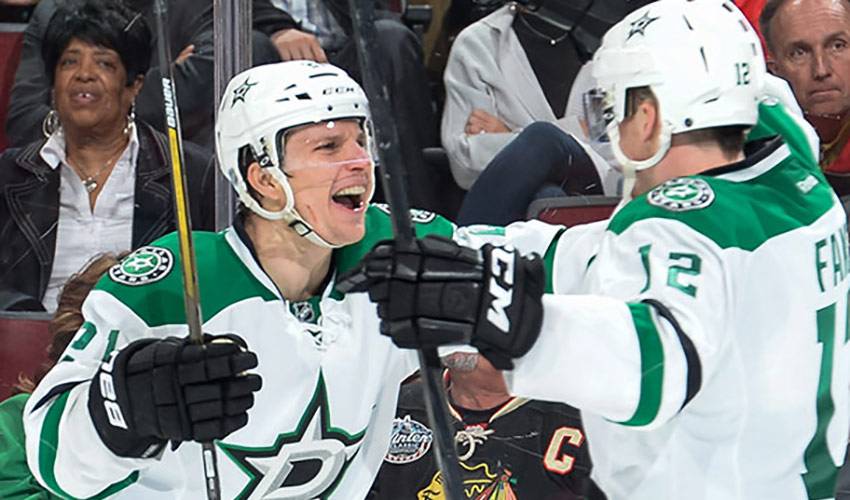 Whether it's the slight wince, the tone of his voice, or the words he chooses, it's abundantly clear that last season's second-round playoff exit still doesn't sit well with Antoine Roussel.
The Dallas Stars 2015-16 regular season yielded plenty of positives and promise, headlined by netting the No. 1 seed in the Western Conference courtesy of 50 wins.
A seven-game series loss to rival St. Louis in the Western semifinals, however, derailed the club's Stanley Cup aspirations and made for a very long summer.
"It takes a long time (to get over it) whenever you think about it," said the 26-year-old Roussel, who skated in all 13 of Dallas' 2015-16 post-season games. "It's pretty sad. When you see what you have as a team and where you want to go, and it doesn't go as you expected it would, that final game is tough to deal with. We came a long way, but we didn't reach our goal. We want to keep pushing forward."
Which is why Roussel, who spent part of this summer in his native France visiting with family, is focused on being in peak condition, mentally and physically, come training camp time.
He's not the only one.
"I had a good summer," he said. "I got to see my family back home which was great, just before the Euro Cup (soccer tournament) started. I've had a great off-season training, too. The guys are planning to go back early so that we can be ready and have a good year. We want to get it going."
It's precisely what a chip on your shoulder can do for a group eager to move on from last year's disappointing finish.
While the Stars are looking to improve their own fortunes, Roussel is quick to point out the quality and quantity of competition that stands in their way.
"You look around and you see other teams are getting better, so it's not an easy task," noted the left-winger. "The key is to get off to that good start, to build that confidence and keep it rolling. Last year, we started well. We want to do that again. That would be huge for us."
Featuring a cast of players in their hockey prime – 2016 Ted Lindsay Award finalist, Jamie Benn, Tyler Seguin and John Klingberg, to name a few – complemented by veterans like Jason Spezza, Patrick Sharp, Johnny Oduya and Dan Hamhuis, make the Stars a serious Cup contender once again.
"The summer – you think about it – and you want to get out there and get going," said Roussel. "We're competitive and we want to win it all. It was a good learning curve for us. We don't want to learn any more, though. We just want to win."
Dallas begins its championship quest on October 13, a home game against Western Conference rival Anaheim.