Coleman makes red carpet debut at VMAs
Blake Coleman didn't exactly give himself a thumbs-up for his gig at the recent Video Music Awards. But others certainly did.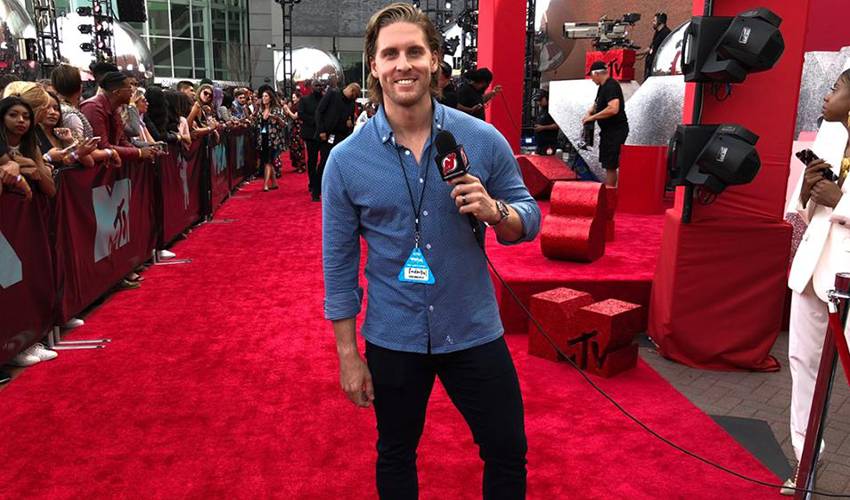 Blake Coleman didn't exactly give himself a thumbs-up for his gig at the recent Video Music Awards. But others certainly did.
On a night where MTV honours the best in the music video medium, Coleman found himself front-and-centre before all the hardware was handed out.
"Our PR person reached out two days before and asked if I'd be interested in covering the VMAs," said the 27-year-old centre. "I thought it would be good to branch out and test out my reporting skills. My wife [former NCAA football reporter, Jordan Daigle] and I flew up for the event. We got there, I grabbed my spot on the red carpet, spent about four or five hours there, grabbed as many celebrities as I could, and then had a quick chat with them."
So, how would Coleman, entering his third full NHL season, rate his red carpet reporter skills at the 36th annual VMAs that took place at the Prudential Center in Newark, New Jersey?
"I struggled a little bit… got kicked in the shin a few times to move the mic back and forth, but it was fun."
Coleman's wife, who has had extensive experience as a TV personality, including as the on-field host for all Texas Christian University (TCU) college football games, and as a reporter for Fox Sports Southwest, offered a more glowing review of his VMAs work.
"He did so great… a natural," said Jordan, the all-access reporter for season nine of Country Music Television's hit show, Dallas Cowboys Cheerleaders: Making the Team. "It's always a good time when you can have fun on camera and be yourself. He had me laughing through the whole thing."
Coleman's sister, Lauren, was equally kind on his performance.
"I think he did a really good job. I think he's really personable, and he knows how to connect with people. It was a really fun thing to see him do. He's goofy and fun, and a lot of people don't get to see that side of him."
Coleman interviewed several famous celebrities, including rapper, actor, and music producer Ice-T, as well as DJ, songwriter and music producer Diplo.
He even got some love from Diplo, who complimented Coleman for the black cowboy hat he donned for the interview.
"It was cool. Most of the people I interviewed I had heard of. It was great to talk to Diplo and Ice-T… they were awesome. The most animated ones were the people from that Floribama Shore reality show. Diplo was great, just exactly how I expected him to be, with the cowboy hat and sparkles. Dolores Catania (The Real Housewives of New Jersey) was really nice. She's a big Devils fan. Brent Qvale from the New York Jets was great to talk to as well. It's pretty easy to talk to other athletes."
The former Miami University RedHawks standout also had the chance to interview his new Devils' teammate P.K. Subban, who attended the VMAs with fiancée, U.S. skiing great Lindsey Vonn.
It was the first time Coleman and Subban met in person.
"That was fun," said Coleman. "That was more about two guys chit-chatting than an actual interview. It was a nice introduction. Later on, we actually had the chance to sit down up in the team's suite and get to know each other a little bit."
Just don't expect Coleman to try and build off his VMAs experience.
The forward, who scored 22 goals for New Jersey in 2018-19, is admittedly much more comfortable on a sheet of ice.
"I survived, that's the best way to put it," offered Coleman, who recently found out he and Jordan are having a baby girl. "I would say it's pretty safe that I'll be sticking with hockey. I'll stay in my lane."

It's understandable why the native of Plano, Texas would prefer to keep the focus on his NHL career.
The 75th overall pick of New Jersey in 2011 is ready to do his part in helping the Devils get back into the Eastern Conference playoff scene. Two years ago, the Metropolitan Division squad made it to the postseason for the first time since 2011-12, but lost in the first round to the Tampa Bay Lightning.
"I'm really looking forward to this year. We definitely want to get into the playoffs. You never know what can happen after that."
As for Coleman breaking out his interviewer persona with teammates throughout the season, don't count on it.
"Oh, man… this might be a one-and-done for me."