Little fanfare, big heart: Hyman continues to humbly support SickKids
It was a grand gesture delivered in a most humble way. And just exactly what you would expect from Zach Hyman.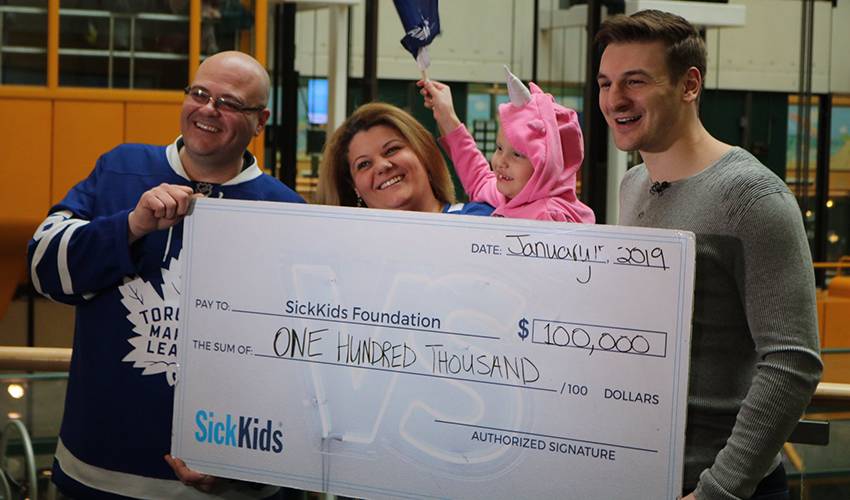 It was a grand gesture delivered in a most humble way. And just exactly what you would expect from Zach Hyman.
Earlier this year, Hyman, now in his fourth NHL season with the Toronto Maple Leafs, presented a cheque for $100,000 to the Hospital for Sick Children.
There was little fanfare or publicity surrounding the donation (the money was raised through Hyman's first annual charity golf tournament), which is exactly how the 26-year-old wanted it to be.
Hyman, along with a small group of friends, parents, children and others, stood together one floor above SickKids to share in the moment, as one cameraman took video and a lone photographer snapped pictures.
"Auston (Matthews) goes to SickKids all the time and he doesn't boast about it," said Hyman of his high-profile teammate. "A lot of our guys do that as well. You don't do this kind of thing for the publicity. You do it because you care and you want to make an impact. When you go to visit kids, you really see how much it means to them and to their families."
It also means a great deal to Hyman. Perhaps more.
"Sometimes, you go and the kids are in their hospital bed watching a hockey game," he said. "To go and see them, to see how positive they are in dealing with some very difficult circumstances, it puts everything into perspective for everybody."
Which is why his relationship with SickKids remains an important part of his life.
"It's really special," said Hyman. "I've been coming here since long before I was playing with the Maple Leafs. Going to see these kids and meeting their families, it's been really impactful for me. SickKids was one of the charities that we supported through the golf tournament. It's important for me to help out in any way I can."
Hyman sees the same commitment to giving back to the community within his own dressing room.
He's appreciative of each player's willingness to step up for a teammate's cause.
"It's all about helping one another," offered Hyman, whose second annual golf tournament will take place on July 29 at Oakdale Golf & Country Club in Aurora, Ontario. "You see more and more guys on our team doing charity events and we all support each other. You see how important it is for the guys to give back to the community. We're in such a privileged position to be playing the game we love, so it's important for us to be good role models to kids."
It's something Hyman reminds himself of each time he makes a visit to SickKids, often out of the view of the public eye.
What's the one that stays with him after he spends time with kids and their families?
"It always strikes me, with the kids, in how mature they are with understanding their situation and being so strong in dealing with it," said Hyman. "You learn a lot from spending time with them, how positive they are, the mindset they have – you learn something every time you go there."
---
For more on Zach and his Celebrity Classic, visit zachhyman.com.