The most exciting empty-netter Blake Comeau has ever seen
Ahead of his team's 2018 Stanley Cup Playoffs debut, Blake Comeau looks back to a 10-game win streak that had him thinking, "This team has a different feel to it."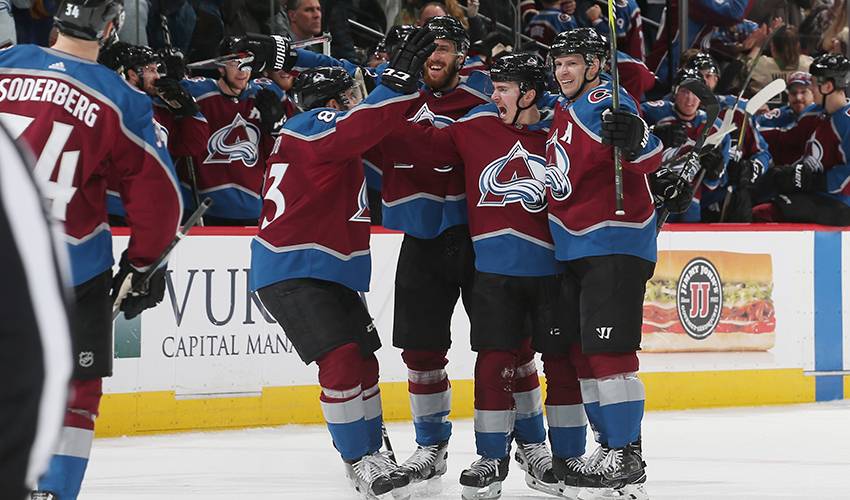 It was a scene Blake Comeau wouldn't mind seeing again, only this time in the Stanley Cup Playoffs.
He wasn't part of the raucous group of Colorado players piled on top of one another after the puck sailed into the empty net, but the scene was just as wild where he happened to be standing.
When captain Gabriel Landeskog scored to make the score 4-1 with 3:23 left in the third period of an eventual 5-2 win, it was mayhem – in the stands, on the ice and on the home team's bench.
Why all of the emotion? Colorado needed to beat St. Louis in regulation in the final regular season game to punch their ticket to the Stanley Cup Final.
Mission accomplished.
"I was on the bench, but I can tell you there was just as much excitement there as there was on the ice," Comeau said with a laugh. "Just the fact that we knew we had to win in regulation, we knew how important that empty-net goal was. It kind of sealed it. There was a lot of excitement, but I'm sure there was a lot of anxiousness and nerves going into the game. After the empty-net goal, I think everyone took a big, deep breath and let out all the emotions everyone was feeling.
"When you play 82 regular season games and it comes down to the last one, you go through a lot of ups and downs. I think everyone knew how important of a step it was to be in the playoffs. Being such a young team, I think it's going to be a great way to learn as well, to be part of these big, pressure-filled games."
After a 48-point 2016-17 campaign, Colorado recorded 95 points to become first NHL team to post a 40-point gain over an 82-game campaign since the Pittsburgh Penguins made a jump of 47 from 2005-06 (58) to 2006-07 (105).
"Being here and going what we went through last year, that was one of the toughest seasons I've been part of," said the 32-year-old Comeau, a veteran of 720 NHL regular season games. "To be able to come back this year and turn it around as much as we have and be part of a group that's as tight as we are, I'd say that's the biggest highlight – getting into the playoffs and everyone having a chance to redeem themselves from last year's fiasco."
And that's precisely what Comeau and co. did.
"We were kind of fluttering around the first part of the season, sticking around the .500 mark," he recalled. "There was a stretch where we won 10 in a row and I thought to myself, 'This team has a different feel to it.' We were a more confident team. When we went through that stretch, we were playing some really good hockey against some really good teams and came out with wins. That boosts everyone's confidence."
Now the game plan switches to their first-round opponent, Nashville, last year's Stanley Cup runner-up and this year's President Trophy winners.
Comeau knows what Colorado can expect from their formidable Western Conference rival.
"Being at the rink on Monday was good," he said. "We talked about the first step, which was making the playoffs, and now the focus shifts to playing Nashville, going up against a really good team. It's going to be fun to be part of. It's something I truly appreciate. I've been in the League 11 years and this will be the third time I've been in the playoffs. It's never a given to make the playoffs, so to be here, there's tons of excitement."
What will Comeau, who had 13 goals, three of them short-handed, look to contribute?
"For me, it would be doing what I need to do on the penalty-kill," he offered. "I think our penalty-kill has been great all season. That's something I take a lot of pride in. With me and my linemates, it's going to be keeping the other team's top line off the scoresheet. We'll also look to generate some secondary offence to help out."
And with it, perhaps he'll help generate some more emotional on-ice moments.