Stars teammates kept each other's spirits up, bodies ready
Both Tyler Seguin and Jamie Benn could soon be on the receiving end of an early Christmas gift from Blake Comeau.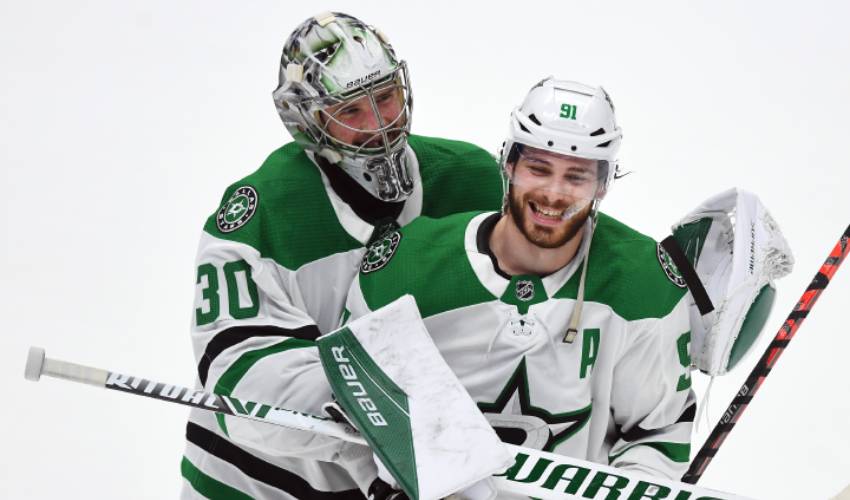 Feature photo: Getty Images
---
The workout stars aligned perfectly for five Dallas teammates.
Take three forwards, one goalie, a defenceman, a "full-blown gym," and it makes for an unconventional, yet highly useful, training experience.
Starting in April, Dallas Stars captain Jamie Benn converted his garage and yard into a workout haven, and proceeded to host regular workouts with Ben Bishop, Blake Comeau, Jamie Oleksiak and Tyler Seguin.
It was Seguin who eventually took over the role of leading the sessions.
"My biggest thing was that I didn't think I could leave Matt Nichol [Seguin's long-time trainer] and having a trainer in Toronto," said the 28-year-old centre. "The quarantine proved to be a good eye-opener in that I could train on my own if I wanted to."
Seguin did some serious homework.
"When it came to running the workouts at Jamie's, I had Matt send me a program for quarantine that I could do on my own. But having guys here, we decided to do it at Jamie's. I had a program from the team, from Brad Jellis, our trainer. I made a hybrid of the two," the 28-year-old explained.
"I was originally in the Bahamas right when the quarantine started, so when I got back to Dallas, Jamie said the guys were over at his place, and to come and work out. I came over and did the workout the first day, and on the second day, I brought my own stuff. Jamie looked at me and said, 'Do you have a program?' and I told him I did. On the third day, he said, 'Let's try out yours. We liked what you did yesterday.' So, I ran everyone through it and explained all the technical stuff in our warm-up. It became a daily thing."
And it became a very popular thing among the group of five.
Comeau, a 14-year NHL veteran, has high praise for the workouts, the player leading them, and the gracious host.
The 34-year-old right wing, who lives five minutes from Benn's house, took plenty away from the daily sessions.
"Tyler was bang-on," praised Comeau. "It felt like he was doing double the work of us when he was setting up the stations, moving weights around, adding weights, taking weights off – we were watching him doing his thing. But it worked out great for us. He was excellent. It was a great set-up. He had everything ready to go."
Comeau has equally kind words for Benn.
"Jamie was bringing out water for us, towels for us to sit on, washing the towels for us every day, and there was protein powder as well. It was an amazing set-up. I'd show up, I had everything I needed, and then you'd go home. Those guys put a lot of extra work into it.
Both Seguin and Benn could soon be on the receiving end of an early Christmas gift from Comeau.
"I might have to come up with a nice gesture for the services provided."
For Comeau, the workouts delivered a welcome return to familiarity.
They also inspired a similar regimen in his household.
"It added a little bit of normalcy," said the player with 852 NHL games to his name, who along with his wife, Lacey, have three young daughters. "It was early to mid-April, and the first month before we started, as a hockey player, you're so used to routine and structure. I realized the kids needed that too, so we tried to implement a little structure in our daily routine at home. We'd get up, get outside, go for a bike ride, and be active. We tried to be outside as much as we could. We found ways to stay active and entertained. A lot of good came out of doing the workouts with the guys."
Seguin is appreciative of all the positive feedback.
He also believes the group will be ahead of the curve when it comes to being in game-ready shape.
"We definitely should be. It's funny, we were watching the Michael Jordan documentary [The Last Dance] – all of us would watch them Sunday nights – and then Monday morning, we'd be working out together and start yelling, 'MJ mentality,' just from how he ran his stuff. It was great to have that camaraderie amongst us, and being able to push one another during the workouts. Some of them were pretty intense. We kept saying – we didn't know what other guys were doing – that we had the edge as far as training during the quarantine and how hard we were working with our set-up."
It was a set-up, offered Bishop, comparable to a first-rate gym and an all-inclusive spa.
The amenities? Top shelf, according to the backstopper.
"It was great," said Bishop. "Jamie was a great host for all of us. He was doing all the laundry, so I think we still have to tip him. Tyler did a fantastic job leading the workouts. You could jump in the pool, get in some chips and putts on his putting green – and get that all done early in the morning. It was nice to do the workouts with the guys and it was great set-up. Everyone was following the [pandemic] protocols, too, so it was nice to do the workouts, and then have a chance to talk with the guys afterwards."
Perhaps Seguin has found his calling when the time comes to hang up his NHL skates.
"It's funny, when you play hockey, it's hard to think about what lies ahead for you after you finishing playing. Now, at my age – I'm in my tenth year – you start to think about that more. I really love talking with younger players and helping them in their development. Going through this quarantine, I really enjoyed leading the workouts and the warm-ups. I had a lot of fun with it. I took it really seriously, and that's all thanks to Matt being in my ear for all of those years. It's fun sharing that knowledge with other players, and there's definitely a lot of pride in it."
According to Bishop and Seguin, they're already seeing the benefits of their unique outdoor workouts.
"We had our fun, we worked hard, and everyone looks good on the ice right now," noted Seguin.
Said Bishop, "Absolutely. Everybody feels really good right now."