Stars players anticipate most memorable outdoor hockey experience
A trio of Stars will be going a little old school for the upcoming NHL Winter Classic.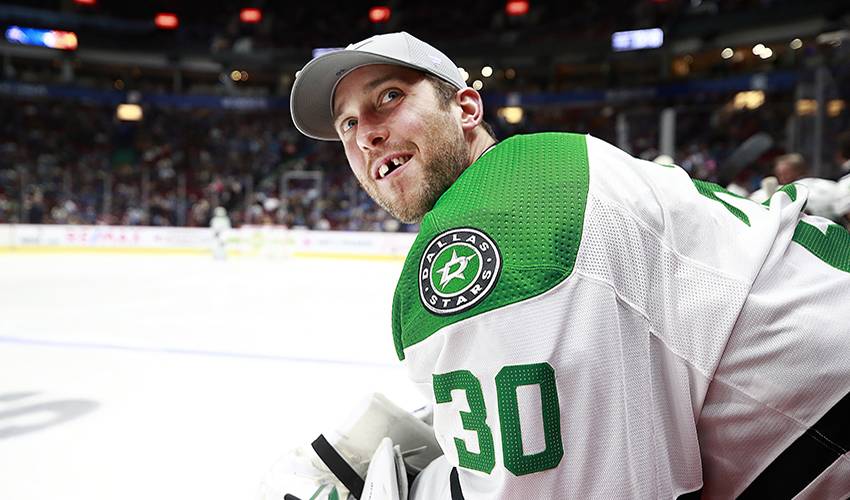 A trio of Stars will be going a little old school for the upcoming NHL Winter Classic.
When Dallas hosts Central Division rival Nashville on January 1 at the Cotton Bowl, Stars backstopper Ben Bishop, left wing Blake Comeau and defenceman Jamie Oleksiak will look to make it their most memorable outdoor hockey experience.
The 33-year-old Bishop is putting his own equipment fashion statement on the game, while fellow 33-year-old Comeau is adding some veteran outdoor experience – in the NHL and before the big leagues – to the highly anticipated contest.
"I'm going with the old school look," Bishop told NHLPA.com a few days ahead of the game. "We just got the gear in today and as a team we practiced for the first time with all of our Winter Classic gear. I went with the old brown and green colours, got the mask and everything, so hopefully it will look good. It looked pretty good in practice. It's always fun to watch the other goalies get a chance to throw the equipment on for these games. I'm excited to do it myself now."
The St. Louis-raised goaltender is getting his first shot at an NHL outdoor game.
Growing up in Missouri, Bishop didn't have much exposure to playing outdoors, but he did get the chance to do it early on in his hockey life.
"There weren't many outdoor rinks in St. Louis, but when I first started, the club team I played for was outside. For the first however many years, the rink we played on started with no roof and no walls. Then there were walls and no roof. I remember coming off the ice and we'd all be crying because our toes were so cold. But it was still fun."
Comeau can no doubt relate.
Born in Vancouver, but raised in Meadow Lake, Saskatchewan, the veteran of over 800 regular season NHL games spent countless hours playing outside, often in bitterly cold weather.
Despite the howling winds and freezing temperatures, Comeau has nothing but fond recollections of those days.
"There was a little outdoor rink in Meadow Lake called Westview that wasn't far from school," started the 47th overall pick of the New York Islanders in 2004. "I remember walking over after school and skating outside. You'd get together on weekends with friends. There were some freezing cold days you had, but we were still out there on the ice. There was a little heated shack where you could get your skates on. It was just a fun time to be out there with your friends, or be out there with my dad and sister – there were lots of fun games and fun times. I feel like it was there where I found my love for the game."
Oleksiak, 27, also recalled the times he played the outdoor game in his native Toronto, skating on a rink that was just a long slap shot from the family home.
Drafted 14th overall in 2011 by the Stars, the 6-foot-7, 255-pounder, dealt back to Dallas from Pittsburgh on January 28, 2019, often walks by the rink when he's home for the summer.
"Growing up in The Beaches (just east of downtown Toronto), there is an outdoor rink I always played on," recalled Oleksiak. "I used to be on that ice almost every single night. They would have adult shinny games going until 10 at night and I'd try to stay out there as long as possible. It was always cold, but it was always a lot of fun playing with the kids in the neighbourhood. There were guys that were older who had been playing there for years and there was a group of younger kids, too. I always really cherished my time out there on that rink. This game, it's going to be a throwback to those days."
Comeau is hoping for a reversal of fortune in what will be his second NHL outdoor contest.
In 2016, when he was with the Colorado Avalanche, Comeau played in the NHL Stadium Series Game in front of over 50,000 fans at Coors Stadium in Colorado. He had one assist in a 5-3 loss to the Detroit Red Wings.
"It's going to be awesome with that many people in the stands," said the 6-foot-1, 200-pound forward. "When I played in the one in Colorado, it's a little different feeling when you're going to the stadium and you're getting dressed in a baseball room, and then making that walk out to the rink. Once you get the game going, though, you really don't notice that stuff. You're just focused on trying to win the hockey game."
Each player will have plenty of fan support at the Cotton Bowl.
Bishop, Comeau and Oleksiak all spoke of the welcome opportunity to play in front of family and friends in a unique setting.
"It might be the one and only chance where you get to play in that atmosphere, so I think there will be a few more times where you stand back, look around and enjoy what's going on," said Bishop. "Once the puck drops, it's all about getting the win, but in between whistles, I might peek up and be in awe of how many people are there. I have a big group coming down from St. Louis to watch the game – it's going to be a really neat experience for all of us."
That would include a special moment with his wife Andrea and their young son Benjamin, who was born in May 2018.
"The family skate, we're definitely looking forward to that. He just got a new pair of skates. He won't be able to really skate, but it will be fun to put them on him… his first time skating with ice skates, and it will be at the Winter Classic. That's pretty neat."
Comeau will also have a big cheering section rooting him on.
"I think what stands out for me is how involved the families are allowed to be. The day before, we'll have the family skate, where your kids, close family and parents can be there with you. My kids are old enough now to really enjoy the experience. Last time, my middle one was just a baby and my oldest was three. Now, they are six, and almost four. They have their own figure skates and they love to be on the ice. It's just the memories that you can make with your family and the pictures you will have forever."
Oleksiak's family will make the trek from Toronto to Dallas for the game.
Each Oleksiak has had the Winter Classic marked in their respective calendars for a long time.
"It will be nice to have them here and to showcase hockey in Texas," said the defenceman. "We'll have a great turnout. And we have some amazing fans that will bring a lot of energy."
All that's left to do now is net two points.
"The situation we're in right now, it's funny how it's worked out playing Nashville, with how tight things are in the standings," said Comeau. "It's a big divisional game. It's going to be very important that we don't get caught up in the atmosphere and emotions of everything, and focus on the game we need to play in order to win.