Nothing Personal For Gallagher
The dynamic young forward is focused on helping the Habs continue to challenge for the upper echelon of the NHL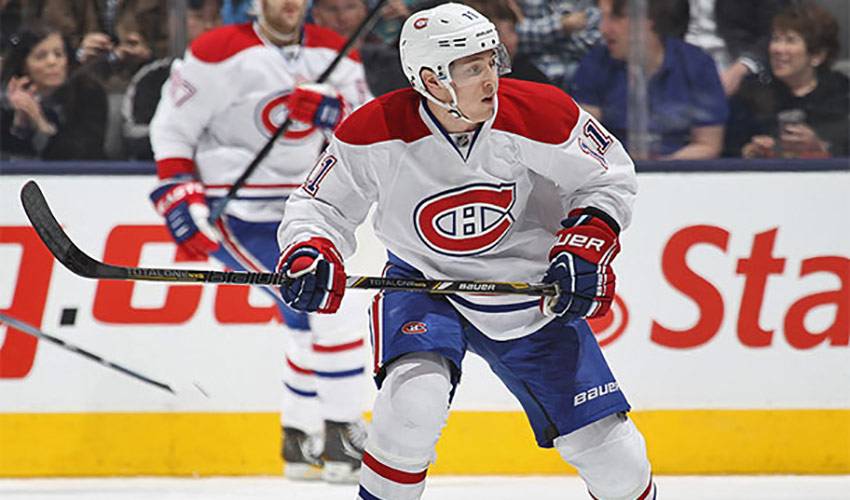 Brendan Gallagher is not someone who likes to talk about personal success. But when pressed on what his biggest highlight was from the 2013-14 NHL season, the young Montreal star offered up a particular night in Beantown.
He could have picked his first NHL goal, one that came against a future Hall of Fame goaltender in Martin Broduer. He might have opted for the 15 total goals he registered in 44 games. He also could have selected being named a finalist for rookie of the year honours.
But it was a game in Boston, against the Canadiens' fierce Original Six rivals, that one of hockey's brightest young talents settled on.
"It was one of those games that just sticks with you, one you know you won't forget for a long time," recalled the 21-year-old Edmonton native. "It had a little bit of everything in it."
Montreal was down 5-3 at one point, but a tally by Gallagher, followed by Andrei Markov's marker with 8.2 seconds left, knotted the contest. After a scoreless overtime period, the stage was set for a shootout.
Cue Gallagher's moment to shine.
All six Boston players were stopped. The first five Canadiens to shoot couldn't find the net. It was Gallagher who ended it, putting one five-hole to earn the Habs two points.
"For us to come back in a tough place to play and to have an opportunity to score the game-winner, it was pretty sweet," remembered Gallagher. "It was a big win for us."
Was he calm, cool and collected when he was called upon in the shootout?
"No way," he said. "I was really nervous just before I had the puck on my stick. But, I was focused and ready when it was time."
His teammates weren't the only ones who gave him a raucous ovation after the red light came on.
"I had my family in the crowd, too," offered the right-winger. "It doesn't get much better than that."
Gallagher, who enjoyed a stellar junior career with the Vancouver Giants, sees nothing but good things in store for Montreal in 2013-14.
The additions of George Parros, Douglas Murray and Daniel Briere have the 147th overall pick in the 2010 Entry Draft beaming.
"They are three guys that are extremely tough to play against," noted Gallagher. "Each guy can make an impact."
Gallagher has already bonded with fellow forward Briere.
"He's a very approachable person, someone who has already helped me. This game is all about learning. You learn to be a better player every day, but you also learn from others. I'm really lucky to be in the position I find myself in. It's a solid group of players here."
The less he has to worry about off the ice, the better, insists Gallagher.
"I'm living with (teammate) Josh Gorges and his wife again this season," he said. "They have been great to me. Being able to live with them allows me to put all my focus on playing hockey."
And hopefully, to many more memorable games like the one he had in Boston.