Deserving Of Every Ounce Of Respect
Sheldon Souray & Francois Beauchemin are just two of the players who have called Saku Koivu a teammate and a friend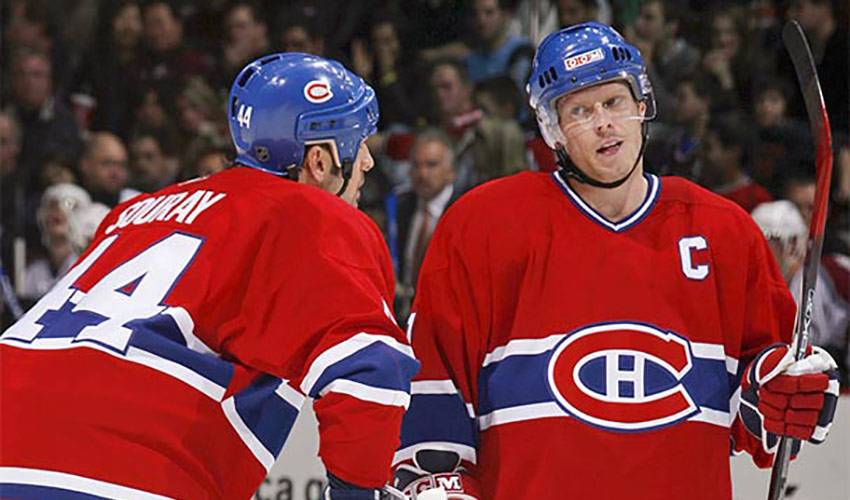 Sheldon Souray discovered, almost immediately, what Montreal Canadiens fans had known for years: Saku Koivu was deserving of every ounce of respect he was afforded.
He counts the recently retired former Montreal captain as one of his closest friends, a player that immediately took him under his wing when he was traded to the Canadiens, the same person he would skate alongside years later with the Anaheim Ducks.
Souray didn't know Koivu away from the game before the deal that sent the defenceman from New Jersey to Montreal on March 1, 2000.
What he was familiar with, however, was just how talented and frustrating an opponent Koivu was.
"I remember when I was in New Jersey and we'd be playing the Canadiens, before the game, our leaders would talk about how we had to be tough on Saku, to really get on him."
It wasn't an easy undertaking.
"He was a pain in the ass to play against," laughed Souray. "He seemed to be everywhere and he was out there in every situation. But, he didn't mind mixing it up either. If there was a scrum, he didn't mind being in the middle of it. You always knew when he was out there."
The day Souray became a member of the Habs, it was that same pesky player who reached out to him immediately.
"'Sak' was one of the first guys that I met," recalled Souray.
What was his first impression of the Finnish star?
"I didn't realize he was that small," said Souray. "When you played him, he always appeared to be much bigger. I liked him from that first moment. He made sure I was comfortable, really wanting to make sure everything was good for me. Him and (former NHLer and current Vancouver Canucks president) Trevor Linden, those two guys really went the extra mile for me."
Souray made sure he did the same for Koivu.
Once, in a heated game against Boston, Montreal's long-standing rival, Bruins defenceman Sean O'Donnell and Koivu clashed at the end of a period.
Enter Souray.
"Sean, who is a great guy, was mixing it up with Saku, so I skated over and we had a little tussle," remembered Souray. "Later on, Sean just smiled and said, 'Hey, Shelly. I had to do that. I smiled back and said, 'So did I.'"
It was precisely the type of respect Koivu received from teammates and opponents alike over an 18-season career, one that yielded 1,124 regular season games and 832 points.
Koivu's first 13 campaigns were spent with the Canadiens – holding the team captaincy for 10 years, tying him with legend Jean Beliveau for the longest tenure in club history – before he moved on to play his final five seasons in Anaheim.
He also waged a high-profile battle with non-Hodgkins intra-abdominal lymphoma, missing the majority of the 2001-02 season, before returning later in the campaign to help the Habs make the playoffs.
For those who know him best, the 39-year-old represents everything good about the game of hockey.
"I remember noticing Saku right away when I was in training camp," said Anaheim defenceman Francois Beauchemin, who played just one game for Montreal before he joined the Columbus Blue Jackets in 2004. "Every day, he worked hard. He was the first guy on the ice and the last guy off. He challenged the guys to be better because he cared.
"It was the same way here in Anaheim," he continued. "After a tough loss, he'd always talk to the media. He made time for everyone. Saku was just what you'd want in a teammate. He is a class act, a great guy."
It's a typical compliment when talking Koivu.
"He could have had an ego," noted Souray. "He was the face of the team, admired and beloved by the city of Montreal. But, he had more humility than you could ever imagine. He never took being a leader lightly, and he never took it for granted. He has done so much for the game, so much for both Montreal and Anaheim."
It's something that Souray will long be grateful for.
"The kind of person he is, how he treats people, he deserves for everyone to have his back."
Just like Souray, Beauchemin, and a host of others did for one of hockey's most respected and revered players.