Keeping An Even Keel
After a strong start in Toronto, veteran defenceman Francois Beauchemin knows there is much work to come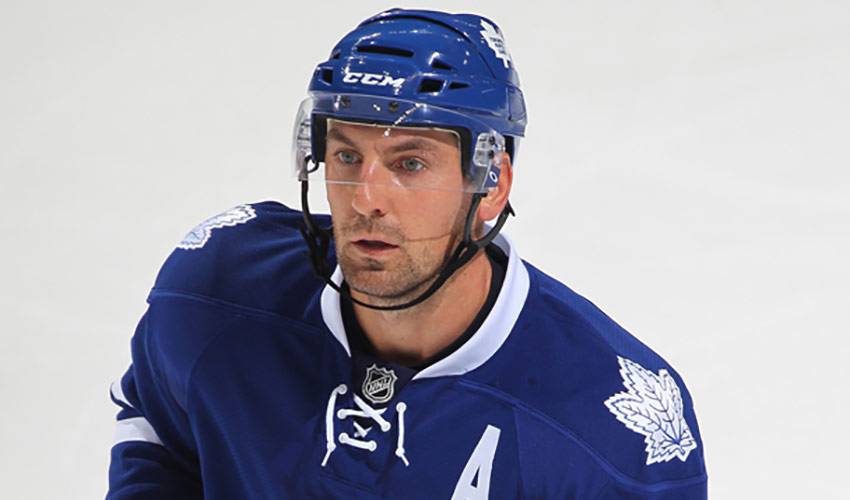 Francois Beauchemin doesn't need to go to an NHL rink to know how the Toronto Maple Leafs' 2010-11 season has gone so far.
With four consecutive wins in as many games to launch their campaign, the Leafs have indeed made the hockey world take notice, something not lost on Beauchemin, now in his second year with the Maple Leafs.
"I was at my son's hockey game a few days ago and some of the parents, who are big Leafs' fans, came up to me and told me how well we are playing," Beauchemin told NHLPA.com on the drive to practice on Sunday morning. "It's great to hear that and realize people are happy with how we've started the year."
After a woeful 2009-10, one that saw Toronto miss the playoffs for the fifth consecutive season following a pre-lockout run of six straight playoff appearances, the Original Six team has lived up to their advance billing that suggested a post-season spot was an attainable goal.
For Beauchemin, who signed a three-year deal with the Maple Leafs on July 6, 2009, it's certainly a welcome change in fortune. But he doesn't need to be reminded there are over 75 games still to be played.
"When you're not winning, you want to prove that you can," said the Quebec native, who played major junior hockey in the Quebec Major Junior Hockey League (QMJHL) for four season with the Laval Titan Collège Français, Acadie-Bathurst Titan and Moncton Wildcats. "But when you're winning, you have to work even harder. Everybody wants to be the first team to beat you."
Still, Beauchemin is happy to find himself and his team in the situation they're in.
At just 30 years of age, the blueliner, who has played nearly 350 NHL games, is a veteran on the Leafs, a label he laughs about, but a role he takes seriously.
"I'm not old, but I'm one of the older guys on the team," acknowledged the alternate captain, who was drafted 75th overall by the Montreal Canadiens in 1998, but only appeared in one game for the Habs in 2002-03. "I want to lead by example. One thing I want the guys to know is that it's very hard to win in the NHL on a long-term basis and that you really can't look too far ahead."
It's a strategy Beauchemin has employed in his own career, one that has seen him play seven games in Mississippi, get claimed on waivers and win a Stanley Cup.
"I've worked hard a lot," said the 6'0, 215-pounder. "To play in the NHL was what I had always dreamed about when I was playing road hockey or on the outdoor rinks. It's true, that it has been an interesting journey for me, but I don't really think about it now. I'm sure I will when my career is done."
It was 2004-05, the year of the NHL lockout, when Beauchemin first realized he could carve out a solid big-league career.
"No one was supposed to be picked up on waivers that season and I was," he recalled. "Columbus picked me up and thought this was my chance to show that I belonged."
While it was only 11 games with the Blue Jackets, Beauchemin learned a great deal from a pair of highly respected veterans.
"Adam Foote really helped me a lot and so did Todd Marchant," noted Beauchemin, of the long-time NHLPA members. "I was lucky to be around those guys."
Beauchemin would be reunited with Marchant in Anaheim after being traded along with Tyler Wright for Sergei Fedorov on November 15, 2005.
He emerged as a top-four defenceman with the Ducks and recorded 34 points in 61 games with the Anaheim after the trade, helping the club to a Stanley Cup championship in 2007.
"It was a great experience and I was fortunate to play with a lot of great players," said Beauchemin. "Scott Niedermayer was the perfect role model to show you what it takes to be a professional both on and off the ice. That's important for every player. You need to work just as hard away from the rink as you do when you're there."
Beauchemin certainly hasn't forgotten that play his part in keeping Toronto's winning ways intact.
"We knew we were a better hockey club heading into this year. The big trade on January 31 (Dion Phaneuf, Fredrik Sjöström and prospect Keith Aulie came to the Leafs in exchange for Matt Stajan, Jamal Mayers, Niklas Hagman and Ian White to the Calgary Flames) made us a better team and getting (former Chicago forward) Kris Versteeg in a trade helped us, too. You can't buy the experience that goes with winning a Stanley Cup like he did last year."
While talk of bringing the Cup to Toronto this year is a little premature, Beauchemin admits it's a lot happier drive to the rink these days.
"It is, for sure," he laughed. "Hopefully, we just keep things going and the confidence continues to build. We know we have to work hard every single game."
Beauchemin would know. It's something he's done it throughout his entire career.