SAKU KOIVU RETIRES FROM NHL AFTER 18 SEASONS
Finnish native is a veteran of 1,124 NHL games and a four-time Olympian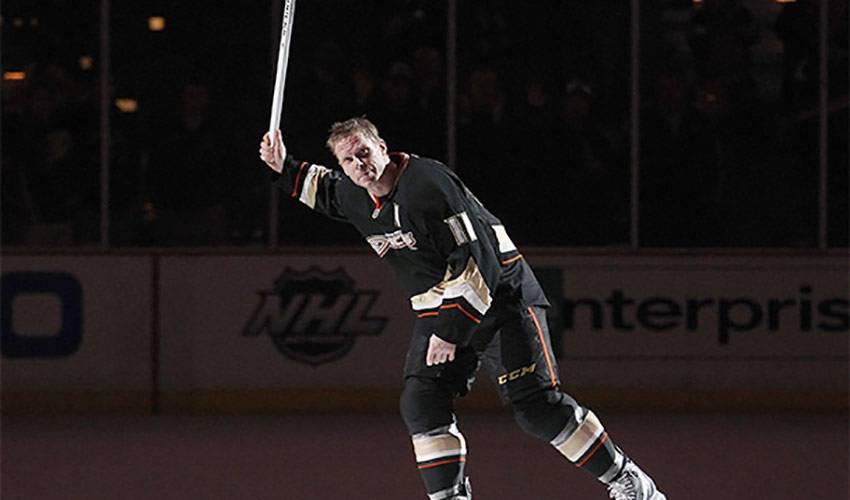 TORONTO (September 10, 2014) – Saku Koivu announced his retirement today from the National Hockey League (NHL) after playing NHL 18 seasons.
Koivu played in a total of 1,124 career games with two NHL teams: the Montreal Canadiens and the Anaheim Ducks. His first 13 seasons were spent with the Canadiens – holding the team captaincy for 10 years, tying him with Jean Beliveau for the longest tenure in club history– before he moved on to play his final five seasons in Anaheim. Koivu scored 255 goals and 577 assists for 832 career points, recorded a plus-minus of +10, and also played in 80 playoff games where he contributed 18 goals, 41 assists and 59 postseason points. The Finnish centre also was twice named to the NHL All-Star Team (1998, 2003).
Koivu was a decorated international player, representing Finland at all major competitions: four times at the Olympics (1994, 1998, 2006, 2010), seven times at the World Championship (1993, 1994, 1995, 1997, 1999, 2003, 2008), twice in the World Cup of Hockey (1996, 2004) and twice in the World Junior Championships (1992-93, 1993-94). In those tournaments, he helped his native country bring home an impressive total of nine medals– highlighted by the four medal-winning Olympic teams he was a part of, including a silver medal in 2006; four World Championship teams that medaled, including a gold medal in 1995 and a silver medal in 1994; and the 2004 World Cup team that won a silver medal.
Drafted by the Montreal Canadiens in the first round, 21st overall, of the 1993 NHL Entry Draft, Koivu's NHL career began in Montreal in 1995-96 after he spent the three previous seasons playing for TPS Turku of the Finnish Elite League – including the 1994-95 season when he was named the Finnish Player of the Year. The Turku, Finland native played his first career NHL game with the Canadiens on October 7, 1995, and he notched his first NHL goal a couple weeks later on October 23rd vs. the Los Angeles Kings. Koivu played in all 82 regular season games in 1995-96, while he ranked fourth in scoring (20 goals, 45 points) among all rookies. He quickly established himself as an important contributor in Montreal, averaging over 66 games played, 16 goals and 50 points in his first four seasons.
On September 30, 1999, Koivu was named team captain of the Canadiens, making him the 27th captain – and first European-born – in franchise history.
The 2001-02 season was an extremely difficult one for Koivu. After his diagnosis and subsequent battle with non-Hodgkins intra-abdominal lymphoma, which required him to miss nearly the entire regular season, Koivu returned to the Canadiens' lineup on April 9, 2002 to help the Canadiens defeat the Senators and secure a playoff spot. He played in each of the club's 12 playoff games and recorded 10 points to tie for the team lead. In 2002-03, Koivu enjoyed a breakout season offensively, scoring 21 goals and 50 assists for 71 points, while playing in all 82 games for the second time in his career. During the 2004-05 owners' lockout, he returned to TPS Turku for 20 regular season games and six playoff games. In 2005-06, he led the Canadiens in faceoff wins (759) and faceoff percentage (53.8%). Koivu's best offensive season came in 2006-07 when he set career high marks in goals (22), assists (53) and points (75). Over 13 seasons in Montreal, he helped lead the Canadiens to the playoffs eight times.
On July 8, 2009, Koivu signed as a free agent with the Anaheim Ducks. In 2009-10, Koivu set a career best plus-minus (+14) and scored 19 goals in 71 games, while he also recorded his seventh straight 50-point NHL season overall. He once again was an important contributor in 2010-11 with 15 goals and 45 points during the regular season, and he recorded his 500th career assist on a Cam Fowler goal on February 2, 2011 vs. San Jose. In the playoffs, he scored seven points in six games – his first postseason action with the Ducks. Koivu played in his 1,000th NHL game on March 12, 2012 at Colorado, which made him the fifth Finnish-born player to reach the milestone. In both the 2010-11 and 2012-13 seasons he led the Ducks in faceoff wins. Koivu helped lead the Ducks to the playoffs in each of his final two NHL seasons, including this past spring when he played in 13 playoff games following the 65 games he skated in during the 2013-14 regular season.
Throughout his career, Koivu was widely-respected as a leader, a gritty two-way player and a key offensive contributor. He helped his teams reach the playoffs in 11 of his 18 seasons, recorded 809 career penalty minutes, scored 20 or more goals three times, and on two occasions he recorded both 50 or more assists and at least 70 points in the same season. Koivu overcame adversity and beat cancer to resume his hockey career, a feat for which he was awarded the Bill Masterton Memorial Trophy (2002). He received the King Clancy Memorial Trophy (2007) to acknowledge his leadership qualities and humanitarian contributions.
Koivu also received many individual acclaims while playing internationally for Finland: he was named the Tournament's Best Forward and named to the All-Star Team for the 1995 World Championship; led the World Championship in scoring in 1999 (16 points); tied for the team lead in scoring at the 2003 World Championship (11 points); finished second on the team in scoring at the 2004 World Cup (four points); and he tied for the lead in scoring (11 points) at the 2006 Olympics while he was named to the Tournament All-Star team.
While in Montreal, he created the Saku Koivu Foundation in 2002, which has raised $8 million to buy a Positron Emission Tomography (PET) scanner for the Montreal General Hospital that has aided in the treatment of cancer patients.
Saku resides in Irvine, California with his wife Hanna and their two children.
---------------------------
STATEMENT FROM SAKU KOIVU:
"Looking back at my 22 years of pro hockey first in Finland and then in the NHL I feel truly blessed and fulfilled. I have been contemplating retirement for quite some time and am very confident in my decision at this time and place.
Making it in hockey is not only about talent and hard work on the part of the athlete. You cannot do it alone no matter how determined you are. I am grateful to so many people along the way that have facilitated and made my career possible.
I am eternally grateful to Vladimir Jursinov and the TPS organization for recognizing and feeding my strengths at a key time in my youth.
I want to thank the Finnish Ice Hockey Federation and the coaches, staff and my teammates. It has been an immense privilege for me to represent Finland in international hockey. The successes we achieved together gave me confidence and fueled my ambitions as a player.
To the late Don Baizley, my agent and friend. You provided me with unmatched professional help, wisdom and genuine friendship rarely experienced in life. You were an example to me of the kind of man I aspired to be. You are and will be missed.
I want to thank Serge Savard, the late JC Tremblay and the Montreal Canadiens organization for drafting me, believing in me and providing a wonderful place to begin my NHL journey. I also would like to extend special thanks to the Molson family, George Gillett and his family, Bob Gainey and Pierre Boivin. Thank you to my former teammates, coaches and the Montreal Canadiens staff.
I feel I was truly lucky to have a chance to play for the legendary Canadiens for so many years and serve as captain, and share that great honor with many truly legendary captains from before my time.
My time in Montreal was special beyond playing hockey. Thank you to the fans and lovely people of Montreal for your support and love, and for providing my family and me with wonderful memories that we will always cherish as well as the immense support during my illness. Thank you with all my heart to Dr. and Mrs. David Mulder and Dr. and Mrs. Blair Whittemore and the staff at Montreal General Hospital for saving my life.
I am thankful to the Anaheim Ducks organization, Henry and Susan Samueli and Bob Murray for welcoming my family and me to Orange County and giving me an opportunity to play for an amazing organization and a truly great team. I am grateful to them for allowing me to experience NHL hockey in California. Thank you to my teammates, coaches and the Anaheim Ducks staff and to the Ducks' fans. Orange County has truly been a blessing for us.
All in all it has been a dream come true but what I value the most in hockey is the feeling of being part of a team and the friendships I have made along the way.
I could not have made it without the loving support of my parents and family. I was blessed with a wonderful childhood and an upbringing that provided me with all I needed to make my career and life what it is today. Thank you Hanna, Ilona and Aatos for loving me as a man and father and supporting my career and sharing the ups and downs of it all. I love you."
Saku Koivu
-30-