Elder Statesman In Anaheim
Francois Beauchemin is happy to apply his veteran knowledge and leadership to the Ducks this season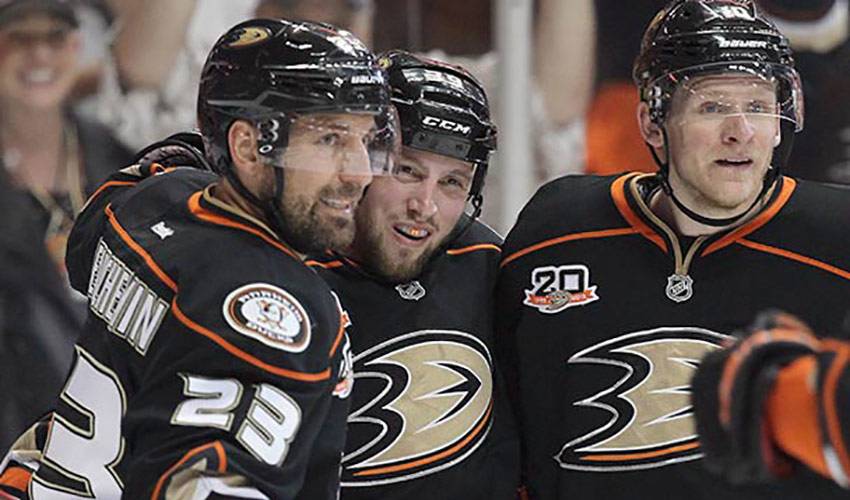 Francois Beauchemin is hardly bothered when he talks about the title he now holds thanks to a pair of Finnish stars who both decided to call it a career.
At the age of 34, Beauchemin, now in his 10th NHL season, takes over the reins of the oldest player in the Anaheim Ducks lineup after the retirement of both Teemu Selanne and Saku Koivu.
The veteran blueliner isn't losing any sleep over his newfound status.
"I guess I get to step up and take the honour," said Beauchemin, who played 70 games for the Ducks in 2013-14. "It's pretty funny to say I'm the oldest. I'm sure the guys will remind me several times throughout the year."
But, with age, there is wisdom, right?
"I'd like to think so," said Beauchemin, who has played in 609 career regular season NHL games. "Maybe I'll remind them of that. I just feel very fortunate that I learned from the best of the best, guys like Chris Pronger, Scott Niedermayer, Saku and Teemu. Every day, they worked so hard. They make you think about that and a lot of other things."
Beauchemin used practice as a motivational tool for games.
"In practices, when I was one-on-one against Saku and Teemu, I had to battle every time," he recalled. "I felt if I could do well against them that it would help me when two points were on the line."
Beauchemin is hoping the Ducks can emulate their highly successful 2013-14 regular season, a campaign that featured 54 wins, a franchise-best 116 points, and second spot overall to Boston.
"My role doesn't change much," offered Beauchemin. "I've been one of the leaders for a few years. All we want is to be a consistent team, the type of team you don't want to play against. There are a lot of very good teams out there, so we have to be better this year."
Beauchemin expects the same of himself.
"I wouldn't have believed I'd have played over 600 games," said the 75th overall selection of the Montreal Canadiens in 1998. "I started a little later, at 25, than most guys. I was lucky enough to win a Cup my second year and I've had a few other shots along the way. I'd love to raise it again."
One notion he won't entertain, however, is putting a Finnish spin on his name to make the transition of losing Koivu and Selanne go a little smoother.
"Maybe the guys can come up with something," laughed Beauchemin. "I'll let them change it if they want."
Just the type of wise move one would expect from a savvy veteran.