Sedin brothers set the bar for Horvat
With a trio of legendary Canucks getting the call to the hall, Vancouver captain Bo Horvat reflects.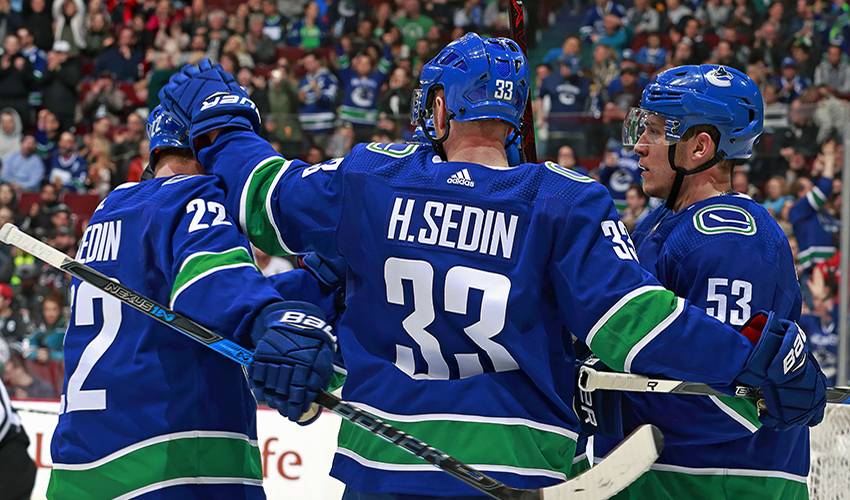 Feature photo: Getty Images
---
Bo Horvat is still beaming.
It's been a few days since the Hockey Hall of Fame announced the induction class of 2022.
Former NHL forwards Daniel and Henrik Sedin along with goaltender Roberto Luongo are among those who donned the Vancouver Canucks jersey that will be welcomed into the hallowed halls in November. The trio joins an impressive list of names, including former Ottawa Senators captain Daniel Alfredsson.
Horvat, who has played all 572 of his NHL regular season games with Vancouver, has skated together with the Sedins and Luongo during their time with the Canucks.
The 27-year-old captain is understandably thrilled to see the trio join the Hall in their first year of eligibility.
"To see all three guys go in and in their first year, that's just great," Horvat told NHLPA.com. "I have so many great memories of being able to play with the Sedins. I only got to do one camp with Lou, but it certainly feels like I played with him. He's such a great guy and an amazing goaltender. It's pretty special to see them all being inducted at the same time and it's special for the Canucks organization as well."
Drafted second overall in 1999 by Vancouver, Daniel Sedin notched 1,041 points in 1,306 games. He won the Art Ross Trophy in 2010-11 with 104 points and was named the Ted Lindsay Award recipient that same season as the most outstanding player in the NHL, as voted by the players. He finished second in the Hart Trophy race that same campaign.
Selected third overall by the Canucks in 1999, Henrik Sedin, who patrolled centre, recorded 1,070 points and won the 2009-10 Hart Trophy as league MVP while also capturing the Art Ross Trophy with 112 points that season. He was the team's captain from 2010 until his retirement alongside Daniel in 2018.
​"What they did, not only on the ice but off it as well, it was a pleasure to play with them and I was really happy when I saw that they got inducted," said Horvat, the ninth overall pick of the Canucks in 2013. "It's amazing."
Horvat, who was named captain of the Canucks on October 9, 2019, remains grateful for the opportunity he had to play with the Sedins.
The siblings continue to have an impact on the London, Ontario, native.
"Anybody who has played with them or against has so much respect for them. The way they carry themselves off the ice as well, they are the hardest workers in the gym. You could learn so much from them."
Even if that meant, at certain times, coming out on the losing end against the brothers.
Looking back, Horvat appreciates what he was able to take away from those morning skates.
"It wasn't a lot of fun going up against them. Any time you did, you knew you were going to be in tough for sure. The way they protected the puck was amazing. They had that sixth sense of knowing where the other one was on the ice. It's like nothing I'd ever seen before. It was definitely fun watching them out there."
Luongo was between the pipes for 1,044 NHL career games, slotting him in second all-time among netminders. He posted 489 wins, good for fourth in NHL history, and fashioned a .919 career save percentage to go with 77 shutouts – with the latter ranking ninth-best of all time.
Luongo also found success on the international stage, striking Olympic gold with Team Canada in 2010 and 2014 and also winning two world championships for his country.
Drafted fourth overall by the New York Islanders in 1997, Luongo, now 43, made his NHL debut November 28, 1999 with the club. Away from the rink, the Quebec-born backstopper also made a name for himself on social media with his witty insights and sense of humour making him a popular follow.
Best line in hockey

Luongo-Sedin-Sedin

—

Strombone (@strombone1) June 27, 2022
Just don't expect Horvat to follow in his footsteps.
"No, that's not for me," he said with a laugh. "I can't match that. He's got that title and he's got way more personality than I do, especially on social media. He's always a treat to follow and keeping it light, which is nice with everything that goes on there."
Whether he posts about it or not, Horvat will be certain to catch the induction ceremony on November 14.
It's an evening that will again spark several happy recollections of his time spent with three newly minted Hall of Famers.
"I couldn't be happier for the three of them. I feel very fortunate to have that connection to three great people. They are all very deserving of the honour."