Longevity expected to follow Horvat
GM and vice president of Horvat's former London Knights, Mark Hunter points to underrated elements of the young Vancouver Canucks forward's game.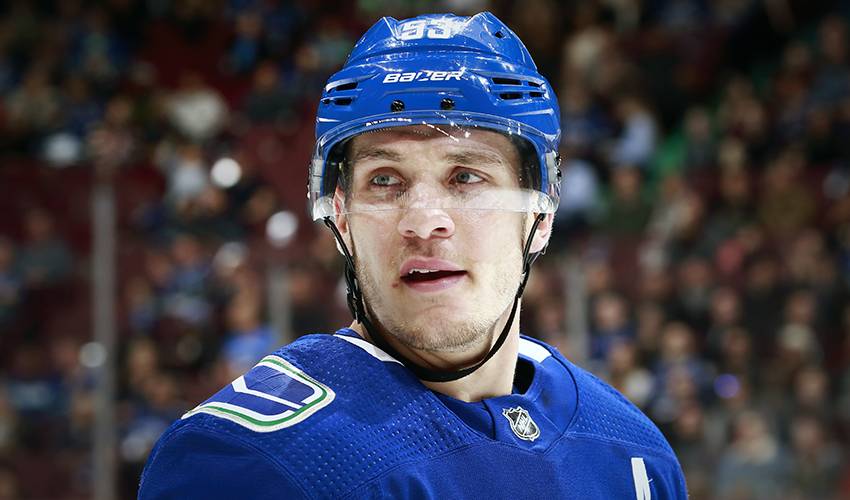 Mark Hunter has seen a lot of success as an NHL player and in his hockey management roles.
Getting the better of Bo Horvat in the face-off circle? That's a whole different story.
"No. No, I didn't."
That was answer from Hunter, owner, GM and vice president with the Ontario Hockey League's London Knights, when asked if he ever managed to win a draw against the former junior standout who's now thriving at the big-league level.
For three seasons, Hunter watched Horvat, the player the Knights took ninth overall in the 2011 OHL Priority Selection Draft, win countless face-offs, net game-changing goals and come up huge in the playoffs.
But it wasn't any of those attributes that first came to mind when Hunter talked Horvat.
"There's more grit there than people give him credit for," he said. "He's got good grit to his game. I remember his first year at 16, in Belleville, a guy came and hit him hard from the blind side. Boy, he didn't let that affect his game and he continued to play at a high level. There's a lot of determination there to be a hockey player."
In 2012-13, Horvat put up 61 points for the Knights, including 33 goals. In the playoffs, Horvat helped London defend their OHL championship title with 23 points in 21 games. He scored twice in the deciding contest, including the game-winner with less than a second remaining, and went on to receive the Wayne Gretzky 99 Award as the OHL's most valuable playoff player.
That same summer, the Vancouver Canucks snapped up Horvat ninth overall in the NHL Entry Draft.
He returned to the Knights for the 2013-14 campaign and proceeded to put up career-best numbers in assists (44) and points (74) accompanied by his second consecutive 30-goal campaign. Horvat was also named to Team Canada at the World Junior Championship, where he helped win the gold medal.
"Lot of maturity, lot of determination," praised Hunter. "He's also a good person."
And as his NHL opponents have to come learn, Horvat is an elite talent in the face-off circle.
In 2018-19, the 23-year-old has a 54.4 per cent strike rate, winning 442 (tops in the league) of his 812 draws.
"You could see that he was special when it comes to faceoffs," noted Hunter. "If you've ever seen his hands, they're huge. He has strong hands, so he's got a little bit of everything to be a good face-off man. He can win it different ways, which is important."
Hunter points to the offensive side of Horvat's game as a somewhat underrated element of his repertoire.
"When he gets some more stability on his wingers, and who he plays with on a regular basis – when they get a little older, everybody – I think he'll bloom to an over a point-per-game guy."
It's one more thing to make the already well-received Horvat even more popular amongst Canucks faithful.
"He fights hard for that sweater and loves to play the game, which is why he'll have longevity in his game," praised Hunter.
So, nothing much has changed from his days in London?
"That's 100 per cent right," said Hunter.