Kruger Products expands #RollingItForward with NHLPA and Donation to Food Banks Canada
Kruger Products partners with seven hockey players in #RollingItForward initiative to donate to Food Banks Canada.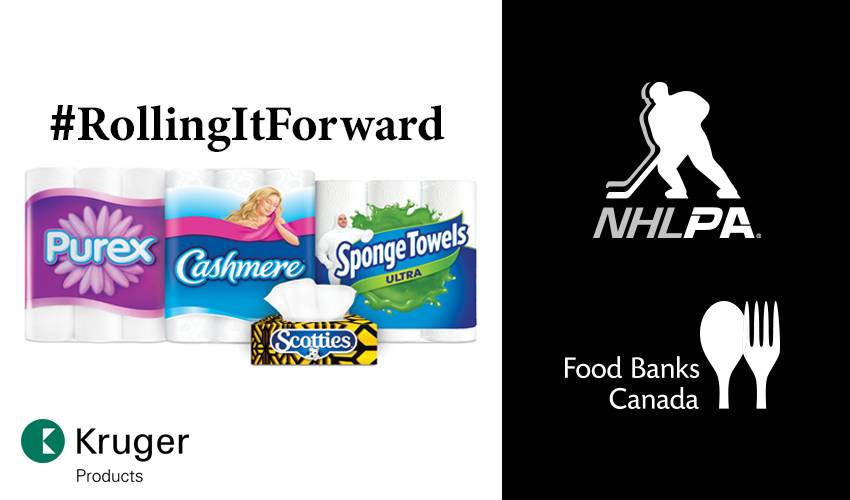 ---

Kruger Products Expands #RollingItForward in Partnership with NHLPA and Donation to Food Banks Canada to Inspire Acts of Neighbourly Kindness
Kruger Products, maker of Cashmere®, Purex®, SpongeTowels® and Scotties® brands, and Official Canadian Tissue partner of the NHL® partners with seven hockey players in #RollingItForward initiative to donate to Food Banks Canada.

Tuesday, May 12, 2020 ― Seven NHL® players are taking to social media today to inspire Canadians to perform Acts of Neighbourly Kindness as they join Kruger Products' ongoing, national #RollingItForward COVID-19 relief initiative. The players, including Vancouver Canucks' forward Bo Horvat, Montreal Canadiens' forward Phillip Danault, Toronto Maple Leafs' defenceman Tyson Barrie, Edmonton Oilers' defenceman Darnell Nurse, Ottawa Senators' forward Anthony Duclair, Winnipeg Jets' forward Mark Scheifele and Calgary Flames' forward Milan Lucic, are all making donations to Food Banks Canada while encouraging Canadian hockey fans to participate.
"Hockey is Canada's national winter sport, and NHL® players rank at the top of their game and high in our hearts," says Susan Irving, Chief Marketing Officer at Kruger Products, a 100-year, third generation Canadian company with operations across the country.
"We started #RollingItForward three weeks ago delivering care packages of tissue products to frontline hospital workers in Montreal, Toronto, Calgary and Vancouver; and by making donations to food banks across Canada," says Irving. "We hope our collaboration with NHL® players will further inspire Canadians to do their part with an Act of Neighbourly Kindness, no matter how large or small," she says.
"We're grateful for the support of Kruger Products and the support of these NHL® players," adds Chris Hatch, Food Banks Canada CEO. "It has been incredible to see Canadians from coast-to-coast come together to help their neighbours who are experiencing hunger," he says.

#RollingItForward for the Win
"Helping out can be as easy as buying a gift card to your favourite local restaurant," says Tyson Barrie, Toronto Maple Leafs defenceman, who encouraged Canadians to do what they can, citing that even small things go a long way.
"In my case, I love taking my dog, Gus, out for walks, and #RollingItForward is as simple as asking my neighbour if their dog would like to join," says Bo Horvat, Vancouver Canucks captain, who's encouraging his friends and followers to participate in acts of community generosity as well.
"There is always something meaningful you can do for others in this acute time of need," says Montreal Canadiens forward Phillip Danault, who encouraged his followers to lend a helping hand by picking up some extra groceries for a neighbour.
Several Canadian TV personalities, including TSN's James Duthie and Darren Dreger, Sportsnet's Elliotte Friedman, TVA's Louis Jean and Dave Morissette, RDS's Marc Denis and Hockey Night in Canada's Cassie Campbell-Pascall will echo the hockey players' challenge for Canadians to take part in #RollingItForward on their respective channels.

From the Sideline to the Frontline
On the frontline, Canada's incredible healthcare heroes are committed to helping and healing their communities. Kruger Products is recognizing their outstanding effort with a $200,000 donation to
The Frontline Fund, a network of more than 160 hospital foundations across Canada created to deliver resources to frontline healthcare workers protecting Canadians against COVID-19, as part of its #RollingItForward initiative.
"Hospitals and Canadians from coast-to-coast are grateful for generous donors like Kruger Products," says Trillium Health Partners Foundation President and CEO Caroline Riseboro, who is the national spokesperson for The Frontline Fund. "Their donation will be put to essential use, including PPE such
as masks, ventilators and disinfectants; mental health support and counselling; and research including clinical trials and vaccine development," she adds.
Canadians can contribute to the fund at FrontlineFund.ca.