Horvat finds further motivation in fatherhood
Now back in Vancouver, Canucks captain Bo Horvat is looking forward to the moment the puck drops on this season's Stanley Cup chase.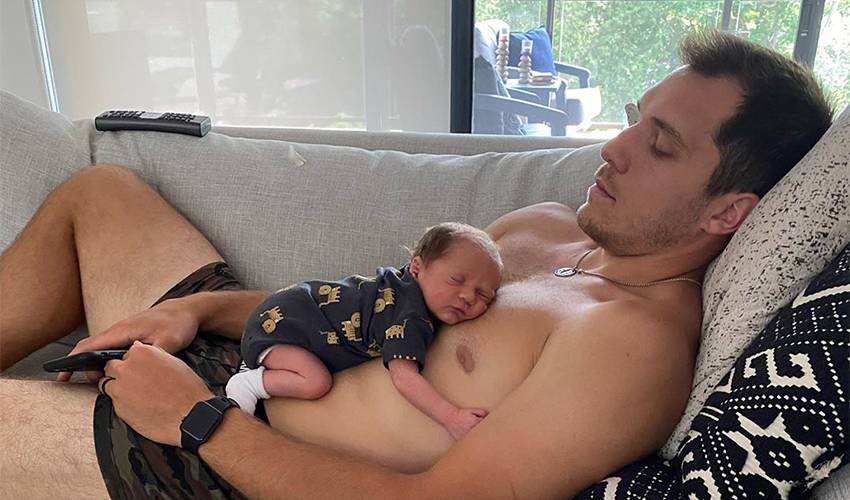 Bo Horvat always has time for a little baby talk.
Now back in Vancouver, Horvat, the Canucks captain, is looking forward to the moment the puck drops on this season's Stanley Cup chase.
While he has his eyes on hockey's top prize, the 25-year-old's mind is also on other things, namely, his wife, Holly, and their newborn son, Gunnar John Horvat, who the couple welcomed into the world June 28.
"He's doing really well," Horvat, who is currently quarantining in the team hotel, told NHLPA.com. "It definitely hasn't been easy, but at the same time, Holly understands. She's really been a rockstar throughout this whole thing. With the circumstances that are going on now, everyone is dealing with something. When I do see him on camera, I wish I could be there. That's the biggest thing. I wish I could be holding him, helping out, and soaking up everything that he's doing. He's going to change so much. It's going to go by so quickly and I don't want to miss a moment."
The London, Ontario, native is singing the praises of fatherhood despite the challenges of being in British Columbia while his wife and son remain back home with family, and their French bulldog, Gus.
What's the best part of being a first-time dad?
"It's hard to explain," said the ninth overall pick of the Canucks in 2013. "It's such a miracle as to what happens and everything you go through. I think seeing him the first time, holding him the first time… as soon as he grabbed my finger for the first time – you really didn't know love until you have a kid. When he grabbed my finger, it was pretty emotional. I know it's something that I'll never forget. As soon as he was born, it's one of those things where you put yourself and everything second. Everything I do from here on out is going to be for my kids."
For now, the Horvats are communicating with one another via FaceTime.
"It's been awesome. They might be coming out here after camp, so that will make things a lot easier. I'm really hoping to get them out here and spend that two weeks together that we'll have. We'll just have to see what happens."
If the season does start up again, Horvat, who was named the 14th captain of the franchise on October 9, 2019, in a pre-game ceremony during the home opener of the Canucks' 50th season, will be ready to lead Vancouver into their first-round series against the Minnesota Wild.
The Canucks are one of the expanded roster of 24 teams set to participate in the NHL's 2020-21 Stanley Cup tournament, with the opening rounds anticipated to be split between Edmonton and Toronto, currently designated as the hub cities.
Horvat and his teammates, a group that includes young guns Elias Pettersson, Quinn Hughes and Brock Boeser, will travel to Edmonton on July 26, with the first round of the playoffs set to commence on August 1.
Vancouver and Minnesota are slated to start their best-of-five series August 2.
"If I'm going to be away from my family ... I want to go all the way," Horvat said in a recent conference call. "I want to try to win this thing so it's not just a waste of time and being away form my family for no reason. Hopefully by the end of this I will be putting him [Gunnar] in the Stanley Cup."
Should that happen, expect to see an impressive fashion statement from the youngster.
Home sweater, away colours, retro feel – Gunnar's got his hockey fashion game covered.
"I think we're going to stick with the blue jersey," said Horvat, who had 22 goals and 31 assists in 69 games with Vancouver before the league paused the season March 12. "We've had him in a couple of Canucks pieces of clothing. There have been a couple of knitted things that we've put him in. He looks good in blue. But I think he'd look good in the old 1990s black skate jersey, too. We'll put him in that when we can."
Whatever look he sports, any of it would go well, Horvat agreed, with Gunnar posing alongside hockey's iconic silver cup.