Compher sibling rivalry breeds skill and mutual respect
He's a forward for the Colorado Avalanche. She's a forward for Boston University. Together, they share a strong passion for hockey and deep respect for one another.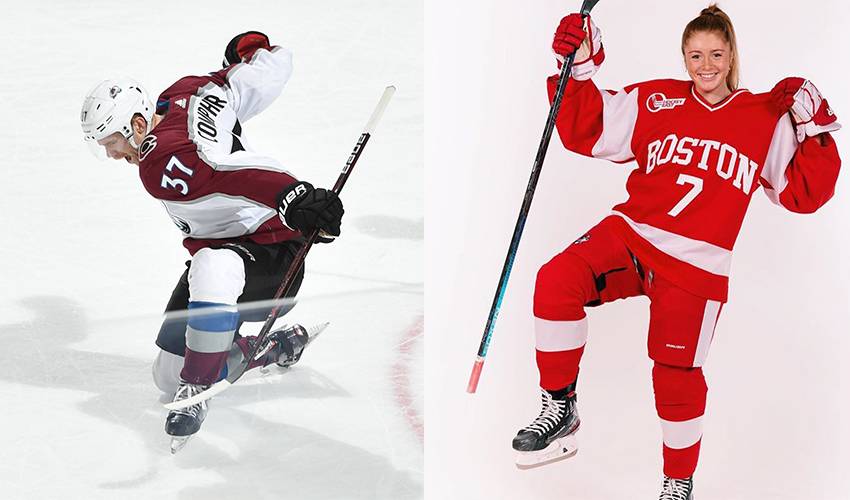 He's a forward for the Colorado Avalanche. She's a forward for Boston University. Together, they share a strong passion for hockey and deep respect for one another.
J.T. Compher has no shortage of praise when it comes to his sister's hockey skills. The highest compliment? He doesn't have to play against Jesse.
That said, J.T., now in his third full NHL season, is grateful the days of their one-on-one games at the family home in Illinois are a thing of the past.
"Jesse was young enough where I didn't stick her in the net too many times," started the 24-year-old, a 35th overall draft pick of the Buffalo Sabres in 2013, whose rights were traded to Colorado in 2015. "She got serious about hockey when I was at the (U.S.) national program [2011-2013] and at the University of Michigan [2013-16]. When I watch her, I don't know if I could name just one thing about her game that stands out the most… that's a good thing. First off, she's a very competitive player and person. Every time I watch her play, whether she has legs or doesn't have legs, I know she's working and she's competing.
"Hockey is something we've bonded over throughout the years – trips, car rides, staying over at hotels for tournaments – and it brings you closer together. It's definitely allowed for my relationship with my sister to grow as she continues to play and have success. It's just very exciting to share that as a family."
Jesse had a breakout campaign with the Terriers in 2018-2019, playing in all 37 games and earning Second Team All-America honours. She put her name in the program record books after slotting in second in the country with 44 assists.

She also topped Hockey East with 61 points, and played a huge role in helping Boston University net its first Beanpot trophy as a women's varsity program. If helping the U.S. win their fifth consecutive IIHF Women's World Championship in 2019 wasn't impressive enough, you can also add a pair of goal medals with the Under-18 team at the 2016 and 2017 tournaments to her impressive resume as well.
"It's certainly fun having this relationship through hockey, to be able to learn everything I know from him," said the 20-year-old. "We don't get to watch each other's games that much just because of our busy schedules, but it's always fun to talk about what we did the night before. If we do get the chance to watch one another, we'll chat about what we can work on, and the good things we did. It's fun to learn from each other like that."
Just like they did during their formative years in the sport and, more recently, this past summer.
"I've always tried to mold my game after him," offered Jesse. "I've always been asked, 'Who is your favourite player to watch?' and obviously, he's the answer. We're both two-way players who are very good in the defensive zone, but also like to produce offensively.
"This summer, we got to train together more, which has been one of my favourite memories so far. I love being able to watch him in the gym because I know if I see him do it, I want to do it even better. I think that helps me as a player and a person. It's been a lot of fun to learn from him."
The competitive nature they share hasn't waned over the years.
In fact, they both relish the opportunity to get in some good-natured jabs whenever they speak throughout their hockey seasons.
Did Jesse's recent three-point (one goals, two assists) performance against Holy Cross prompt a call to her brother?
"He probably would have said, 'My sophomore year, I was scoring more than three points a game.' "We were always competitive with one another, and we always wanted to win. But it was a fun-type of competitive. We sometimes talk about stats. We compare my sophomore year to his sophomore year. It's just fun, though. It's never serious. It's just fun to mess with each other a little bit."
Phone calls between J.T., Jesse and their sister, Morgan, who works at a consulting firm in Boston, are almost an everyday occurrence.
While the topic of hockey inevitably comes up, it's not the subject the trio spends the most time talking about.
"We had our moments, but we've always been pretty good," said J.T. "Whether it's mid-season or the playoffs, my sisters always have a way of making me laugh. We have a group chat. We talk a little hockey, but it's more about what's going in our lives."
It's certainly no surprise that J.T. is Jesse's biggest fan and vice-versa.
"I remember the days when he'd always have his buddies over to play hockey in the basement, and they would always let me join. They didn't care how old I was or that I was a girl. They would let me play along with them. It's crazy to think that we used to be shooting around in the basement together, and now I'm getting a call from him about an NHL game, or I'm travelling with the U.S. national team or playing here in Boston – I never really pictured this to be my life, but I always dreamed about it."
J.T. is grateful to be part of that world.
"I think the one thing that sets her apart – and it's something you see in the top-end NHL guys – is that composure and that calmness with the puck. She's comfortable in her abilities and she believes in her abilities. She's a great player."
Win or lose, hockey or otherwise, the siblings know they can turn to one another for support.
"I think we also have that ability to let loose and just have a good time when we're together," said J.T.
Like they would after a Stanley Cup win or NCAA championship?
"That's the plan, right?" said J.T.