Draisaitl an elite player – and person too
It turns out Leon Draisaitl's popularity amongst his teammates extends far beyond what he does on the ice.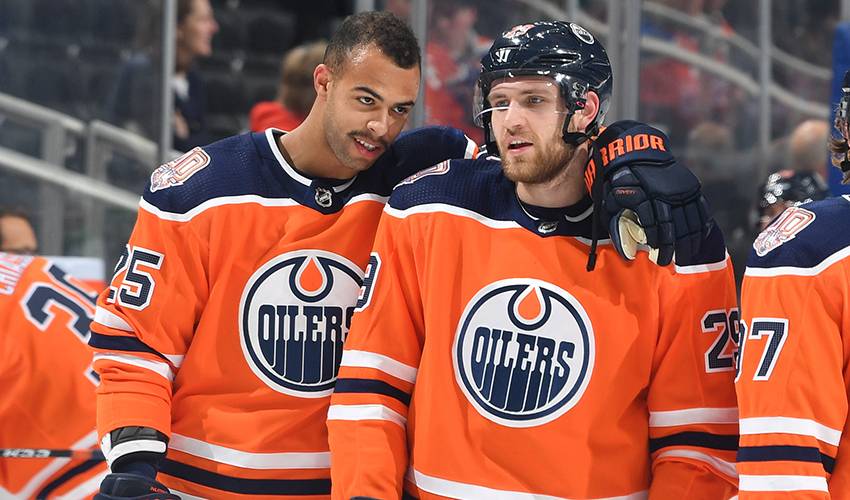 Ryan Nugent-Hopkins uses the word kind to describe him.
Darnell Nurse says he's just like a brother.
It turns out Leon Draisaitl's popularity amongst his teammates extends far beyond what he does on the ice.
Playing in his fifth NHL season, Draisaitl, Edmonton's slick-skating centre, is firing on all cylinders in 2018-19.
Twenty-eight games into the campaign, the 23-year-old has 13 goals and 30 points, putting him on pace for his best offensive season to date.
But's it's not only what the native of Cologne, Germany, does on the ice that has endeared the third overall pick of the Oilers in 2014 to his teammates.
"Leon, in his first half year before he was sent down to the minors, lived at my place," said Nugent-Hopkins. "He's a very kind person. He's thoughtful and that's what kind of comes to mind for me when you talk about the person off the ice."
Nurse, who saw his first NHL action with the Oilers in 2014-15, jokingly sighs when asked about Draisaitl.
"Leon and I have been close ever since he was drafted," said Nurse. "We spent some time together in the minors and have been playing together ever since my first year in the league. He's like a brother to me. He's someone who obviously cares a lot about the game and works very hard, but has respect and cares for every guy on our team."
He also happens to be an elite player.
In 297 career games, Draisaitl has 88 career tallies and 237 points, reaching the 25-goal mark twice, along with two seasons where he netted at least 70 points.
Combining top-notch playmaking and passing skills, Draisaitl isn't lacking in self-motivation, something noted by both Nugent-Hopkins and Nurse.
"On the ice, obviously he's an extremely talented player," said Nugent-Hopkins. "He's able to do so many things out there and can change the game with one shot. We're lucky to have him on our team."
Nurse concurs.
"He comes to the rink every day and gives everything he has, whether it's in practice or a game. He brings a great personality to the room. He's someone who really cares."
Both also bring up Draisaitl's accent, or in this instance, lack of one.
"Something that also sticks out is how good his accent is, or is not," offered Nugent-Hopkins. "He doesn't really have an accent. It's pretty impressive."
"Sometimes he speaks better English than I do," quipped Nurse. "That's pretty impressive for a German guy."
And as far as roommates go, Draisaitl definitely earns high marks.
"He would always clean up after himself, which was appreciated," said Nugent-Hopkins with a laugh. "He was an excellent guy to have as a roommate and he's an awesome guy to have on our team."