Draisaitl A Hockey Ambassador
The rising star from Germany feels a passionate obligation to grow the game of hockey in his homeland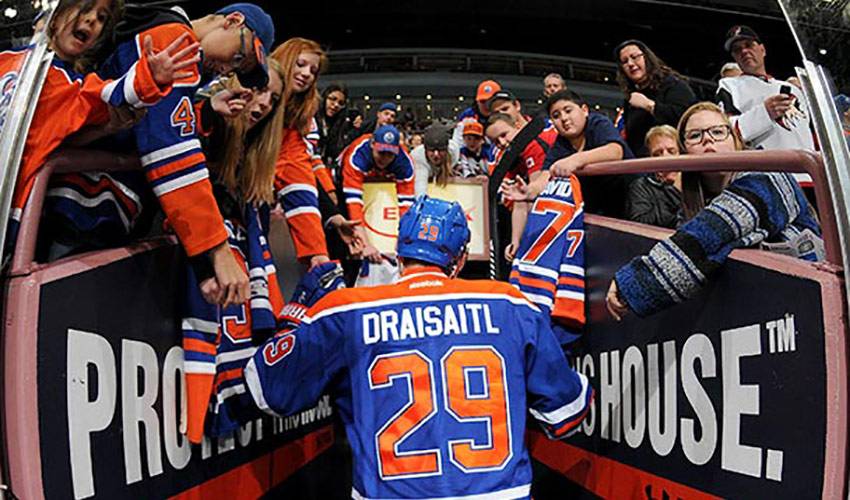 He's made the hockey world stand up and take notice in 2015-16, a rising star with a bright NHL future ahead. And that's precisely what Leon Draisaitl wants for aspiring big leaguers in his native land.
The contributions from the 20-year-old from Cologne, Germany, has been a boon to an Edmonton Oilers team bent on ending an extended playoff drought (they haven't qualified for the post-season since 2005-06).
Drafted third overall in 2015, the centre sits second in team scoring behind all-star Taylor Hall. In 42 games this season, Draisaitl has 14 goals and 40 points. He's also a plus-seven.
"This is awesome wearing the same jersey as these guys like (Wayne) Gretzky and (Mark) Messier and all the stars they've had," said the son of long-serving German national team center Peter Draisaitl. "I think I'm a guy who wants to go forward for sure. I want to – probably I know people often say that I slow the game down, but I think that's my game, and I know when to slow down and when to speed up. I think I can do both."
Three stellar campaigns in the Western Hockey League, including a 38-goal, 105-point season in 2013-14 with Prince Albert, strongly suggests Draisaitl can do plenty.
In time, he'd like to add more to his hockey resume, including acting as a mentor to young German players looking to take a shot at joining the NHL ranks.
Currently, Draisaitl sits 17th on the NHL games-played list for German players with 78. Christian Ehrhoff and Dennis Seidenberg are the active leaders.
"I want to make as many kids play hockey as possible in Germany," said the centreman. "I want to be an ambassador."
It's certain that Draisaitl already has a legion of German youngsters following No. 29's every move.
"I just like the number," he said of his choice. "My dad used to have a player on his team when he coached in Germany who was a player I loved watching. He was really good, and I just think it looks good."
After enduring a tough spell on the scoresheet – 13 games without lighting the lamp – Draisaitl has responded in a veteran-like manner.
In his past five games, he has four goals and one assist.
It's the type of effort, confidence and character display that young German hockey players will have no doubt taken note of.
For their fellow countryman, it's his way of saying, 'If I can do it, you can, too.'
"I want to make them play hockey and get the passion for the sport," said Draisaitl. "I think this might be pretty good for Germany."