Meet Zach Hyman, the author
When it comes to a certain part of his life outside of hockey, Zach Hyman does it by the book.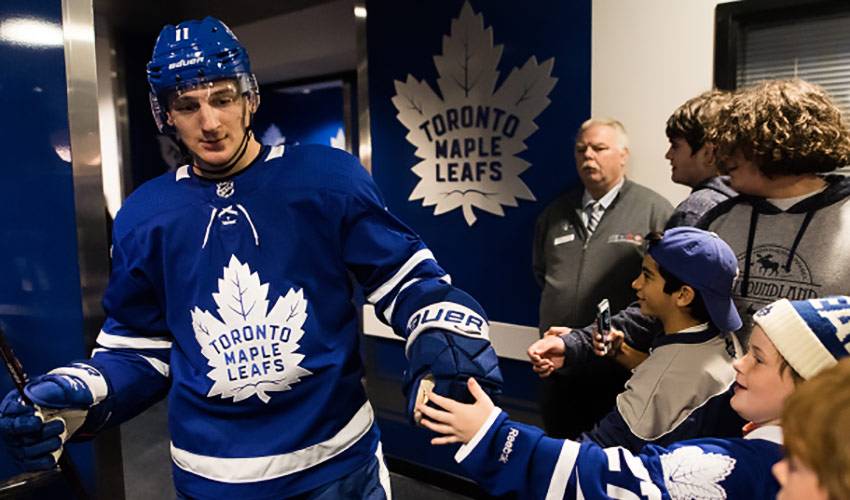 When it comes to a certain part of his life outside of hockey, Zach Hyman does it by the book.
College standout. CJHL Player of the Year. NHL winger. Record holder. Author.
The 25-year-old Hyman, who hails from Toronto and plays for his hometown team, happens to be all those things.
Author? He most definitely is.
Drafted in by the Florida Panthers 123rd overall in 2010, Hyman has already penned two books with another due out in 2018.
His first work, The Bambino and Me, was published when he was in high school. It tells the story of George, a young New Yankees fan, who worships legendary baseball star Babe Ruth, and carries his baseball card with him everywhere. Hockey Hero, released in October of 2015, is about a shy hockey player who steps out of his brother's shadow to make his own dream become a reality.
Hyman's third work, The Magician's Secret, will be available in April. It's his first non-sports project, a story of a grandfather and grandson who celebrate the power of imagination and the magic of make believe.
"I'm really excited about it," he said. "For one, it's an adventure book, an imagination-type story. I'm really happy about how it all came together and I'm looking forward to sharing it with everybody."
Being an author has enabled Hyman to do just that – share his love of books and reading with schoolchildren in the Toronto area.
In June, he visited Southfields Village Public School after the school won the Play Your Part Challenge through the nonprofit organization, Right to Play (a worldwide organization committed to improving the lives of children and youth affected by conflict, disease and poverty through play).
He met with the kids and read The Bambino and Me.
"It's definitely special, for sure," said Hyman, who holds the Maple Leafs record for rookie short-handed (four) goals in one season. "One of the main reasons I love to do charity work and go to see kids at schools is how much they get out of it, how excited they are and how happy they are when they read the books and look at the pictures. It's fun. Within the story, I try to convey the message of believing in yourself. That's really important for kids. I really enjoy seeing the looks on the kids' faces when they read the stories."
Those interactions always prompt Hyman to recall his own childhood experiences with reading.
"It does," he said. "That's one of the main reasons I wrote children's books because when I was young, I remember how fascinated I was with reading and seeing those colourful illustrations. I got into the habit of reading when I was young. It's a good habit to have."
Inspiration for his writing isn't hard to come by.
"Having support from my family in everything I do is very meaningful," said Hyman. "I have four younger brothers and they are always there for me, as are my parents. I'm very lucky."
And if he was to write a lighthearted book about one of his Maple Leafs teammates, Hyman has one particular player in mind.
"It would be Leo Komarov," he said, of the well-respected and well-liked veteran forward. "He's one of the most interesting guys around. He's a great guy, an awesome guy."