My Top 5 | Alec Martinez
When it comes to Thanksgiving, Alec Martinez' mom's baked goods reign supreme. In this week's My Top 5, we learn her that compared to a certain four-legged friend and one of his Los Angeles Kings teammates, he may be not on the receiving end as often as he'd like!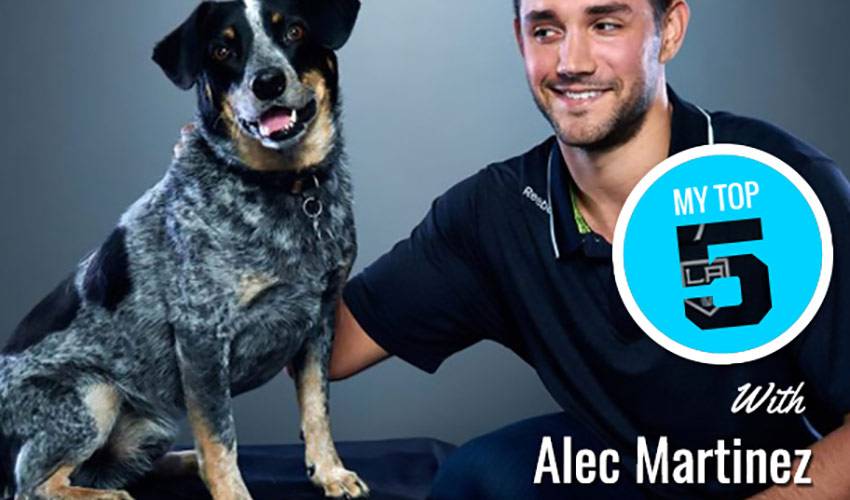 Alec Martinez has plenty to be thankful for, including a pair of Stanley Cup championships with the Los Angeles Kings in 2012 and 2014.
Before the upcoming U.S. Thanksgiving on November 23, the veteran defenceman served up his favourite things about the holiday, including what he's most thankful for, what goes on his plate and what goes on the television.
Alec Martinez Top 5 'Thanksgiving' edition
1. Family and friends
"That's definitely No. 1 for me. Even if you're not together for Thanksgiving, you think about how important your family and friends are, and the influence they continue to have on you."
2. Talking turkey
"Obviously, you have to have turkey. I'm more of white meat guy, along with mixing up lots of cranberries and gravy to go on top."
3. Apple of his eye
"I know pumpkin pie is a big favourite, but I'm an apple pie kind of guy. And of course, some vanilla ice cream to go on top, vanilla bean, preferably. But it has to be mom's apple pie. She makes the best one."
4. Are you ready for some football?
"Football is definitely on the list. Growing up in Detroit, you always watched football on Thanksgiving. The Lions always play on Thanksgiving, so I definitely tune in to watch them."
5. Shut-eye, then round two
"The post-dinner nap is always huge for me. You get the early dinner or late lunch, you watch some football and then you take that nap. After that, you get up and make yourself another plate."
*
Mother Knows Best
"I still get cookies in the mail from my mom. She has a tendency to send my dog (Hank) more treats than me. He's half Australian cattle dog, half beagle – kind of a different mix. My mom still sends me care packages. She also sends them to the Cliffords – Kyle Clifford's family – and I feel like they get cookies more often than I do."
Happy 3rd Birthday to this little guy!! pic.twitter.com/6oi8ToUb8G

— Alec Martinez (@amartinez_27) April 15, 2015