Calm, experienced Martinez takes Vegas blue line to new heights
"Our 'D' with Alec Martinez coming in, he has been a calming presence, a guy with a lot of experience who's helped Shea Theodore... propelling him to new heights," praised Vegas teammate, Nate Schmidt.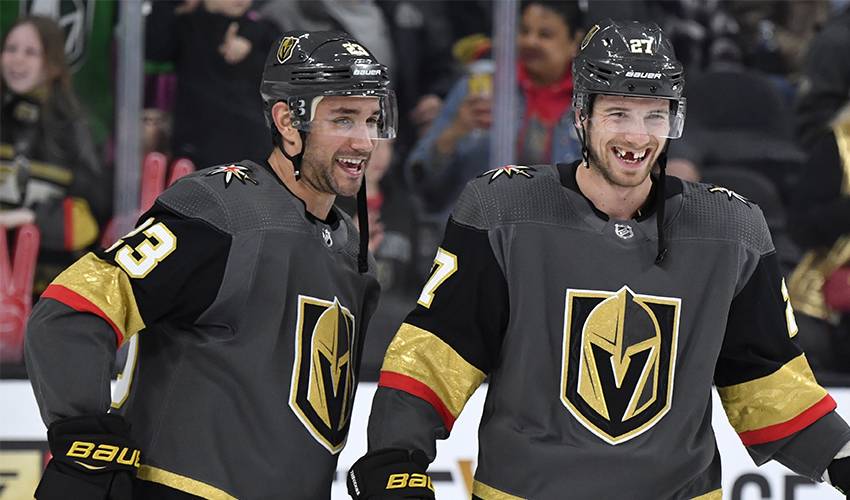 Feature photo: Getty Images
---
Alec Martinez brings much more than two Stanley Cup rings to the Vegas Golden Knights.
It was rather fitting that Martinez scored a goal and recorded an assist in his debut with Vegas, a 5-3 home win against the Tampa Bay Lightning on February 20.
The performance, one day after he was traded from Los Angeles, wasn't much of a surprise when you consider the defenceman's track record for making good first impressions and lasting ones.
It's something Martinez did during his collegiate hockey days at Miami University, and over a 597-game career with the Los Angeles Kings.
Now, he's doing very much the same with Vegas.
"He was just a first-class kid," said former Miami head coach Enrico Blasi in a recent interview with NHLPA.com. "He's a good person from a good family, a very well-spoken and well-mannered guy. Alec was basically everything you'd want in a person that would play for you."
That reputation has carried over to his NHL days.
Fellow Golden Knights defenceman Nate Schmidt has similar high praise for Martinez, not just for his own on-ice contributions, but also for the 33-year-old's willingness to help other members of the Vegas defence corps.
"Our 'D' with Alec Martinez coming in, he has been a calming presence, a guy with a lot of experience, who's helped Shea Theodore, who's been our catalyst on the back end this year, propelling him to new heights," praised Schmidt.
All of it – logging big minutes, being on the ice when the game is on the line, and lending a helping hand to teammates – is done without a trace of conceit.
Martinez points to his parents, Frank and Lynne, as huge influences in how he approaches life and hockey.
"My mom and dad always preached that hard work goes a long way in helping you achieve what you set out to do," said the Michigan-born blueliner. "They also taught me about humility. Whatever success you have, be humble and be grateful."
Martinez has done exactly that.
Launching his NHL career with four games in 2009-2010 (Martinez was drafted 95th overall in 2017), he went on to win a pair of Stanley Cups with the Kings, the first coming in 2012.
Two years later, Martinez netted two now-infamous goals for LA in the playoffs – the first in overtime of Game 7 of the Conference Final against the Chicago Blackhawks, and the other in double-overtime of Game 5 of the Stanley Cup Final against the New York Rangers.

Six years later, he's hoping to make it a championship hat trick, this time in his first post-season as a member of the Golden Knights.
"It's been very easy to fit in here," said Martinez. "Everybody has been great from day one. That helps you out in so many ways. When you come to a new team, you don't want to disrupt any of the chemistry the team has. You want to play your part, find out the best way to contribute, and hopefully that pays off with team success."
It's an approach that continues to earn high marks from his teammates.
Just four games shy of 400 for his career, Schmidt, who was taken by the Golden Knights in the 2017 NHL Expansion Draft, appreciates what Martinez has brought to the lineup and beyond.
He'd love to see Martinez conjure up some more of his playoff magic.
"Alec does so many things well," said Schmidt. "Obviously, he's scored some huge goals in the playoffs. He's one of those players you can depend on any time and in any game, no matter how big it is."
Vegas, who finished atop the Pacific Division, and third in the Western Conference, will compete in the upcoming round robin when the NHL returns to play August 1.
The Golden Knights take on Dallas (August 3), St. Louis (August 6) and Colorado (August 8) in order to determine playoff seeding.
While his post-goal celebrations, admittedly, might need a little polish, there's no arguing Martinez has the golden touch during playoff hockey.
Or is it the silver touch?
"You always dream of winning the Cup," said Martinez. "To be fortunate enough to have won two is unbelievable. And to be part of this group here and to have another chance… I feel very lucky to be in that position."