With first impressions out of the way, Martinez focused on lasting one
Alec Martinez has a long history of making good first impressions. His lasting ones aren't bad either.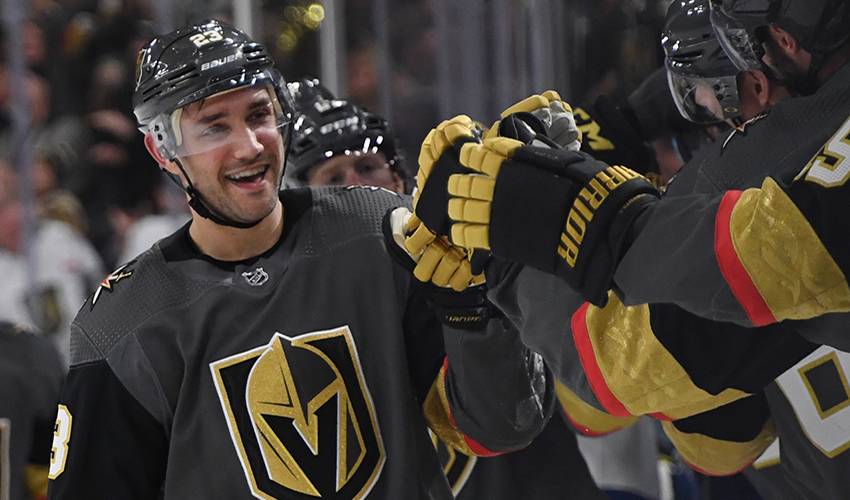 Alec Martinez has a long history of making good first impressions. His lasting ones aren't bad either.
Chris Bergeron, an assistant bench boss during Martinez's three seasons (2005-08) with Miami University, can certainly attest to that.
Now the head coach of the RedHawks men's hockey team, Bergeron liked what he saw in the young Michigan kid from the get-go.
"When Alec first came to Miami, I'm not sure he realized how good he could be. He was a contributor right away. I believe he played in all situations as a freshman. He was able to use his skating to defend anyone. It also allowed him to rush the puck. The other part of his game that stood out at our level was his puck skills. He distributed the puck really well and his shot was really good. It made him dangerous 5-on-5, and on the powerplay."
A student of the game, Martinez also excelled in the classroom.
"He was always willing to put the time in whether it was the weight room or on the ice," praised Bergeron. "He was also a really good student. From day one, he took his studies very seriously."
Although it's been over 10 years since the defenceman last skated for the NCAA Division 1 squad, he hasn't been forgotten around the Oxford, Ohio campus, especially not by anyone associated with the school's hockey program.
"He was always a pretty strong guy, and that allowed him to match-up physically with older players who he played against," recalled Bergeron, of the player who skated in career 123 games with the ReHawks, and earned Second Team All-America honours following the 2007-08 campaign. "The way he skated was something that always got your attention."
As it did with the Los Angeles Kings, who selected Martinez in the fourth round (97th overall) of the 2007 NHL Entry Draft.
Since that time, he's appeared in 603 NHL games and won two Stanley Cups (2012, 2014).
After 597 games with the Kings, Martinez was dealt to the Vegas Golden Knights February 19 in exchange for a 2020 second-round draft pick as well as a 2021 second-round draft pick that had originally belonged to the St. Louis Blues.
"It's been awesome," said Martinez, of his new team. "Everyone's been great. You might have seen the drum line I received at the airport when I arrived. That seemed to be a pretty popular thing in the Twitterverse."
We did it again 😆

The whole crew surprised Alec Martinez at the airport to welcome the newest Golden Knight to town 👏 👏

He'll get used to how we do things here in Vegas 🥳 pic.twitter.com/5pqyNkINqG

—

Vegas Golden Knights (@GoldenKnights) February 20, 2020
In keeping with the theme of good first impressions, the 32-year-old blueliner managed to make a big one in his Vegas debut.
He recorded a goal, an assist, a hit, a takeaway, and four blocked shots in the 5-3 win over the Tampa Bay Lightning.
"Playing in a building like this, it's one of the most electric environments in the league. It was really cool. From a teammates standpoint, everyone welcomed me with open arms the moment I got here. I got a warm welcome from top to bottom – ownership, management, coaches, the guys, and the fans. All of that makes you feel really good going into that first game."
Martinez also gave the hometown fans and his new teammates a celebration to remember in his first game.
After scoring with 1:55 left in the first period, Martinez's post-goal exuberance started with a leap and then ended with a fall.
Perhaps he can deliver another unforgettable show of emotion in the Stanley Cup Playoffs just like he did (times two) six years ago.
During the 2014 Stanley Cup Playoffs, Martinez tallied a pair of series-clinching OT goals, in Game 7 of the Western Conference Final against Chicago and in double OT of Game 5 in the Stanley Cup Final against the New York Rangers.
"I would really like to have that type of success here," said Martinez, who made two appearances (2018, 2019) with Team USA at the IIHF World Championships, winning a bronze medal in 2018. "I think I'm rather notorious for having some really awful celebrations, but if they're big goals, especially ones in the playoffs, I'm definitely up for that."
With first impressions on all fronts now out of the way, Martinez will look to make a lasting one on the Golden Knights and its supporters.
He's up for the challenge.
"Obviously, I've come into a team that's had a lot of success. I'm just trying to figure out where I fit in and how I can help the team win. They had a good thing going before I got here, so I don't want to mess with any chemistry they already had. I want to find my niche, be able to establish my game, and win hockey games."