Martinez grateful for surroundings, path to NHL veteran status
Approaching 700 NHL games, Vegas Golden Knights defenceman Alec Martinez reflects on his roots.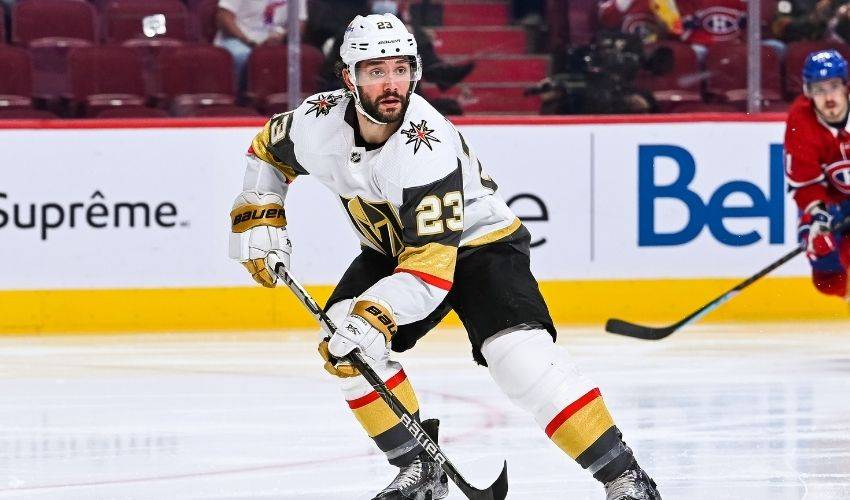 Feature photo: Getty Images
---
The journey from outdoor Michigan nights to the NHL bright lights has been a dream come true for Alec Martinez.
As he draws closer to 700 big-league games, the 34-year-old from Rochester Hills, Michigan, took a moment after the Vegas Golden Knights' 4-3 home-opener win to reflect on the journey that has led him to a pair of Stanley Cups and a reputation as one of the game's most well-rounded defencemen.
"I had always dreamed of playing in the NHL when I was playing street hockey, and in my driveway," started Martinez. "To have been able to do it in real life is pretty special. I've also been fortunate to have had a lot of help between family, friends and coaches along the way. I'm a pretty lucky guy."
He remains grateful for all the support, including from those he met during his playing days with Miami University.
Martinez spent three seasons playing for the Oxford, Ohio, based school, recording 67 points in 123 games and earning Second Team All-America honours following the 2007-08 campaign.
Three years ago, he surprised his parents, Frank and Lynne, with news that he had completed his college degree, a Bachelor of Arts in accounting.
"I learned a lot while I was there," said Martinez. "I had the benefit of having a great coaching staff, professors and most importantly my teammates. I learned a lot from a hockey perspective, but also balancing hockey with other responsibilities like my education. What I'm most thankful for from my experience there is definitely the friendships I made and still hold to this day."
His advice to first-year students at Miami?
"Work hard, stay focused, but always have fun," he shared with his alma mater on the university's website. "It goes by far quicker than you imagine."
Drafted in the fourth round (95th overall) by the Los Angeles Kings in 2007, Martinez played a key role in helping the Kings to two Stanley Cup championships (2012, 2014). He scored two series-clinching overtime goals during the 2014 Stanley Cup Playoffs – one in overtime of Game 7 during the Western Conference Final against Chicago, followed by the double-overtime winner in Game 5 against the New York Rangers, which clinched the Kings' second Stanley Cup in three years.
Acquired by the Golden Knights on February 19, 2020, Martinez has become a key member of the team's defensive corps, and a respected veteran presence both on and off the ice.
He is also happy to take one, or in this instance, several, for the team.
Martinez recorded a total of 168 blocked shots during the regular season and notched 72 blocked shots during the 2021 Stanley Cup Playoffs, topping the league in the category throughout the 2020-21 campaign.
All in a night's work for a player who has never forgotten his roots.
"I'm proud of who I am, and for the hard work of my family that allowed me to play the game of hockey."
As the NHLPA and NHL celebrate Hispanic Heritage Month (September 15 to October 15) through a variety of celebrations and initiatives that honour and recognize the contributions of Hispanic and Latinx members across the hockey community. Martinez, who is of Hispanic descent, has a message for everyone who is chasing their NHL dream.
"I think it's important for people to be proud of who they are, and where they came from, because it's allowed them to become the person they are. Regardless of your ethnicity, you are a product of your family and surroundings. Whenever there's a celebration or a chance to recognize where you are from, it's an opportunity to thank those who have helped you along the way."