Regin A Danish Treat
Skilled young forward had solid rookie year in Ottawa; now leading Denmark at IIHF World Championships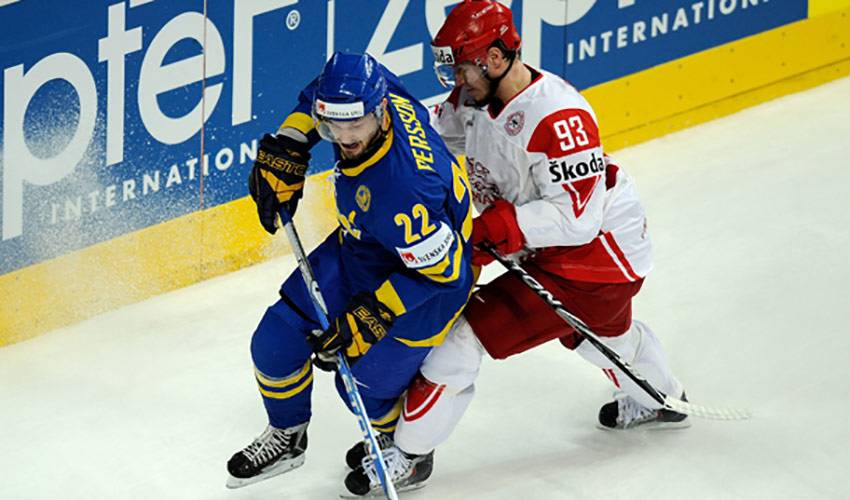 COLOGNE – It is not often that a rookie is asked to help carry his NHL team in the Stanley Cup playoffs and then carry his homeland at the world hockey championship less than a week later.
But when the opportunity knocked, Peter Regin jumped at the chance.
Hockey is all about making the best of the chance you are given and Regin is enjoying a prolonged season at the 16-team world tournament.
"It has been a great year," said Regin, the young star from Denmark who played for the Ottawa Senators this season. "It has been everything and more in a lot of ways."
Denmark isn't exactly a hockey power but it has been the surprise team at the world championship. They opened the tournament with a 4-1 triumph over Finland and followed with a 2-1 overtime victory over the United States.
They lost 3-1 to Germany in the final game of the preliminary round but gained enough points from their first two wins to advance to the second of four stages in the tournament.
Not bad from a country that has a total of 4,059 players – kids, men and women – and 22 covered arenas, and at least one up-and-coming NHL star.
"We have a chance to beat every team and if we play to our best and we have a little luck we can beat every team," says Regin. "And if we do not play well, we can lose to every team."
Denmark won promotion to international hockey's elite group in 2002 and played their first world championship a year later. Their best finish is 10th in 2007 and now three years later, they are taking aim at the quarterfinals.
If they reach the round of eight, then Regin and fellow Danish NHLer Frans Nielsen of the New York Islanders will play a pivotal role.
Regin is one of the top forwards in the 16-team tournament and he is Denmark's go-to guy. Nielsen is a consistent scoring threat.
Regin played minor hockey in his hometown of Herning and he grew up idolizing Wayne Gretzky, mostly because Gretzky was the only name heard on Danish television at the time when the broadcasters talked about the NHL. If you were to see Regin's school pictures, you'd see him wearing a Los Angeles Kings cap, and the Kings were his most coveted hockey cards.
Regin turned professional with his local club team in 2002 and two years later, the Senators picked him in the third round of the NHL Draft. Regin played in Sweden's Elite League for three seasons starting in 2006-05 and he crossed the Atlantic in 2008 and was assigned to the Senators' minor league team.
Regin spent most of the 2008-09 season in the minors and had 18 goals and 47 points in 56 games for Binghamton of the AHL. He was called up a couple of times by the Senators and had one goal and two points in 11 games.
This season, he made the Senators out of training camp and had 13 goals and 29 points in 75 regular season games. When the Senators faced the Pittsburgh Penguins in the first round, Regin found himself on Ottawa's top line with Jason Spezza and Daniel Alfredsson and had three goals and four points in six games.
"Obviously the difficult thing about playing in the NHL is the speed of the game. That is the biggest difference between the AHL and the NHL. It is a physical game and the mental part was different," he said. "You have to be ready every night and it is a challenge. In the AHL, you play Friday, Saturday and Sunday and you have 5 days to practice. In the NHL it is every second day and that was different.
"The mental part, to refocus all the time, was the toughest part. and even though it is the NHL and you are excited about every game, it is tough to play 82 games."
"But when you make the playoffs, you get re-energized and you play like it is the first game of the year. It was unbelievable. You are skating around. In the morning skate before the first playoff game, I had so much energy. It was like I had not been on the ice all year."
When Ottawa was eliminated in six games, Regin knew his next destination was the world championship in Germany. He's glad to help his homeland raise its profile on the international hockey map, and it will also help raise his profile at home where he has become a role model for young Danish players.
"It is an honor (being a role model)," he said. "When we grew up, we had no NHL players and nobody was coming (along in Denmark's development stream) so we had no one to look up to.
"I am proud of coming from a small country and taking the long road to make it. I think it is pretty neat to come from a country with 15 rinks or whatever we have.''
His teammates here think Regin will have an impact in Denmark.
"He had a good year in Ottawa this year and great playoffs and now all the kids at home were watching the NHL and they want to be like him," said team captain Jesper Damgaard. "It is more fun when they have a Danish guy they can look up to rather than a Swede. It means a lot to Danish hockey and now we have guys in the NHL, all the TVs and newspapers are covering more hockey."
"That is what we want and what we need," added Kim Lykkeshov. "Now the kids in Denmark can dream about being him. That is good for Danish hockey."