High Spirits in Sydney for Kraft Hockeyville
Kraft Hockeyville, in its 17th year, was a success as the celebrations for Sydney, Nova Scotia, came to a close Sunday.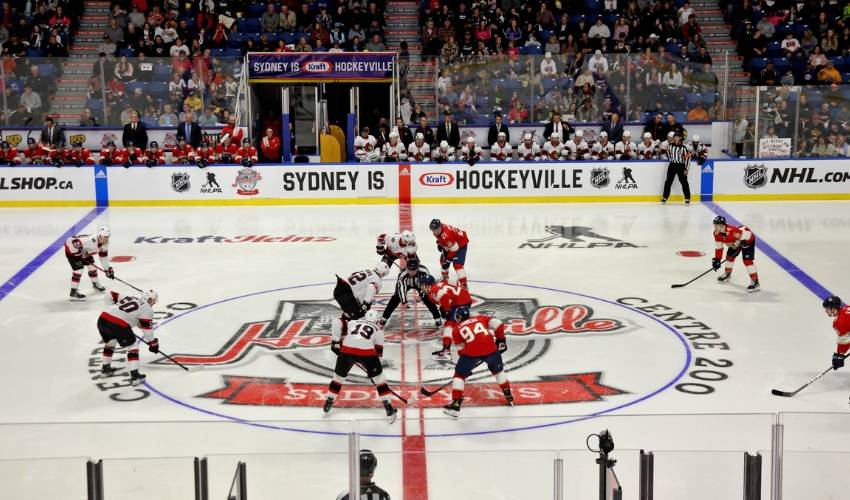 All photos courtesy of Getty Images
---
The community of Sydney, Nova Scotia, located on the east coast of Cape Breton Island, rallied together this past weekend to welcome players from the Florida Panthers and Ottawa Senators as part of Kraft Hockeyville celebrations.
Sydney, which was crowned the winner of Kraft Hockeyville 2022, celebrated their passion for the game throughout the weekend-long festivities.
Sydney received $250,000 in arena upgrades to the Canada Games Complex, which is set to help advance the community facility and assist in growing the game as the first hub for women's hockey. In addition, $10,000 worth of youth hockey equipment was donated from the NHLPA Goals & Dreams fund to local youth hockey associations.
Igniting the passion even further for this hockey-crazed community, the Kraft Hockeyville festivities kicked off Saturday morning with various activities and events, including a special visit from the Stanley Cup.
Sunday morning saw hockey fans gathered outside Centre 200 as early as 5:28 a.m. to meet some of their biggest hockey idols ahead of the Panthers and Senators morning skates.
Similar to West Lorne Arena - the winners of Kraft Hockeyville 2023 - the Canada Games Complex simply did not have enough room to host all the eager hockey fans hoping to see an NHL game. The Panthers and Senators instead made their way to Centre 200 to test their preseason abilities and put on a show for this East Coast crowd.
---
Hosting an NHL preseason game is one of the most exciting highlights that comes with being a Kraft Hockeyville community, and for many in Sydney, it was their first time seeing an NHL game live. Nearly 5,000 hockey fans brought the buzz and excitement for Sunday's Panthers and Senators preseason match-up, which ended in a 4-2 victory for Ottawa.
Senators forward Drake Batherson made himself right back at home as he captured four points (one goal, three assists) in his hometown junior rink. He spent three seasons playing out of Centre 200 when he played with the Cape Breton Screaming Eagles in the Quebec Major Junior Hockey League.
"I know firsthand playing for the Eagles how much it means to this community and couldn't be more excited to be back," Batherson said ahead of morning skate.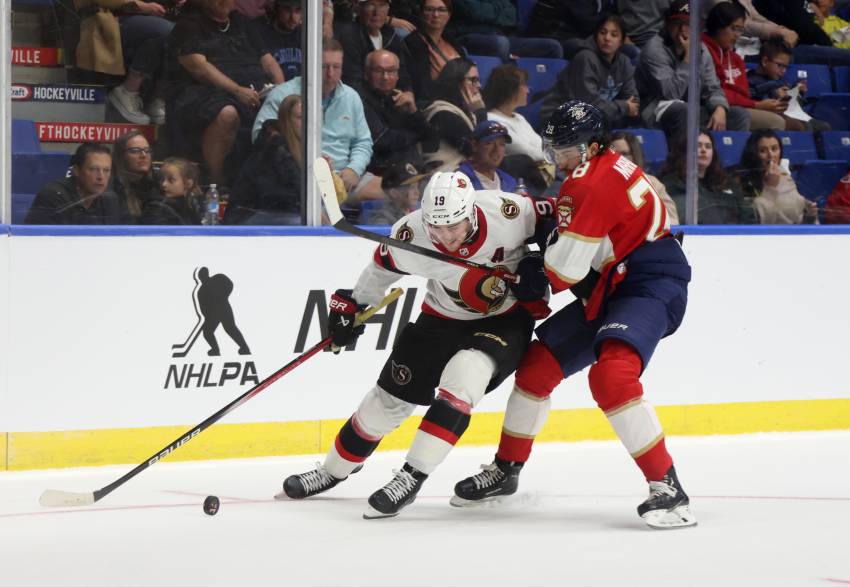 Following the morning skates filled with fans, Brady Tkachuk, captain of the Ottawa Senators, met with youth players to celebrate the donation from NHLPA Goals & Dreams.
---
ICYMI: Last Wednesday, West Lorne celebrated as the winner of Kraft Hockeyville 2023 and hosted the Toronto Maple Leafs and Buffalo Sabres for a preseason match-up in St. Thomas, Ontario.
With $250,000 in renovations to West Lorne Arena, $10,000 in new youth hockey equipment from the NHLPA Goals & Dreams fund, and the special opportunity to host a preseason matchup, it was certainly a once-in-a-lifetime experience that left an impact on the passionate hockey community of West Lorne for a long time.
.