Anton Forsberg anticipates career highlight with 2023 NHL Global Series
After his own experience witnessing NHL action on home soil, it's now Anton Forsberg's turn to inspire Swedish youngsters with an NHL dream.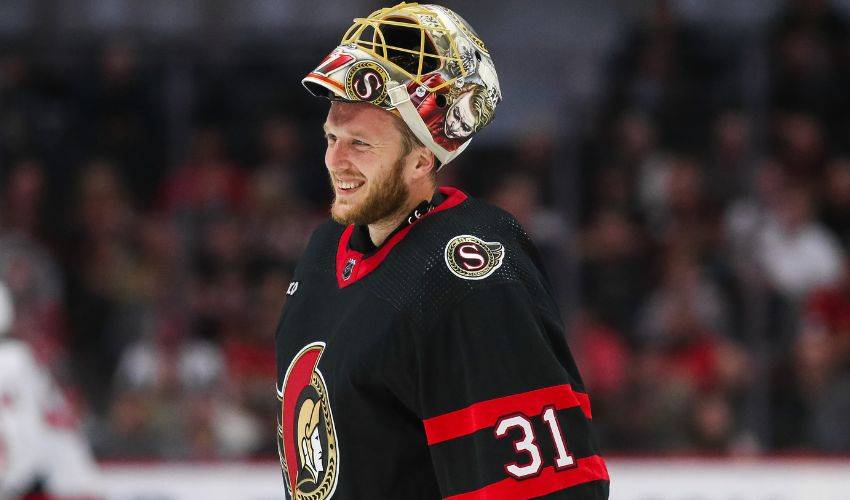 Feature Photo: Getty Images
---
Anton Forsberg has been a busy man leading up to the Ottawa Senators' trip to Stockholm for the 2023 NHL Global Series.
Less than a week before the netminder heads to the Swedish capital for a schedule of regular-season games, he is fine-tuning an unofficial itinerary for the Senators group.
The 30-year-old who hails from Härnösand, a northern Swedish town that is home to just over 25,000 people, views the exercise as a labour of love.
"I think most guys will get around pretty easily, but we're putting some things together with some restaurants and cafes," said the goaltender, who is working with teammate and fellow Swede, Erik Brannstrom, on compiling a list of things for the team to do in Stockholm.
"That's a big thing there, to have coffee and something sweet to eat. We'll come up with a list of places. Neither myself or Branni are from Stockholm, so we haven't tried everything either. It's going to be a lot of new experiences for us, too."
Stockholm's Avicii Arena will play host to the Detroit Red Wings, Minnesota Wild, Toronto Maple Leafs and Ottawa Senators from November 16 to 19. The Senators will open the series against the Red Wings on Nov. 16, followed by a matchup against the Wild two days later.
Forsberg has a long list of personal reasons as to why he is excited for the European edition of the 2023 Global Series in Stockholm.
"It's an opportunity you never thought that you would have. It's going to be special to get back home. It will feel different from the times you usually go back to Sweden, but it will be a lot of fun."
The goaltender, who was selected 188th overall by the Columbus Blue Jackets in the seventh round at the 2011 NHL Draft, has also previously suited up with Chicago, Columbus and Carolina over his nine-year NHL career. Along with his first NHL win and shutout, Forsberg anticipates the 2023 NHL Global Series to rank as one of his top hockey highlights to date.
Forsberg recalls fond memories of playing hockey back home, including with Modo of the Swedish Hockey League. He also had the opportunity to witnessing NHL action on home soil.
"I had never dreamed about playing an NHL game in Sweden. I remember the Colorado Avalanche had a preseason game in Sweden and that was when Peter Forsberg was still playing. That was special to go there to see it – our whole team went there just for that game – and it was amazing. It's pretty cool that we get to do that now."
It wasn't the first time Forsberg had the chance to see an NHL idol up close.
His father, Per-Arne, has had a long association with hockey as a former player who continues to work in the game as a chiropractor for a professional team in Sweden.
"I was fortunate enough to have my dad be so involved in the game in Sweden. During the [owners] lockout year in 2012, Henrik Zetterberg came home, and he was my biggest idol at the time. Fredrik Modin was there, Miikka Kiprusoff was there, and he became my idol at that time. He was the first goalie I looked up to. There were a few guys, so I was lucky enough to meet them."
Now, it is Forsberg's turn to inspire young Swedish kids to chase their own NHL dreams.
"How great is that?" offered Forsberg, the Senators nominee for the 2022 Bill Masterton Memorial Trophy for perseverance, sportsmanship and dedication to hockey. "People in Sweden love their hockey and I know it's going to be fun for both the players and the fans."
Until the puck drops in Stockholm and in between the regular-season games to be played before then, Forsberg and Brannstrom will continue to craft their ever-evolving list of places to visit and things to do in Stockholm.
One experience on those pages is a near-certainty for the Ottawa players.
"I feel like most guys will try the Swedish meatballs," Forsberg said of the iconic dish. "That's what we're most known for. Wherever you go in Sweden, whether it is fine dining or otherwise, it is pretty similar compared to what you will find in Canada and the U.S. Maybe some herring, but that is usually closer to Christmastime."
The biggest gifts for Forsberg will be found in the familiar faces he encounters on his return home, along with his tour guide duties.
"I can't wait to see family and friends, to show the guys on the team what Sweden is about – the culture, the food and a lot of other things. The guys are really pumped to be going."
There is, however, one thing he is hoping to avoid.
"I'm from up in the northern part of Sweden and there is snow right now, so hopefully in Stockholm, that isn't the case."