New crop of rookies motivated to become mainstays on NHL rosters
Matt Coronato, Luke Evangelista, Tyson Forester, Ridly Greig and Tye Kartye all have the same goal heading into the 2023-24 NHL season.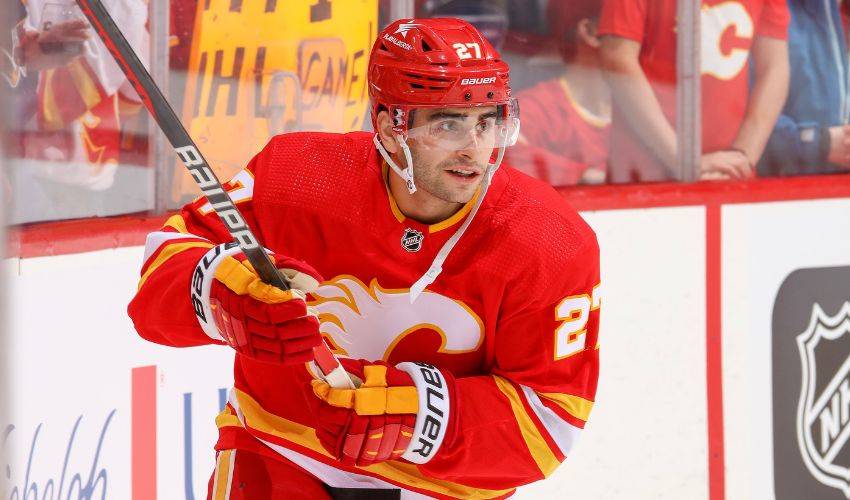 Feature photo: Getty Images
---
Their paths to hockey's biggest stage might differ from one another, but the goal of every emerging NHL player is very much the same.
While 18-year-old Connor Bedard has dominated the headlines as the league's latest emerging star, young players from across the league share the same hopes and dreams of donning the colours of an NHL team on a full-time basis.
The future of the Flames
Matt Coronato, the 13th overall pick of the Calgary Flames in 2021, made a name for himself in both the United States Hockey League and NCAA. In his 2020-21 season, he led Chicago Steel regular-season scoring with 48 goals in in 51 games and helped his team to Clark Cup glory as league champions with a tournament-leading 13 points. He was also later selected to the NCAA East Second All-American Team in 2023.
"It was a hard decision to make because I loved my time at Harvard," the forward told NHLPA.com about leaving school. "I learned a lot from our coach, Ted Donato, and the entire coaching staff. I loved my teammates there. We had a great group last year and I thought we had a lot of opportunities to win a lot of hockey games. I definitely learned a lot and had a blast there."
A native of Greenlawn, New York, Coronato appeared in one game for the Flames last season, recording four shots on net.
Now, he is looking to make an impact as a full-time NHL player.
"I'm going to work hard and do whatever I can to help the team," said the 20-year-old, who made the Flames roster out of camp.
He led Calgary in points during the 2023-24 preseason, recording seven points in six games. Off the ice, Coronato has had an equally enjoyable experience during his time with his teammates.
"The guys in Calgary are unbelievable," said Coronato. "They have some veteran guys with a lot of experience and a lot of them took time to talk to me and help me out. I'm really grateful for that."
Powering through on the Preds
Nashville is no doubt excited to see Luke Evangelista build upon what he achieved over a 24-game span with the Predators in 2022-23.
Selected 42nd overall in 2020, the 21-year-old Toronto native netted seven goals and 15 points to go along with a plus-seven rating in his first NHL stretch.
Evangelista, who finished fourth in the Ontario Hockey League in scoring with 111 points in 2021-22 while wearing the "C" with the London Knights, played his first NHL game February 28, 2023.
"That first NHL game I played in was a dream come true," said the forward. "We went on a little run there and I was getting plenty of opportunity. To be able to make your NHL debut and have all your friends and family come down and watch you, to have all that support, those last couple months to cap off the season were honestly some of the most fun moments in my hockey career. I'll never forget that stretch."
Evangelista has already achieved his preseason objective of earning a roster spot on opening day of the Preds' season 2023-24 season.
"I want to show that I'm capable of sticking around the whole year and hopefully help the team win."
Flying into Philly
Hailing from Alliston, Ontario, Tyson Foerster made a strong first impression over an eight-game run with the Philadelphia Flyers last season.
Selected 23rd overall by the Flyers in 2020, he spent the majority of the past three campaigns in the American Hockey League with the Lehigh Valley Phantoms, where he broke out last season posting 20 goals 48 points in 66 games. He was also named to the inaugural AHL Top Prospects Team.
"I worked on pretty much everything over the summer," said Foerster. "I was working in Voorhees [the Flyers Training Centre in New Jersey] getting ready for this season. I worked on my strength and my speed, which is a big thing."
Though he has yet to make his 2023-24 NHL season debut, he is feeling right at home with his NHL club thanks to one of his veteran teammates.
"I'm living at Joel Farabee's place, and he's been great to me. Just being comfortable in being myself has been great."
Shooting his shot in Seattle
Despite some impressive credentials, Tye Kartye went undrafted in the NHL, but it has not prevented the 22-year-old from Kingston, Ontario, from making a name for himself competing at the game's highest level.
After an impressive season in the AHL, where he posted 28 goals and 57 points in 72 games and was named AHL Rookie of the Year with the Coachella Valley Firebirds, the former junior standout with the Soo Greyhounds signed a three-year entry-level contract with the Seattle Kraken on March 1, 2022.
Kartye then had a memorable NHL debut in Game 5 of the 2022-23 Stanley Cup Playoffs in the First Round against the Colorado Avalanche where he scored in the second period.
The winger completed his postseason with five points in 10 games. When the Kraken were eliminated from the playoffs, he was a part of the Firebirds squad that made the Calder Cup finals in their inaugural season.
"I was proud of what I was able to do last year and I'm looking forward to getting this season going and seeing what it brings," said Kartye. "I learned a lot in Seattle playing in the playoffs and I learned a lot in Coachella during our Calder Cup run. After the season, taking a little bit of time off to rest and recharge was important. Then, you start thinking about the upcoming season and what you can do to get better."
An optimistic outlook in Ottawa
Selected 28th overall by the Ottawa Senators in the 2020 NHL Draft, Ridly Greig showed plenty of promise in a 2022-23 season spent with the Belleville Senators of the AHL, when he notched 15 goals and 14 assists in 39 games.
When Ottawa dealt with a spate of injuries to their forwards, the team called up Greig for two extended stretches in the second half of the season, during which he scored his first NHL goal among nine points over 20 games.
"To get those 20 games in last year, to have that opportunity and get that experience was great for me and boosted my confidence up a lot going into this year."
The native of Lethbridge, Alberta, who had an assist in his NHL debut January 25, 2023, had no shortage of support from his Senators teammates.
"To have that debut, to have that first point on a Claude Giroux goal was pretty cool," said Greig who tallied his first NHL goal less than a month later. "It was a pretty unreal moment that I'll remember forever. The guys on the team told me to be myself, to play my game and to work hard every shift. Claude and Brady Tkachuk talked to me the most and were great. They gave me a lot of confidence. Everyone on the team is easy to talk to, so whenever I have any questions, it's very easy for me to talk to the guys."
Greig, whose father Mark played nine NHL seasons, is looking to make it back into the playoff fold after earning an opening day roster spot that saw him skate in 16:04 of time on ice.
Greig's philosophy mirrors that of the shared team outlook.
"I know there is a lot of hype around this team and a lot of media talking about the team, but we're going to take it simple and go game by game."