Brady Tkachuk, Quinn Hughes continue to develop in lockstep
The bond between the captains of the Vancouver Canucks and Ottawa Senators predates their time in the NHL.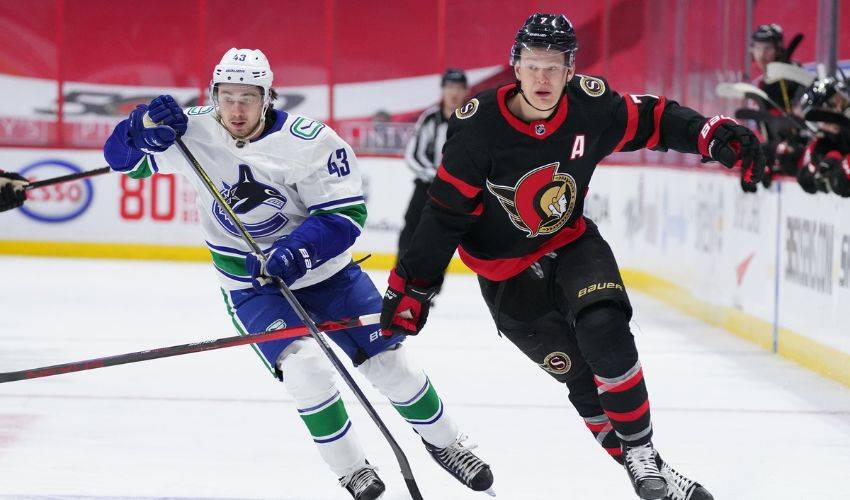 Feature photo: Getty Images
---
Two captains, one friendship and a similar hockey philosophy. Brady Tkachuk and Quinn Hughes are on the same page when it comes to leadership and plenty more.
The bond between the Vancouver Canucks and Ottawa Senators captains predates their time on the NHL stage to 2015, when the pair played alongside one another on the U.S. National Development Team. Parallels between the two continued as they embarked on their NHL career paths, including being selected three spots apart in the 2018 NHL Draft – Tkachuk at fourth, Hughes at seventh.
The matching letters on their respective jerseys are just the latest element the two have bonded over. This September, the Canucks announced Hughes as the 15th captain in franchise history – making him the youngest captain in the league.
"When I speak of Quinn, I don't think there is anyone more deserving of that honour than him," said Tkachuk, who began serving as the 10th captain in Senators franchise history in November 2021. "He is such a special player, but he's a better person. He's authentic. He's a great leader and he leads by example through his work ethic and love of the game."
Hughes, the first American-born player to hold the captain's role for Vancouver, also uses the word authentic to describe Tkachuk.
"Brady is one of the most authentic people you will ever meet," said Hughes, whose younger brothers Jack and Luke play for the New Jersey Devils. "When I told everyone that I was going to be captain, I think he was the most excited."
Hughes, who, at 23 years old, dethroned Brady as the youngest current NHL captain, has already reached out to the forward about his newly minted leadership role.
"When I found I was going to be captain, I thought about a lot of things, 'Who am I? What kind of person am I?' I also thought about what kind of leader I wanted to be. You answer all those questions and then you keep learning and learning. I always tell the media that from 19 to 21 I was a different guy and from 21 to 22 I was a different guy – and I'm sure that will keep happening. I want to keep learning and this year will be a perfect example of that. I know that if I ever need some advice, Brady will always be there for me."
The same goes for Tkachuk, who had his best offensive season in 2022-23, a campaign that included a career-high 35 goals and 83 points.
Leadership, for Tkachuk, is anything but a one-man show.
"The biggest thing I've learned is that you can't do it alone," said the 24-year-old, whose father, Keith, also served as an NHL captain.
"You need people around to support and guide you. I'm lucky to have that with the leadership group here in Ottawa. I'm also lucky to have my family who has that leadership background. I'm also lucky to have good friends like Quinn. I know I can rely on them when you face those obstacles along the way."
Both players' top objective is to see their respective teams get back into the playoff picture.
Vancouver's last postseason appearance came in 2020, while Ottawa's dates back to 2017.
The first order of business for Hughes, who first served as an assistant captain for the 2022-23 season, is to create a winning atmosphere before the Canucks play their first regular-season game October 11 when they host the Edmonton Oilers.
"I'm honoured to be in the role, but the main focus is that we do well as a group when we start camp," said the player who became the fastest defenceman in NHL history to reach 200 assists. "That's where my mind is right now. As far as I'm concerned, it's the same role as last year, just trying to be a leader on the ice and off the ice."
Tkachuk is on a similar mission.
"There is a lot of progress that has been made, both individually and as a group here in Ottawa. We have been through the lows throughout the years and now we're getting to the point where we are going to hopefully experience those highs together. We're just very excited to get going. We are taking those steps in the right direction. We need to believe in one another, and we do."
Both players have high praise for their teammates.
"We have a great group of guys and that's what makes me confident about taking on this role," offered Hughes. "I know the character people that we have here, and I know they will have my back and support me. They are going to help me do this as well."
The same sentiments are echoed by Tkachuk about the Senators.
"I couldn't ask for a better group here in Ottawa. Every guy is very supportive and wants what is best for the team. I feel lucky to be part of it."
One of many reasons why Tkachuk feels at ease by simply being himself as the team leader.
"You can't be somebody you are not. When you are talking in the room, the words have to be authentic, and you need to be yourself. For me, I'm a guy who loves to be around my teammates, staff, and everyone who is connected to the team. I'm excited to come to the rink every day. I love to be around people and I love to play this game."
The pair are also appreciative of where they are in their careers, not just as young leaders, but for where they apply their trade.
It did not take long for Hughes, who played his first NHL game March 28, 2019, to feel right at home in Vancouver.
"When I first came here five years ago, I realized what a market this is and how important hockey is to the people of Vancouver. I'm very honoured to be here, not just as a captain, but as a player on this team. The fans want us to be successful, so I want to do everything I can to help put us in that position. I know my teammates, the coaches, management and ownership are thinking the same thing as well."
Tkachuk, who recently married his wife, Emma, in July, has been reminded of Ottawa's importance to the city throughout the offseason.
"This summer, you can feel the excitement here from our fan base. As players, we're looking forward to getting out there and playing in front of them. Hopefully, it can be a big year we can all share in."
Team success would be a welcome conversation between two players who have often referred to one another as brothers.
Just two captains talking about life on and off the ice.
"I've already bounced things off him before, but now that we are both captains, I have another outlet," said Tkachuk. "It's going to be a lot of fun to share these experiences and rely on one another."
"If there is one guy who knows what the world is like in terms of being in the same shoes as me, it's Brady," said Hughes. "He's a young captain in a Canadian market and is definitely someone I can lean on and trust."