Hard To Rattle Bonino
Whether its skating against the best players in the world, or reading to a group of school-children, Nick Bonino is a focused man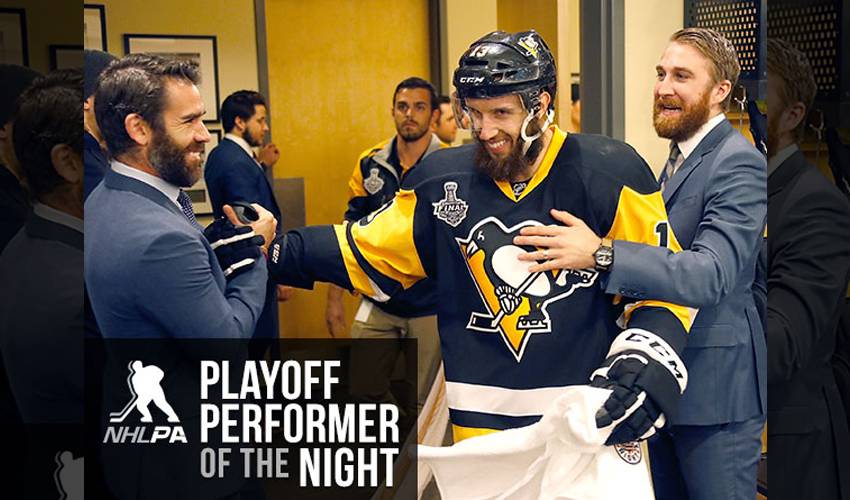 Skating against hockey's elite night in and night out doesn't rattle Nick Bonino. But reading to a room full of California schoolchildren? That was quite a different story.
He's been a big contributor to the Anaheim Ducks over the past two seasons, showing confidence and savvy when the game is on the line. In 2013-14, he has 25 points in 36 games.
But for the 25-year-old Bonino, a recent visit to Arovista Elementary School (in Brea, California), where he was accompanied by teammate Francois Beauchemin, made him feel like a rookie appearing in his first big-league contest.
"At the start, I told Beauch that I had butterflies and he looked at me like I was crazy," recalled Bonino. "I was thinking we'd be reading to a group in a classroom, maybe there would be 20 or so kids. Instead, it was like an assembly, way more kids than that."
Fortunately, Bonino made it through his appearance unscathed.
"I really enjoyed it," said the Connecticut native. "All the guys like doing these types of things. After my nerves settled down, which didn't take too long, it was a lot of fun."
There's no doubt Bonino is having fun on the ice, too. He's playing the best hockey of his NHL career and the Anaheim Ducks are among the top teams in the league.
It doesn't get much better than that.
"What you hope for is that the team is a success and that you can contribute to it," said Bonino, who was originally drafted 173rd overall by the San Jose Sharks in 2007. "I'm gaining more and more confidence each day."
Confidence wasn't always easy to come by for Bonino.
A standout at Boston University from 2007-10, the centreman, who as a sophomore led the team to a NCAA National Championship by netting the game-tying goal with 17.4 seconds left in the third period to force overtime, had his rights traded to the Ducks in March of 2009.
Bonino appeared in nine games with Anaheim in 2009-10, scoring his first NHL goal. And what a memorable tally it was.
"The guys on the ice when I scored were Teemu Selanne, Corey Perry, Lubomir Visnovsky and Scott Niedermayer," recalled Bonino. "It was surreal to be out there with so many talented players."
Selanne, one of the hockey's top offensive stars and a future Hall of Famer, assisted on Bonino's milestone marker.
"I looked up after I scored and Teemu is digging the puck out of the net," he remembered. "We got back to the bench and he leaned over to me and said, 'I'm really happy for you. I still haven't forgotten my first one. Enjoy it.' That's a great way to talk about Teemu. What you see on TV is who he is in real life."
The following season wasn't so kind to Bonino.
"I played in 26 games and had no points," he noted. "I struggled. I was used to providing offence and it just wasn't happening. When you are young, you are on a short leash and there are times you are afraid to mess up."
In 2011-12, Bonino played in 19 games (22 points) for Syracuse of the American Hockey League, coupled with 50 games (18 points) in a Ducks jersey.
Last year, he had 13 points in 27 games with Anaheim, along with four points, three of them goals, in seven playoff contests, coming against the Detroit Red Wings, the team he cheered for as a kid.
This season, Bonino is on pace to score 23 goals and record 57 points.
Confidence issues? Not a problem.
"I'm just playing my game and that time in the AHL really helped me," offered Bonino, who had a goal in a 5-2 road win against Detroit on Tuesday night. "Whatever I can do to help the team win, I will."