Nick Bonino's Christmas-Cup connection
The Stanley Cup and Christmas are both steeped in their own traditions, but Nick Bonino found a way to intertwine the two in 2016.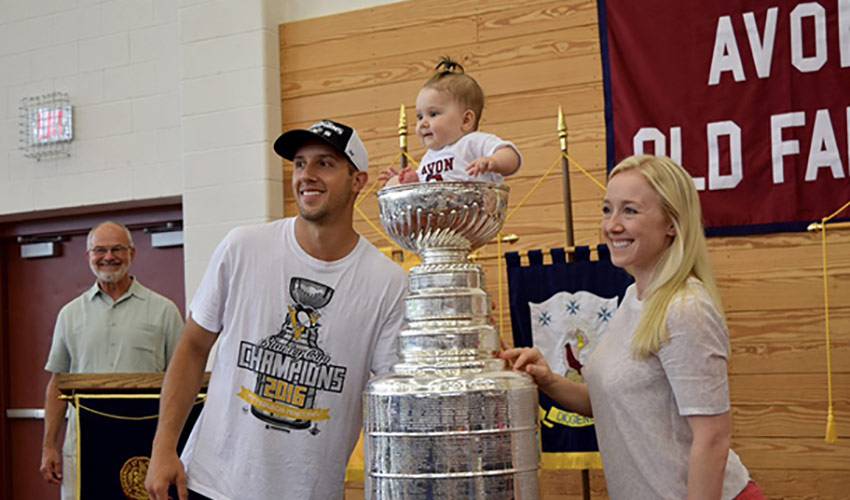 What's at the top of Nick Bonino's Christmas wish list? Hint: it involves a bright red light.
On his way to the mall to finish up his gift-buying for the holiday season, the 28-year-old Bonino, less than 12 hours removed from a two-point night in a 7-0 Pittsburgh Penguins' home win, paused momentarily when asked what his ideal present would be this year.
"If I had to ask Santa for one thing, I guess I'd ask him for a few more goals," he said with a laugh. "If you have any connections at the North Pole, I'd appreciate you putting in a good word for me."
A request to light the lamp aside, Bonino isn't looking for anything else. The veteran of over 350 NHL regular season games is a happy guy. He has plenty of reason to be.
In January, Bonino and his wife Lauren welcomed their first child, a daughter, Maisie. In June, the centreman celebrated his first Stanley Cup win when the Penguins bested the San Jose Sharks in six games.
Yes, life is good.
"I'll tell you what – 2016 has been a great year," said Bonino. "On January 5, we had our daughter and then we ended up winning the Cup in June. Two amazing life experiences happened within six months of one another. It was truly an awesome year for myself and my family."
Nick Bonino raised $10,000 for Connecticut Children's Medical Center on his Cup day. Maisie celebrates in the Cup. pic.twitter.com/TgFieCNowv

— Amalie Benjamin (@AmalieBenjamin) August 11, 2016
The good times aren't over quite yet. After a home game against the New Jersey Devils on December 23, Bonino and the Penguins don't play again until December 27, meaning there's some quality family time coming up on the calendar.
Christmas continues to be a special time of year for Bonino.
"I remember we would go to my grandparents' place on Christmas Eve and then to my aunt and uncle's on Christmas day," he recalled. "When I was younger, my grandmother was more active. My grandfather is 93 and my grandma is almost 90 – she was the one cooking everything. As she got older, other members of the family did that. Our tradition on Christmas Eve was to have angel hair pasta with tuna fish."
It also happens to be the perfect recipe for a unique photo opportunity.
"That's what I ate out of the Cup this year," noted Bonino. "I guess the biggest memory from Christmas is that we would be together and have this big Italian spread on Christmas Eve and then turkey the next day. There's always a lot of food in an Italian family."
From @keeperofthecup. @NickBonino of the @Penguins enjoying some pasta from the Stanley Cup. pic.twitter.com/KWLSsP2bpe

— Hockey Hall of Fame (@HockeyHallFame) August 11, 2016
And in Bonino's case, there were always plenty of hockey-related gifts under the tree.
Past presents have included a hockey jacket, one that predicted the star of his NHL future.
"I would always get hockey gear," said Bonino. "I know one year I got street hockey goalie equipment. I played goalie all the time when we were outside. Another year – it's pretty funny – I got one of those Starter jackets and it was a Mighty Ducks one, and I ended up playing for the Ducks. Looking back at the picture when I made it to the NHL, it's pretty cool. I also got some of those bubble hockey-type gifts, too. My parents and grandparents were always good to me."
As for his past goaltending exploits during the countless hours spent playing street hockey, Bonino wouldn't turn down an offer to strap on the pads if he were asked.
"My dream would be if I got the chance to play the third period," he said. "I could come in and make a few saves. Maybe that's why I block shots. It's the goalie in me coming out."
Time spent tending the twine, however, is not what Bonino is asking for this year.
"Maybe some more goals. I could do with a couple more of them. Other than that, what can I say? It's been great."