Bonino Brings Pens A Game 1 Win
Nick Bonino notched the game-winning goal in lifting the Pens to a 3-2 win on Monday night in Pittsburgh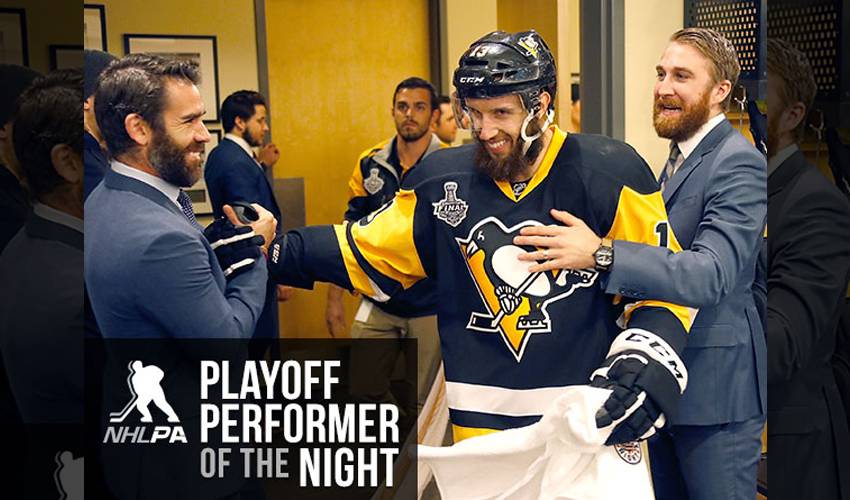 Nick Bonino takes home the PPOTN prize for his primetime performance in Game 1 of the Stanley Cup Final.
The centreman scored the winning goal in the curtain-raising contest as Pittsburgh beat San Jose 3-2 on Monday night.
STAT PACK: Bonino had one shot on goal, was a plus-1, recorded six blocked shots and took 25 shifts for 15:07 of ice time.
LIGHT THAT LAMP: "Just came into the zone a little bit late," said Bonino, of his winning tally. "I saw Tanger (Kris Letang) in the corner. Haggy (Carl Hagelin) was down there battling with him. Wasn't sure if I should get out of there and get above their guys. They kept it alive and Tanger put it right on my stick. It's one of those shots that wasn't my hardest shot by any means, but just found a way to kind of flip it over him. Great pass from Tanger."
HOME, SWEET HOME: "I think I found a home for sure. I enjoy the guys, enjoy the team. Organization is first class. Definitely feels nice to be in the Cup Final playing with these two guys, it's been a lot of fun for me."
PLAY IT COOL: "I think the biggest thing for me is to stay even-keeled, not change my game, whether it's game one of the season or the Stanley Cup Final. I think that allows me to kind of stay in the moment there. When you get passes like I've gotten, pucks to the net like Haggy did, the pass tonight from Tanger, it makes it a whole lot easier to score those goals."
NICK'S KNACK: "I think he's a terrific player in every aspect of the game," said head coach Mike Sullivan. "We use him in so many key situations, both offensively and defensively. I think he's a guy that has a real high hockey IQ, sees the ice really well. He has real good hands. His awareness defensively I think, the use of his stick to take passing lanes away, it's impressive. He's brave. He blocks shots. He's one of our better shot-blockers. He's a good faceoff guy. He's done so much for this team to help us get to this point. I don't know what other praise I can shower on him right now. We think he's a terrific player."
MR. NICE GUY: "He's a real calm, cool and collected guy," said Sullivan. "I don't think his heart rate gets too high. He just goes about his job. I think he's great with his linemates. He's great with the young players. He's a reassuring presence both in the locker room and on the bench. I mean, you could see it in his play, his calm demeanor. He's the same way with his personality. I think that helps our group."
STAR POWER: Bonino appeared in nine games with Anaheim in 2009-10, scoring his first NHL goal. And what a memorable tally it was. "The guys on the ice when I scored were Teemu Selanne, Corey Perry, Lubomir Visnovsky and Scott Niedermayer," recalled Bonino. "It was surreal to be out there with so many talented players."
TALKING TEEMU: "I looked up after I scored and Teemu is digging the puck out of the net," Bonino remembered. "We got back to the bench and he leaned over to me and said, 'I'm really happy for you. I still haven't forgotten my first one. Enjoy it.' That's a great way to talk about Teemu. What you see on TV is who he is in real life."
BIRTHDAY BOY: Bonino shares a birthday (April 20) with actor Shemar Moore, actress Jessica Lange, NFL star Luke Kuechly and fellow NHL player Brent Seabrook.
HONOURABLE MENTIONS: Conor Sheary and Bryan Rust scored for the Penguins. Kris Letang was a plus-2. Tomas Hertl and Patrick Marleau tallied for the Sharks, while Brent Burns posted two assists.