Schneider not rushing what comes next after hanging up skates
Cory Schneider caught up with NHLPA.com after announcing a retirement from his professional playing career September 26.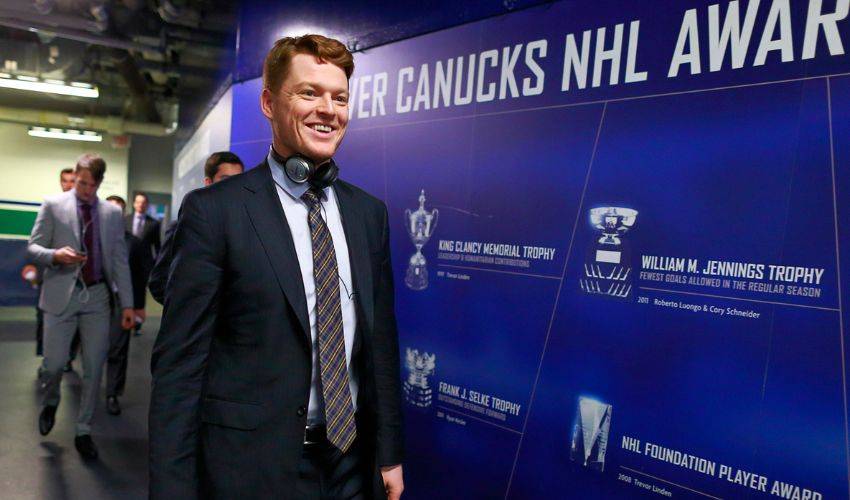 Feature photo: Getty Images
---
Cory Schneider has fond recollections of an NHL career that, at one point, he never saw coming.
A native of Marblehead, Massachusetts, Schneider recently announced his retirement from a professional playing career that yielded a 171-159-58 record to go with a .918 save percentage and a 2.43 goals-against average.
"At the end, you realize how much people cared about what you did," the 37-year-old told NHLPA.com. "I don't say that arrogantly – it just hit me how many people watched my career from start to finish."
That he even made it to the NHL ranks is a story in itself.
For Schneider growing up, school trumped sports with hockey simply being, for a time, a beloved game he enjoyed playing without any long-term aspirations.
That, however, would all change during his high school days.
"I always loved hockey and wanted to play well, but the thought of making it a career never really occurred to me until high school. My parents were big on school and academics, so hockey was a benefit for me. If I did well in school, I would be able to play sports. My motivation was getting good grades and working hard. In my freshman year of high school, it hit me, 'I'm pretty good at hockey, maybe I should start looking at travel teams or other avenues.' I applied to prep schools even though I was happy being at home, being with my family and spending time with friends. I knew if I wanted to take my hockey to another level, I'd have to look at other options. I was accepted into Phillips Academy, which is one of the top prep schools in the country."
It was there, in Andover, Massachusetts, 25 miles north of Boston, where hockey became a major focus for Schneider.
Others soon took notice of his talents between the pipes.
"I started doing some hockey events, some showcases, and at the same time, I started playing well and got noticed and scouted. My first year in Andover, I thought, 'I might as well go to college.' I was hoping I could get a scholarship and go from there. It was sort of a slow burn and when colleges started noticing me, I realized it was kind of a big deal. There was buzz around that time, that I could maybe go in the first or second round of the NHL draft, so it got really exciting around that time.
"Then I played for the U.S. National Team at the U18 World Championships – I wasn't asked the first time around – but they had some injuries and asked me to play. Playing against some of the best kids around the world let me know that I could be on that level. We ended up getting silver, losing to Russia in the finals, but it left me with that feeling of, 'Maybe there is something here for me.'"
There was.
After playing three seasons at Boston College, Schneider was drafted 26th overall by the Vancouver Canucks at the 2004 NHL Draft. He and his goaltending counterpart, Roberto Luongo, teamed up to win the William M. Jennings Trophy in 2010-11 for having the fewest goals scored against them in the league. Schneider then played 311 of his 410 career games for New Jersey from 2013 to 2020 and was named an NHL All-Star in 2016.
"It was never on my radar to make it to the NHL or bust. Even when I was drafted in the first round, it didn't quite hit me. I figured I'd go to school for four years and then see what happened from that point. I think I was naïve to the whole process. I loved boarding school, and I loved college, and I begrudgingly left college after my junior year because it was the right time."
He laughs at the recollection of his first NHL start.
While he knew that it would eventually happen, Schneider, who played three seasons with Vancouver's American Hockey League affiliate in Manitoba, did not know the exact moment that it would come.
When it did, the news caught him by surprise.
"It was my second year of pro, and I had a great start in Manitoba. We were a really good team and we got off to a great start. Roberto, I think he hurt his ribs, so he was going to be out for a while. My first start was in Calgary. There was speculation I might play, but I had no idea. I was just preparing as I would for any game. We were stretching after morning skate and Alain Vigneault skated by, tapped me on the butt, and said, 'You're in tonight, kid.' I thought, 'Okay, so this is how it works.' You have all these grand visions of this dramatic announcement, but that's how I found out. We lost 3-2. I played alright, not great, but pretty well for my first game. It's something I will never forget."
Schneider has fond recollections of his days with the Canucks, teaming with Luongo to form a formidable one-two goaltending punch.
But it was not only the future Hockey Hall of Fame inductee who had a significant impact on his hockey career.
"I was very fortunate to land with Vancouver. We had a very good team, great goalie coaches, and a phenomenal teammate in Roberto. I was able to come along at a good pace where I was able to gain confidence. If you went down 2-0 early, you always felt you could come back and win 4-2, which we often did. As a young goalie, it was nice to have that comfort level."
Schneider last played in the NHL in 2021-22, appearing in one game with the New York Islanders.
"I think my game was always built off the mental part, anticipating where guys were going to be before they got there and thinking my way through games, rather than relying solely on athleticism. I think my consistency came from reading the game. The fact that it turned into what it was, 16 years of pro hockey, and over 400 NHL games, is just surreal. I never thought I would accomplish any of that. Some things came along that you don't expect, but that's just part of the journey and I'm looking back on it for what it was, and it was a great experience."
It was not only on the ice where Schneider made valuable contributions.
He was one of the players who was part of the NHLPA-led competition committee during the mid-2000s.
"My dad said, 'You've got to put that Phillips and Boston College education somewhere,'" Schneider shared with a laugh. "I ask a lot of questions and I like to know how things work, so being a player, I was always curious about the information that was shared by the PA, and I wanted to be in the mix and thoroughly understand everything and how it affected your career. The CBA really does shape your career in a lot of different ways. Once I felt more comfortable in the league, that I was more established, I felt like I had something to offer, and it was another side of the game that I found interesting.
"I was on the competition committee for a while and that's when they were going through the goaltending equipment changes. I wanted to be there to be in the know and offer any insight I could. All those elements made it very appealing for me to be involved and to be able to share that with my teammates and others. Hockey players are smart guys. They are interesting people, and they are interested in what's happening. That responsibility was very important to me, and I took it very seriously."
As will Schneider when he looks at the next chapter in his life.
Whether it is staying in the game or finding a new path, he is excited about what lies ahead.
"It's a time to pivot and transition. Whether you stay in the game or not is one question. It could be in media, management, coaching, business – all the elements that go into hockey – which makes obvious sense. On the flip side, how many people get to reinvent themselves or change their entire life path in their mid-30s? Maybe there is something I haven't considered that will intrigue me and motivate me. I'm going to take some time to consider what's next but do some part-time things to stay up to date on the game. I love hockey and if I decide I do want to stay in the game, I need to know what is going on. I'll try to stay involved on some level and then see what happens from there. Business school is an option, law school to become a player agent – these are all things I'm starting to consider. It's a very interesting time in my life that I'm looking forward to."
Schneider will also have time to reflect on his unexpected, but treasured hockey journey.
"With this game, the thing that stays with you is the people you meet. The game is great. It can be a grind, there are ups and downs throughout a season, but it's the people that remain a constant. The training staff, the arena workers, media staff, the media, and then your teammates and coaches – you get close with a lot of people in a short period of time. I'm very grateful for all those people and for the career that I had."