Schneider the ideal teammate
It didn't take Miles Wood long to figure out there were two distinct sides to No. 35 for the New Jersey Devils.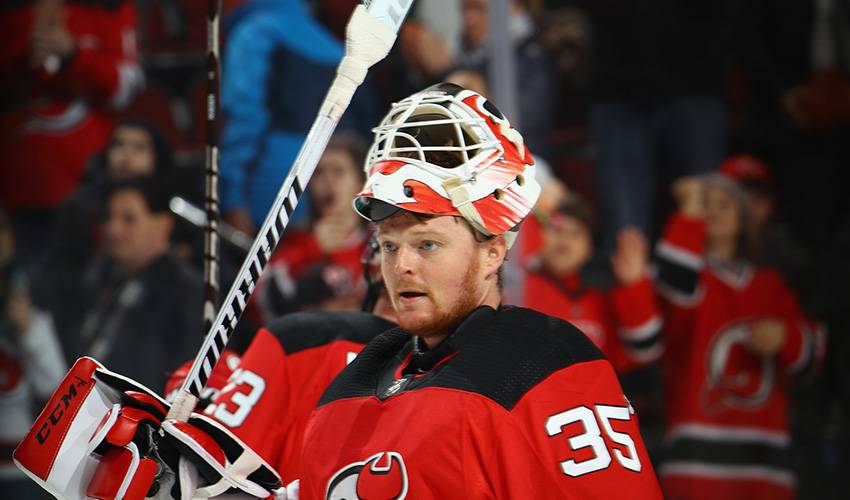 Off the ice, the veteran goaltender is the "nicest guy." On the ice, he's the ultimate competitor. It's what makes Cory Schneider the perfect teammate.
It didn't take Miles Wood long to figure out there were two distinct sides to No. 35 for the New Jersey Devils.
The person that made the left winger feel right at home in the dressing room was the same one who dished out zingers at him during morning practices.
"Off the ice, Cory is a nice guy to be around," said Wood, who skated in 60 games with New Jersey in 2016-17. "In my first year, he made it so easy for me. He invited me over to have lunch. He's very accommodating to the young guys and always makes you feel included. That's a very important thing, especially for a young player. Cory helps you to make that transition smoother."
Schneider, who came to the Devils via a trade with Vancouver in June of 2013, has been a major contributor to the team's success in 2017-18.
But the 31-year-old doesn't save his top effort just for games. Schneider is dialed-in even when two points aren't on the line.
"He's such a good guy, but when he gets on the ice, even in practice, he wants to stop every puck," noted Wood. "He gets a little competitive out there and chirps you sometimes. When it comes to his preparation, he's just such a competitor. That's the first thing that comes to my mind when I think of Cory. He wants to win. He'll do whatever it takes to win. His preparation in practice – he's the first one out. He competes hard. He digs in and works really hard."
That hard work has paid off for the native of Marblehead, Massachusetts over 360-plus career NHL games.
After decorated careers with Boston College and Manitoba (American Hockey League), Schneider has gone on to win 161 big-league games, the 2011 William M. Jennings Trophy (shared with Roberto Luongo) and was selected to play in the 2016 NHL All-Star Game.
All well-deserved and well-earned accomplishments, said Wood.
"Cory has been the backbone of our success," said the son of former NHL player Randy Wood. "We've struggled at times as a team, but Cory always comes up big in the most important situations. Goals will happen, but Schneids has that approach of, 'Okay it went in, but I still have to compete here.' He never loses track of what his goal is."
It's one of many reasons why Schneider is viewed as the ideal teammate.
"He's a great goalie for us," said Wood. "I'm happy for him and for his success."