Timing right for Henrique to open up home to pups in need
When there's a dog in need, it's Adam Henrique and Lauren Thomas to the rescue.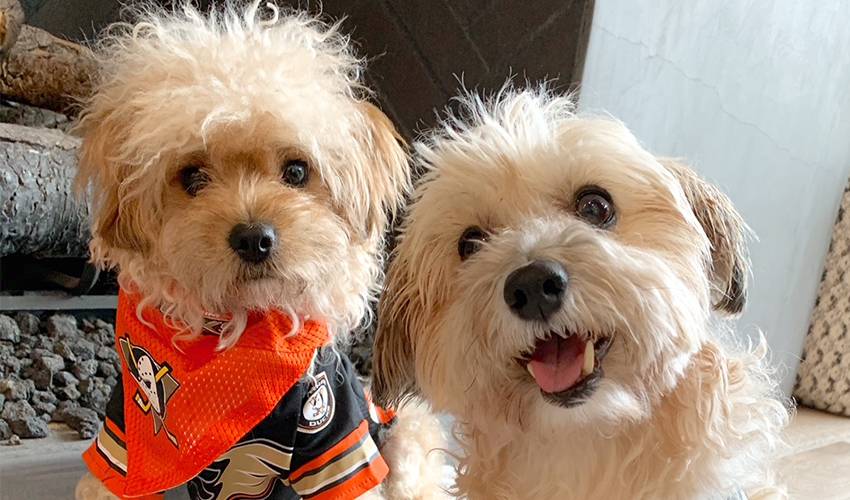 When there's a dog in need, it's Adam Henrique and Lauren Thomas to the rescue.
It was something the couple had discussed for a while, the idea of bringing a dog into their home in Newport Beach, California.
They agreed to go about the process slowly, a measured approach that would afford them the chance to do plenty of research before making a decision.
"We wanted to have a dog, but we really didn't want to jump into anything," recalled Henrique. "Lauren started watching dogs on Rover, which is a pet-sitting and dog walking app. We did that for the first few months of the season, and had a number of great dogs. No bad experiences at all."
While Henrique and the Anaheim Ducks were on a road trip, Lauren was on a road trip of her own, volunteering at a local pet adoption event not far from their home.
It was there where she met Sammy, a 4-year-old Maltese/Bichon mix.
"So, Lauren decided to foster him for a couple of days when I was gone," started Henrique. "I think she knew it would be easier to get a dog in here that way. Once I got home from the road – we were still technically fostering him – we realized he had a bunch of health issues. He got neutered and he had over 10 teeth removed. They had found him on the street, here in Riverside. He's been awesome from day one. I'm pretty sure Lauren signed the adoption papers before we technically adopted him, but it's fun to have him around. He doesn't make much noise, he doesn't bark much, he's pretty low-key – he just likes to hang out and sleep. Honestly, he's been very easy, and we're happy to have him with us."
"He's so sweet and gentle, yet has the funniest personality," added Thomas. "He has always been in great spirits since the day I met him, and brings so much happiness and laughs to Adam and I. He had some medical issues that apparently were causing him a lot of pain, but he still cuddled and spun around like nothing was wrong… just a happy little guy. He truly seems grateful to have found us and we feel the same towards him."
That's evident the moment you begin a tour of Sammy's own personal Instagram page (@sammysweetboy).
Decked out in Ducks gear, trying to escape the 'puparrazzi' on a shopping trip, showing off his Easter haircut – Sammy is indeed enjoying the good life after surviving life on the streets.
"He's right in the bed," offered Henrique. "He lives like a king now."
Sammy also had a teammate for a period of time.
"We got another little guy, Surfer, from the shelter. Lauren had been making some phone calls and actually got him adopted a little while ago. Lauren has stayed in touch with the shelter we got Sammy from, and then we got this guy to foster. He came from a hoarder's house, where there were about 35 dogs. Lauren works running the shelter's Instagram account, and she's been really pushing their message along, helping to get some of the animals adopted."
Other than the odd tussle – double minors for roughing in the hockey world – the dogs managed to get along quite well.
Sammy can look forward to welcoming some new housemates in the days and weeks to come.
"We're heading that way. Since Surfer got adopted, the lady at the shelter called and asked Lauren if she could send another one over. All I heard was Lauren say, 'Oh, yes. Absolutely!' I'm sure there will be more coming through here."
Through their experiences, the couple has become big advocates for animal adoption.
They're hoping to encourage others to consider the adoption route.
"All the dogs that Lauren saw, they all had different issues, whether it was health-wise or something else. People might not always thinking of adopting as their first thought, but it's a great way to bring a dog into your home. These shelters, they don't make a lot of money, but they are doing a great thing. The people are so nice."
"I love being able to help with the adoption process so that these doggies can find a loving home," said Thomas. "A lot of the pups in the shelter have been either surrendered by their owners or found in inhumane circumstances, terrified and usually in need of medical attention. As a foster, it is so satisfying to see how resilient they can be and how much they can thrive in a home with love and care. It's heartwarming to see how many great people are willing to adopt and give these dogs a second chance."
There's no doubt Cory Schneider, Henrique's former teammate, is proud of what he and Thomas are doing.
"Back in New Jersey, I remember Cory and his wife were big advocates for adopting, and volunteered at a shelter. That's where I'm at today. I texted and told him I 'Schneidered' a couple of dogs. This has all been a lot of fun for Lauren and I."