Scott Laughton's support of Pride initiatives is year-round
The Flyers forward has been eager to take on a role in supporting the LGBTQ+ community since entering the league over 10 years ago.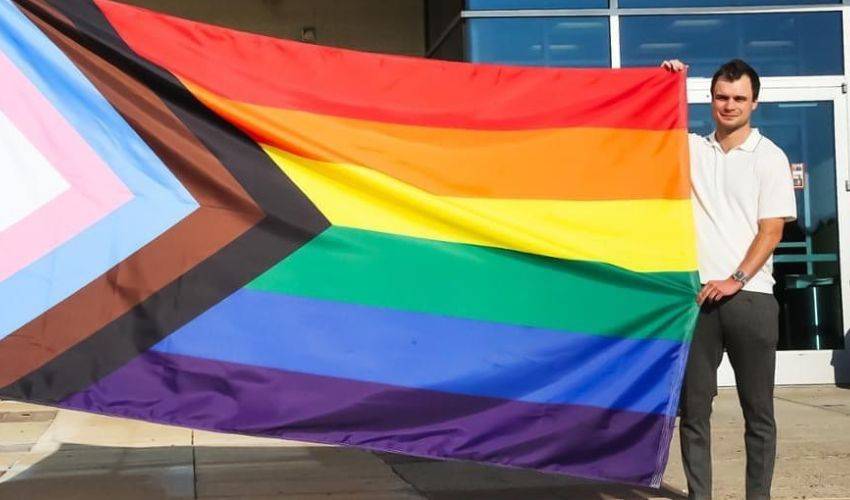 Feature Photo: Twitter / @NHLFlyers
---
Scott Laughton is always ready to answer the ambassador and allyship call.
Since he first laced up for an game more than 10 years ago, the Philadelphia Flyers forward has been eager to take on a significant role in supporting the LGBTQ+ community.
"I've been an ambassador for You Can Play Project pretty much since I entered the league," said Laughton, of the advocacy organization established in 2012 that fights homophobia in sports. "I knew how big You Can Play was when I started, and I got on board with them.
The 29-year-old has carried on his support of the You Can Play Project and other causes that put the spotlight on the LGBTQ+ population. His efforts have led to his second consecutive nomination for the King Clancy Memorial Trophy, awarded annually to the NHL player that displays leadership qualities while making noteworthy humanitarian contributions.
Last year, on the eve of Pride month, Laughton raised the pride flag in front of Wells Fargo Center. This past season, Laughton, along with and teammate James van Riemsdyk, also a You Can Play Project ambassador, have continued their support by partnering with several LGBTQ+ nonprofits to launch a new initiative aimed at growing the game of hockey in the LGBTQ+ community.
Through the program, Laughton and van Riemsdyk donated four game tickets to local LGBTQ+ organizations for 12 home games throughout the 2022-2023 season. In addition, Laughton personally matched a $5,000 donation from the Flyers in support of the You Can Play Project and their efforts throughout Greater Philadelphia.
"The way my interactions have gone throughout the years, working with James, we have 20 people come to our home games and [we] see them after – they have been pretty eye-opening. It holds a special place in my heart to have these people there and make them feel welcome. For two minutes of your time, it goes a long way for both you and the fan. It's a special initiative, something that needs to keep growing."
Laughton appreciates the chance, even if the conversations are brief, to speak with fans who are part of the LGBTQ+ community and with others he meets throughout the hockey season.
"They say, 'thank you,' but to be honest, I'm saying thank you to them for supporting us and what we do. If we didn't have them, we'd be out of a job. On Pride Night in Philly, we had officers, firefighters, people from all walks of life. James and I held an autograph session, where we had the chance to talk to people. Many of them said thank you for making us feel welcome and at the end of the day, that's what it's all about. It's something that's been really special for me to be involved in."
Recently, Laughton and van Riemsdyk teamed up with the Alphabet Sports Collective, an organization that describes themselves as a "queer-led nonprofit organization focused on creating a safer environment for people of all sexual identities and all expressions of gender in hockey." The organization's board of directors includes former professional hockey goaltender Brock McGillis, NHLPA certified agent Bayne Pettinger and former NHL player Kurtis Gabriel, among others.
Other ambassadors include NHL players Sam Reinhart, Morgan Rielly, Kaiden Guhle and Tyson Barrie.
"I think things have come a long way from when I entered the league. It starts in the community with people, and it also starts in the room too with language and how you represent yourself. It's about more education for people not knowing the right thing to say or at the right time. … Like I said before, it's still got room to grow, but it really has a positive impact having these initiatives and having people be a part of our community and everything involved in it.
Laughton, who is coming off his best NHL season offensively, after notching 18 goals and 43 points in 78 games, is buoyed by the shift in attitudes and acceptance over his eight NHL seasons.
That said, he knows there is still plenty of work that needs to be done. Laughton's work with those who advocate for the LGBTQ+ community remains a fulfilling part of his life, on and off the ice.
"I think people should be welcome to play the game of hockey," said Laughton. "It doesn't matter who you love, the colour of your skin, or what your background is, I just really think it's the best game in the world and everyone should have an opportunity to play it or feel welcome watching it in the crowd."
The Ontario native is eager to do more.
Although there is plenty on his plate this offseason, including three weddings, highlighted by best man duties at Columbus Blue Jacket captain Boone Jenner's nuptials, Laughton is always looking at ways to help others through his allyship.
"I would definitely like to – I can't do it this year – go to Philly for Pride Day in the summer and be part of that. Being part of that Alphabet Sports Collective is going to change a lot of people's lives, and just from conversations I've had with Brock and Bayne throughout the past year, the things they are going to do, I'm excited to be working with them and be an ambassador for them. Anything they need, I'll try my best to do and be a part of it."