Away From the Rink | Travis Sanheim
Travis Sanheim is taking it one grain at a time on his parent's Manitoba farm.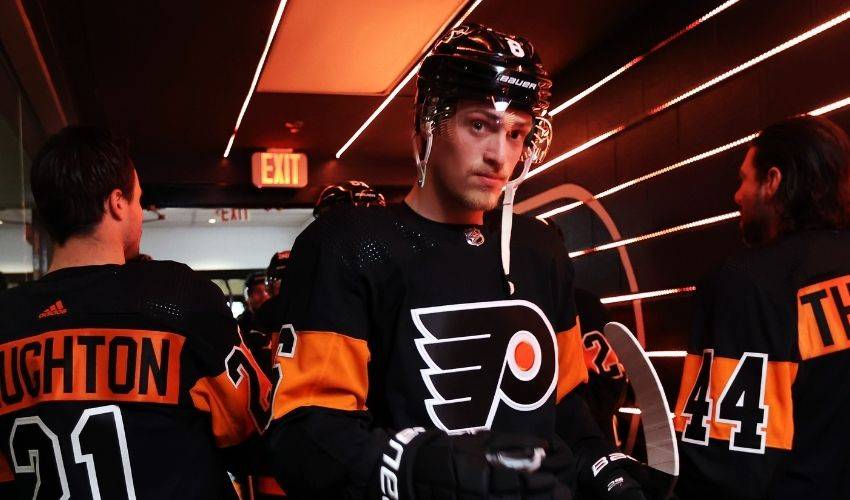 Feature photo: Getty Images
---
There's more than a grain of truth behind the part-time job Travis Sanheim notes on his Instagram page.
Athlete. Philadelphia Flyers #6. Part-time Farmer.
The bio is certainly not surprising in the items listed. Well, at least two of the three entries aren't.
As for the other, part-time farmer, it's understandable if people might hit refresh or take a second look.
Sanheim grew up on his family-run grain farm – wheat and canola are the two main crops grown – just 15 minutes outside of Elkhorn, Manitoba, a town of roughly 500 people located about three hours west of Winnipeg.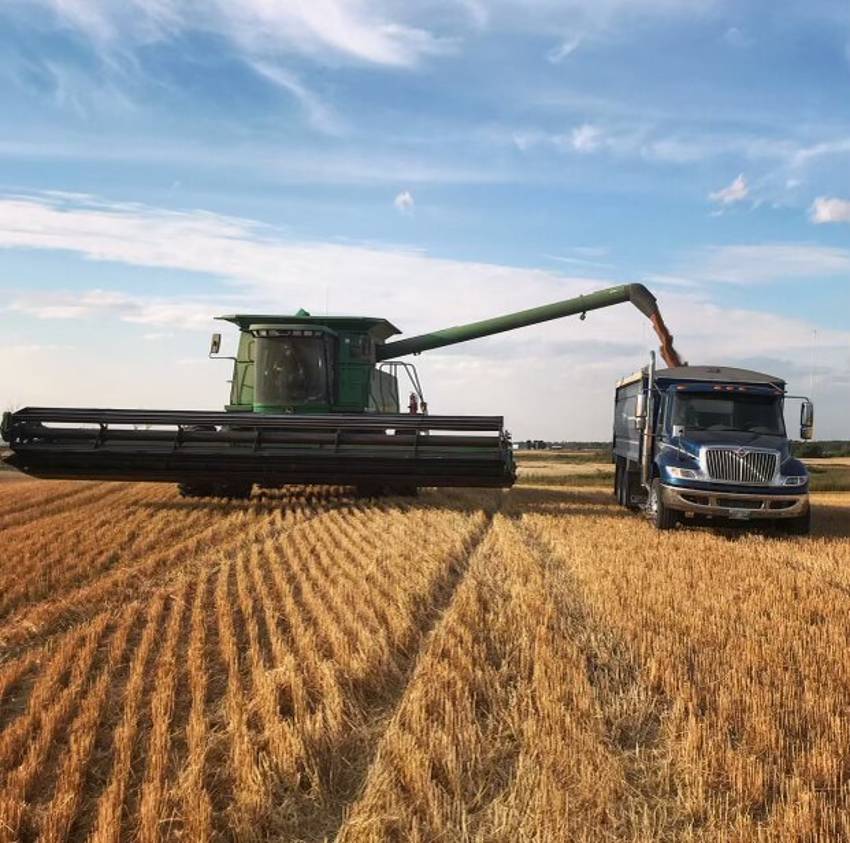 "Being able to work at a young age with my siblings (fraternal twin brother, Taylor, and sisters Kali and Shondalee), and our parents (Kent and Shelly) teaching us to become hard workers, those are things that really stand out for me," said the Flyers defenceman. "Some of the fondest memories for me – harvest is obviously a big time of the year – were being able to skip school at a young age to help work those important days on the farm, driving a big combine and being with my family. Those were awesome times for me and days I'll always remember."
As for his favourite job on the farm, Sanheim had an answer at the ready. "Running the combine was always tops for me and it still is. Harvest is such a fun time. That's when you get to take off the crop and it's the most rewarding time of the year. You get to see all the work you put in on the farm the whole year and your end reward is taking the crop off."
Early mornings, long days and late nights were not uncommon for the Sanheims.
Those experiences helped the 25-year-old throughout his path to the NHL, from his minor hockey days to playing junior hockey with the Western Hockey League's Calgary Hitmen before beginning his professional career with the Lehigh Valley Phantoms of the American Hockey League.
"The biggest thing I take away from growing up on a farm was that most kids live in towns and cities and are out playing with other kids, but for us, it was coming back home from school and you're either out helping dad fix up a tractor or doing other odds jobs with your siblings. It was very cool to be raised in that setting."
Sanheim, now in his fifth NHL campaign, all with the Flyers, the team that drafted him 17th overall in 2014, heads back home during the offseason to lend a helping hand on the farm.
It's a trip he's always eager to make.
"There is a lot of work that goes into what my parents do. Even these days, going back, I'm not doing as much as I used to do, but any chance to get out there and help out really brings back some of those good memories. Farming is something I still enjoy to this day. You're out there, no cell service, putting your phone away and just enjoying the outdoors. That's a great feeling, to be out there with nothing else on your mind or any distractions."
There always was, amid all the harvesting and hard work, time to play hockey.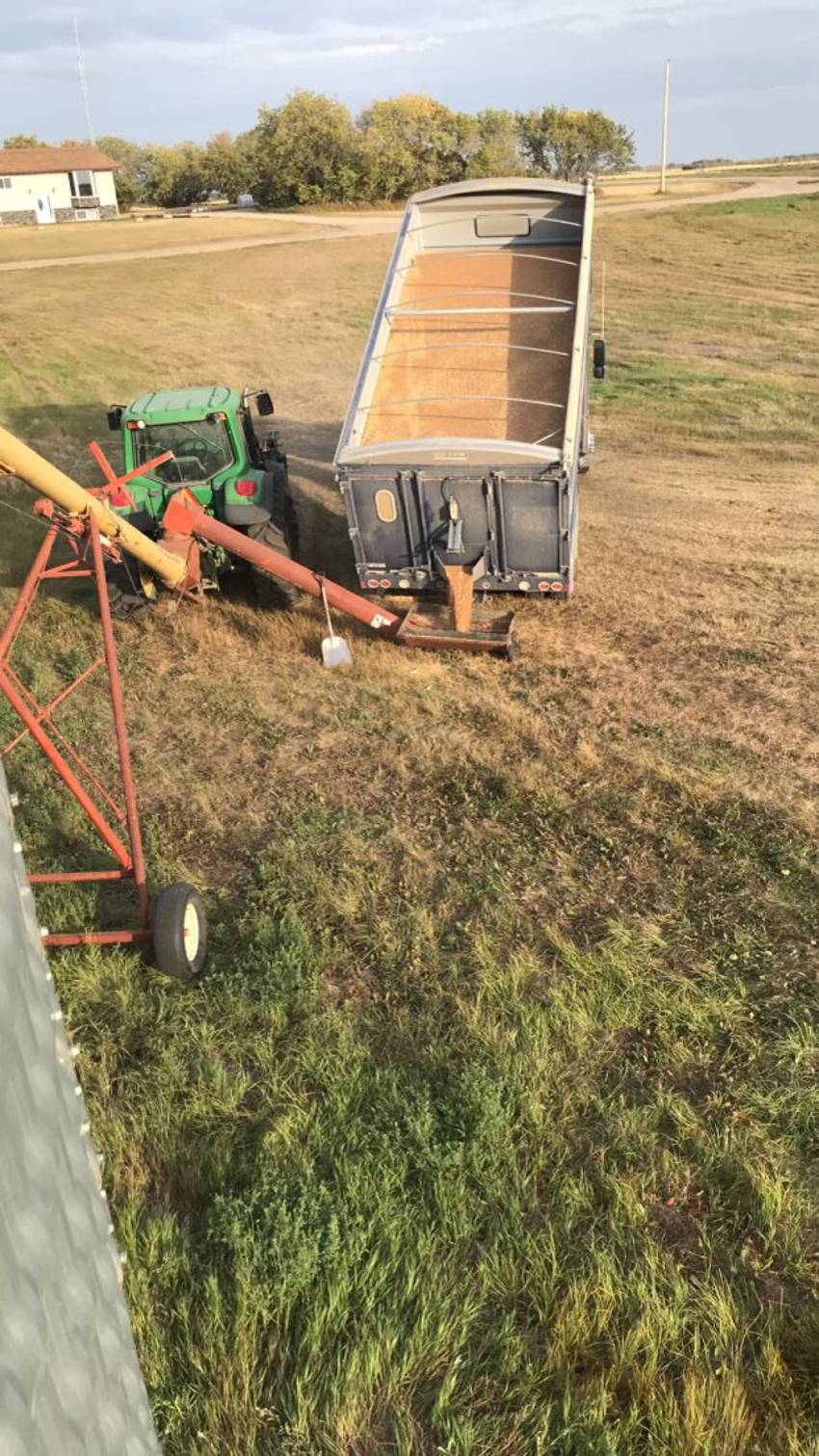 Even when winter storms hit the area, the brothers found a way to get on the ice.
"With Elkhorn being such a small community, the ice was always available. We'd be begging mom and dad to drive us in every day. It was a 15-minute drive into Elkhorn, which is what I consider my hometown. We'd be skating every single day, whether it was after school, when mom and dad would have to come in and pick us up, or when they would drive is in, we always found a way to get a trip into town.
"Even on days where it was heavy snow and school was cancelled, buses weren't running, but we'd find a way to get into Elkhorn because we wanted to skate and touch the ice. There were a few times when my brother and I would try to make a rink at the farm and create a little bit of an ice surface. We'd do pretty much anything to play hockey."
Although there wouldn't be any hockey on the agenda, Sanheim is hoping to get a Flyers teammate out to the farm before long, someone who also knows a thing or two about the farming life.
It could get a little competitive.
Consider it Farm Night in Elkhorn, featuring Team Manitoba versus Team Ontario.
"Travis Konecny," said Sanheim with a laugh. "He's still promising me that he's going to make it out there one day. I'll have to hold him to it. One day I'll get him out there and show him what it's all about. He grew up on a farm as well. It was a little bit different what they do in Ontario. But I think it would be pretty cool to take him out there."
A unique forum it would provide for teammate bonding, thousands of kilometres away from their NHL city.