Couturier feeling like a rookie again in return
Sean Couturier returned to the ice in September after a near two-year absence.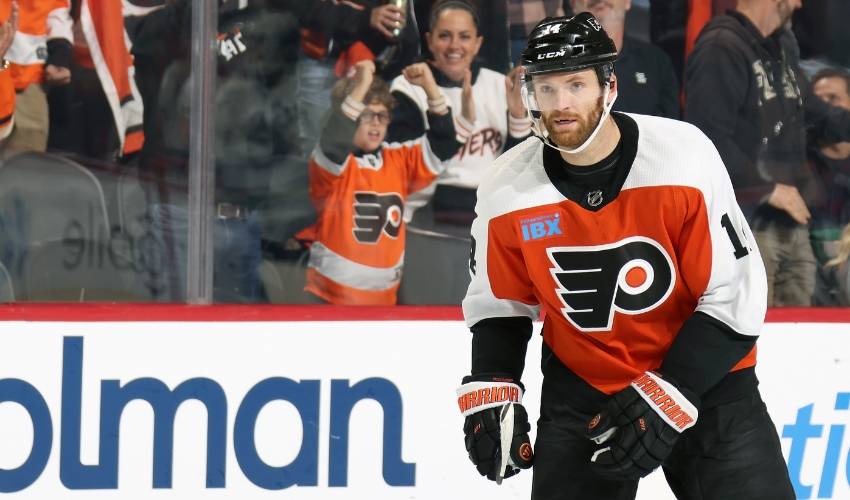 Feature Photo: Getty Images
---
It was an emotional return that was 20 months in the making when Sean Couturier took to the ice on September 25 with the Philadelphia Flyers for a preseason game in New Jersey.
There were no points on the line and the number of minutes he played felt irrelevant in the game against the Devils just over a month ago.
Instead, Couturier's return celebrated his long road back to NHL ice. The game marked the first time the forward played a game since Dec. 18, 2021, after having undergone two back surgeries since February 2022.
"To experience everything that I had missed out on was such a great feeling," Couturier told NHLPA.com. "It meant a lot to finally be out there again."
Some may have questioned whether the 2019-20 Frank J. Selke Trophy winner could be the same player who surpassed the 50-plus point plateau three times on NHL ice, while earning a reputation as one of hockey's most effective two-way players.
At times during his recovery, Couturier himself wondered the same thing.
"I want to say it was tough both physically and mentally. In the long run, it was the mental side that was tougher," explained Couturier.
"The first surgery, I thought I would be out only three or four months that year, and back for the following year. When I hurt my back again and found out I needed a second surgery, that's when it really took a toll mentally. You start having questions about yourself, your career, and whether you will be able to play again or be at the level you want to play at or should be at. It was never an option to quit. There were ups and downs, but I always tried to keep a positive mindset and put myself in a position to come back."
He achieved that with the support of many.
"My wife, my mom and my dad were there for me on a daily basis. My teammates supported me, too. At the same time, you are isolated, away from the team and on your own for most of that time. It was tough being away from the guys. You are used to a routine, being on the road with boys, having dinner and all that stuff. For almost two years, I missed that. It's nice to be around everyone again."
The eighth overall pick in the 2011 NHL Draft, limited to 29 games in 2021-22, saw his first taste of regular-season action when the Flyers opened the 2023-24 season on October 12 in Columbus.
The 30-year-old did not appear to miss a beat in posting 20:39 of ice time against the Blue Jackets. Couturier netted an assist, posted a faceoff win percentage of 55 and ended the 4-2 Flyers victory with a plus-3 rating.
"That first game back was a definite highlight for me," offered Couturier. "But I would say that the first exhibition game was special too. I was pretty nervous. I felt like an 18-year-old rookie, not knowing what to expect, and having those butterflies."
"All summer, I had questions. 'Am I doing too much? Am I doing too little? Do I need to work on this or to work on that?' A lot was going through my mind in the summer, but I put in the work to be ready so that I didn't have to have to ask myself those questions or to have any excuses."
From 2017 to 2021, the four seasons leading up to his surgeries, Couturier appeared in 305 games, had 269 points, averaged 20:53 TOI/GP and won 56.5 per cent of his faceoffs.
Couturier is buoyed by what he has seen in a team looking to reestablish its identity after missing the playoffs for three consecutive seasons.
"We are off to a good start, and we are playing some good hockey. It's still early, but the team identity we wanted to bring is to relate to the city and that is what [President of Hockey Operations] Keith Jones said when he got hired. We want to bring back that sense of loyalty to the city and our fans, so the city can be proud of its team. I think we are playing blue-collar hockey. Everyone is working hard and is dedicated to the system. It's going well, but there is still a lot to prove."
Having one of the game's top two-way talents back in the fold and playing great hockey is no doubt a reason for the team to hold an optimistic view going forward.
After nearly two years away from the game, Couturier is embracing his return to the ice.
"When we started our regular season, I had the mindset of enjoying every moment, to not take anything for granted. I've missed the game so much. I enjoy every second that I'm on the ice."
It certainly shows.